Intersolar Europe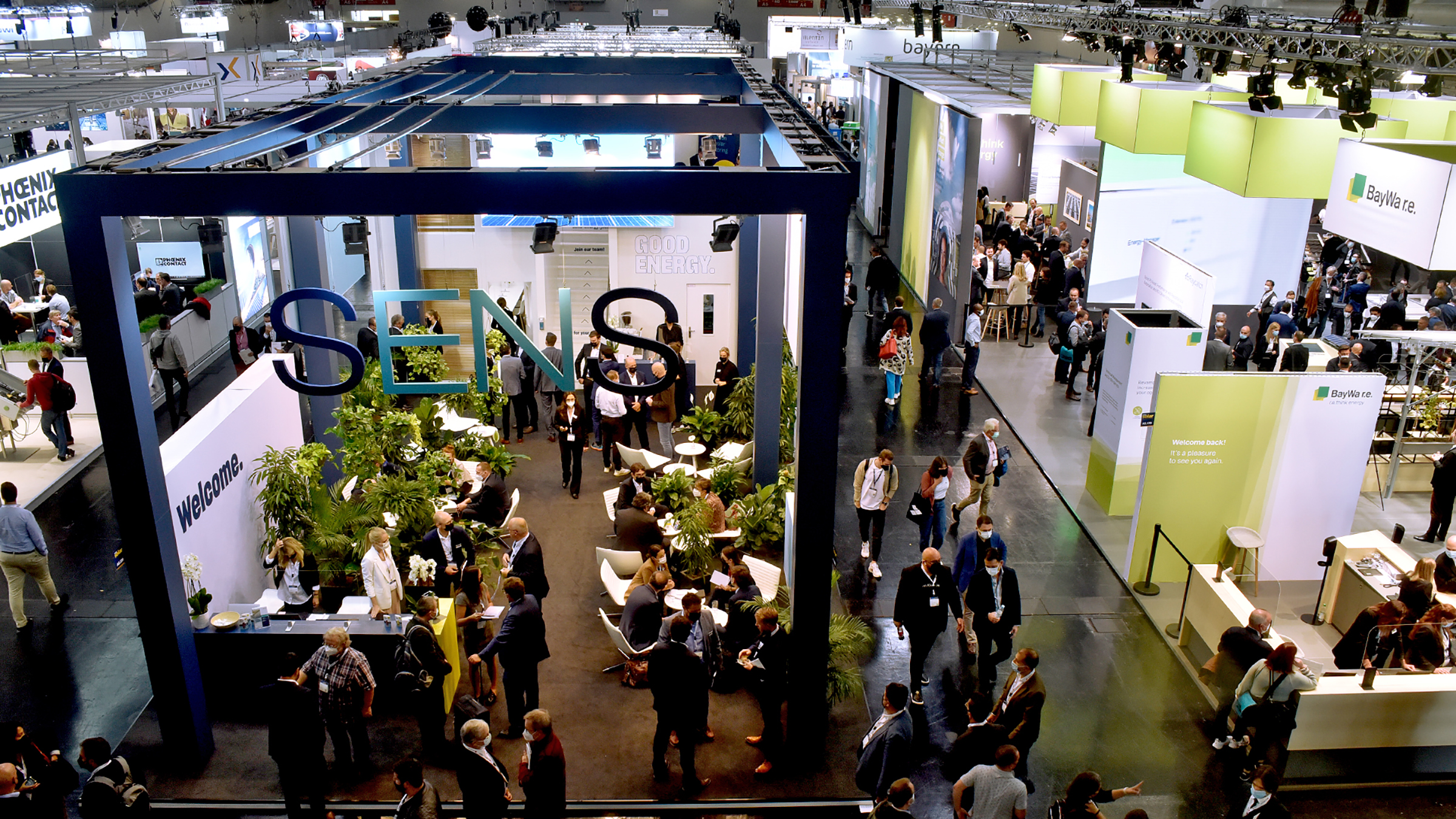 Intersolar Europe is the world's leading exhibition for the solar industry. It takes place as part of The smarter E Europe – the continent's largest platform for the energy industry. It focuses on photovoltaics, solar thermal technologies, solar power plants, grid infrastructure, and solutions for the integration of renewable energies. Under the motto "Connecting solar business," manufacturers, suppliers, distributors, service providers and project planners and developers from around the world meet in Munich every year to discuss the latest developments and trends, explore innovations firsthand and meet potential new customers. Intersolar Europe will take place from May 11–13, 2022, at Messe München.
It is held in parallel to three more energy exhibitions as part of the innovation hub for new energy solutions. At the accompanying Intersolar Europe Conference, renowned experts shed light on hot topics in the international solar industry.
After three decades of working towards a sustainable energy supply for the future, Intersolar, the world's leading exhibition series for the solar industry, is celebrating its 30th anniversary this year. Having started off as the local Solar '91 exhibition, Intersolar has evolved to become the most important solar industry platform in the world. The exhibition brings together pioneers and drivers of innovation within the solar industry, since 2018 under the umbrella of The smarter E Europe innovative platform.
Intersolar Europe is organized by Solar Promotion GmbH, Pforzheim, and Freiburg Wirtschaft Touristik und Messe GmbH & Co. KG (FWTM).
Die Intersolar Europe ist die weltweit führende Fachmesse für die Solarwirtschaft. Sie findet im Rahmen von Europas größter energiewirtschaftlicher Plattform, The smarter E Europe, statt. Sie konzentriert sich auf die Bereiche Photovoltaik, Solarthermie und Solarkraftwerke. Unter dem Motto "Connecting Solar Business" treffen sich jährlich Hersteller, Zulieferer, Händler, Dienstleister, Projektentwickler und -planer sowie Start-ups aus aller Welt in München, um sich über neueste Entwicklungen und Trends auszutauschen, Innovationen hautnah zu erleben und Geschäftspotentiale zu nutzen. Die Intersolar Europe findet vom 11.–13. Mai 2022 auf der Messe München statt.
Parallel zur Intersolar Europe finden auf der Innovationsplattform für die neue Energiewelt drei weitere Energiefachmessen statt. In der parallel stattfindenden Intersolar Europe Conference beleuchten darüber hinaus namhafte Experten die aktuellen Themen der internationalen Solarbranche.
Die Intersolar engagiert sich seit drei Jahrzehnten für eine zukunftsfähige Energieversorgung und feierte 2021 ihr 30. Jubiläum. Gestartet als lokale Ausstellung "Solar ´91" hat sich die Intersolar zur wichtigsten Branchenplattform der Solarwirtschaft entwickelt. Die Fachmesse bringt die Vordenker und Innovatoren der Solarbranche zusammen und ist seit 2018 Teil der Innovationspattform The smarter E Europe.
Veranstalter der Intersolar Europe sind die Solar Promotion GmbH, Pforzheim und die Freiburg Wirtschaft Touristik und Messe GmbH & Co. KG (FWTM).
MORE EVENTS

Wind Asset Management Europe 2022

July, 6-7, 2022, Madrid, Spain

Wind Asset Management Europe 2022 aims to unite the European wind value chain to optimize wind asset value, operation, and maintenance, gathering key-decision makers from European governments, RE energy buyers, utilities, independent power producers, investors and financiers, OEMs, consulting and technical service providers.

More

London EV Show

29 November, 2022 - 1 December, 2022, London, United Kingdom

Following on from the remarkable success of its previous edition, the London EV Show is all set to take place from 29th November - 1st December 2022 at ExCeL London.

More