Floating wind demo site presents 690 million GBP opportunity for the UK
By Jason Deign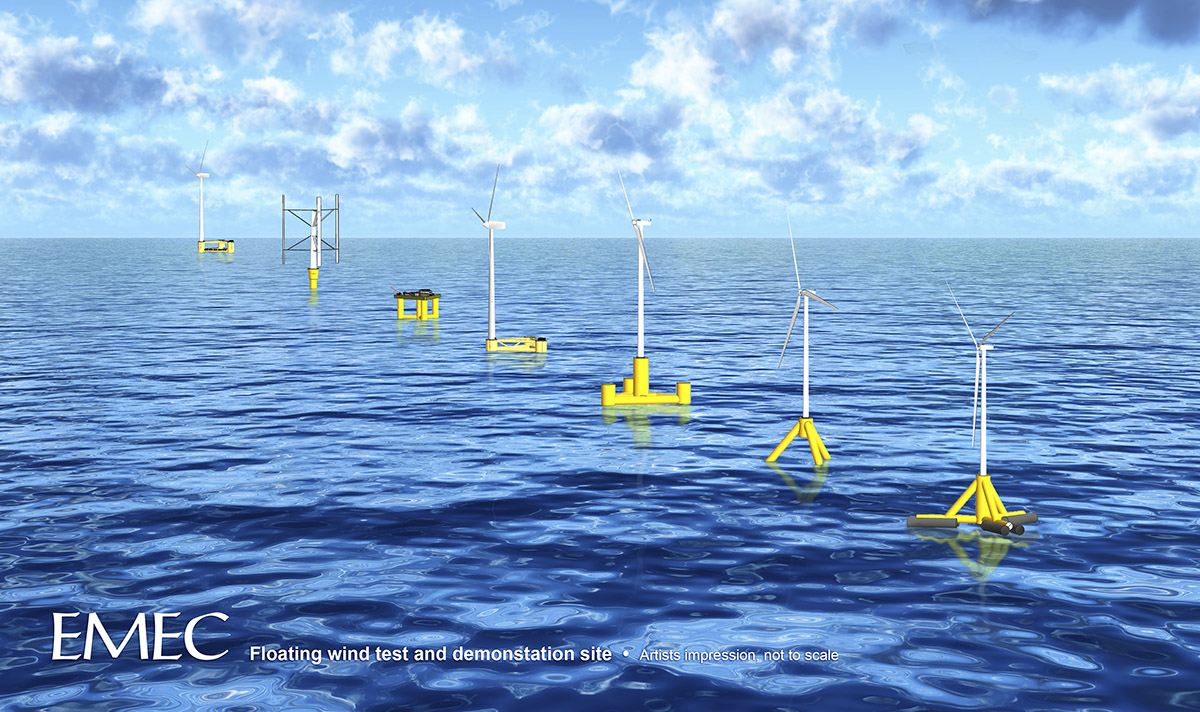 A world-renowned test centre for marine energy technologies is looking to develop a demonstration site for floating offshore wind systems. The European Marine Energy Centre (EMEC), based in the Orkney Islands off the north coast of Scotland, says the demo site represents a 690 million GBP opportunity for the UK.
The floating offshore wind test and demonstration site is at the concept design stage pending a lease on waters around 20 km west of Orkney. EMEC is proposing the development of six berths with up to 20 MW of capacity each. Four of the berths will have grid connections, EMEC says, while the remaining two will be reserved for floating offshore wind systems that can turn renewable energy into hydrogen.
The site, which is expected to remain in operation for 25 years, will be designed to act as a proving ground for machines being installed in rough ocean conditions such as those found in the Celtic Sea, California, and other areas that are being considered for floating offshore wind. As well as testing new floating offshore wind concepts, it will be used as a training centre for future industry workers, through a collaboration with a non-profit called X-Academy.
According to a study by Edinburgh-based Biggar Economics, the floating offshore wind test site could create 4,160 jobs, including 2,220 in Scotland, while adding 442 million GBP in gross value add to the Scottish economy and 690 million GBP to the UK overall. "We want to ensure the benefit of the UK being a first mover on offshore energy technologies is firmly cemented here," says Matthew Finn, commercial director of EMEC, which already has a reputation as the world's top test centre for tidal and wave energy technologies.
A floating wind leader
"Establishing a test centre of this nature in Scotland will encourage international companies to establish themselves here and sends a clear market signal to the Scottish supply chain," Finn says.
The UK government is pushing to become a leader in floating offshore wind, with plans for 5 GW of capacity by 2030. Ministers estimate this could add 43.6 billion GBP to the UK economy, according to Finn. "The development of a floating wind test site aligns with the British Energy Security Strategy," he says.
This "outlines a clear need for continued support for R&D to drive through the commercialisation of technologies, bring down costs, and provide assurance to investors regarding the viability of an emerging technology," he adds.
Subscribe to Our Newsletter
Receive our monthly newsletter by email