Megawatt battery system charges electric trucks in just 45 minutes
By Jason Deign | Photos courtesy of Designwerk Technologies AG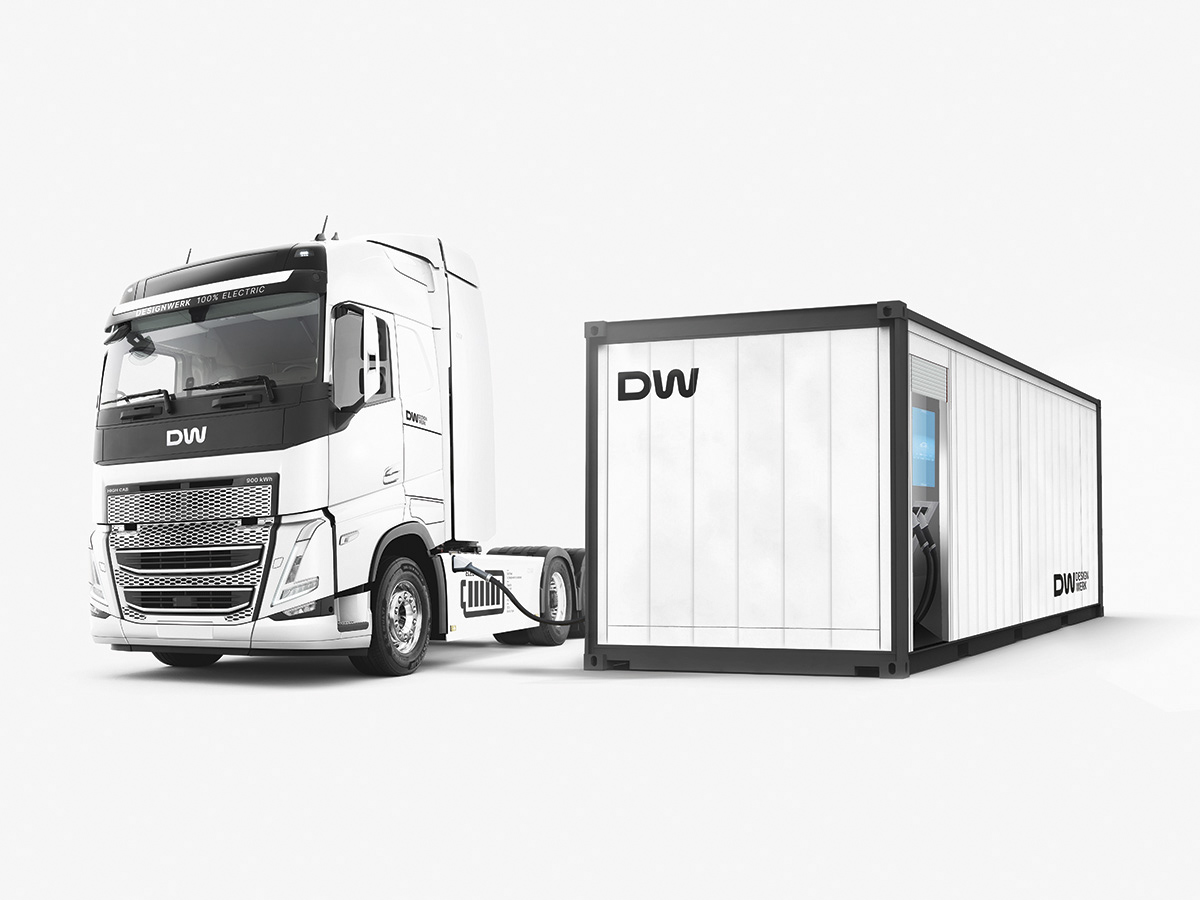 A Swiss consortium has designed a special battery system that could help electric heavy goods vehicles charge six times faster than with current technology. The system, due to enter service in 2023, will have an output of 2.1 MW, far exceeding today's 350 kW charging infrastructure and allowing trucks to fully charge within 45 minutes.
The 25-tonne, container-sized megawatt battery system could help speed the electrification of heavy goods vehicles while avoiding problems for the grid that could be caused by trucks simultaneously charging and causing excessive drains on the electricity network. The Swiss consortium is being led by Designwerk Technologies, part of the Volvo Group, and includes the Bern University of Applied Sciences, the University of Applied Sciences of Eastern Switzerland, the Swiss Federal Office of Energy and the marketing services firm Wyssmann.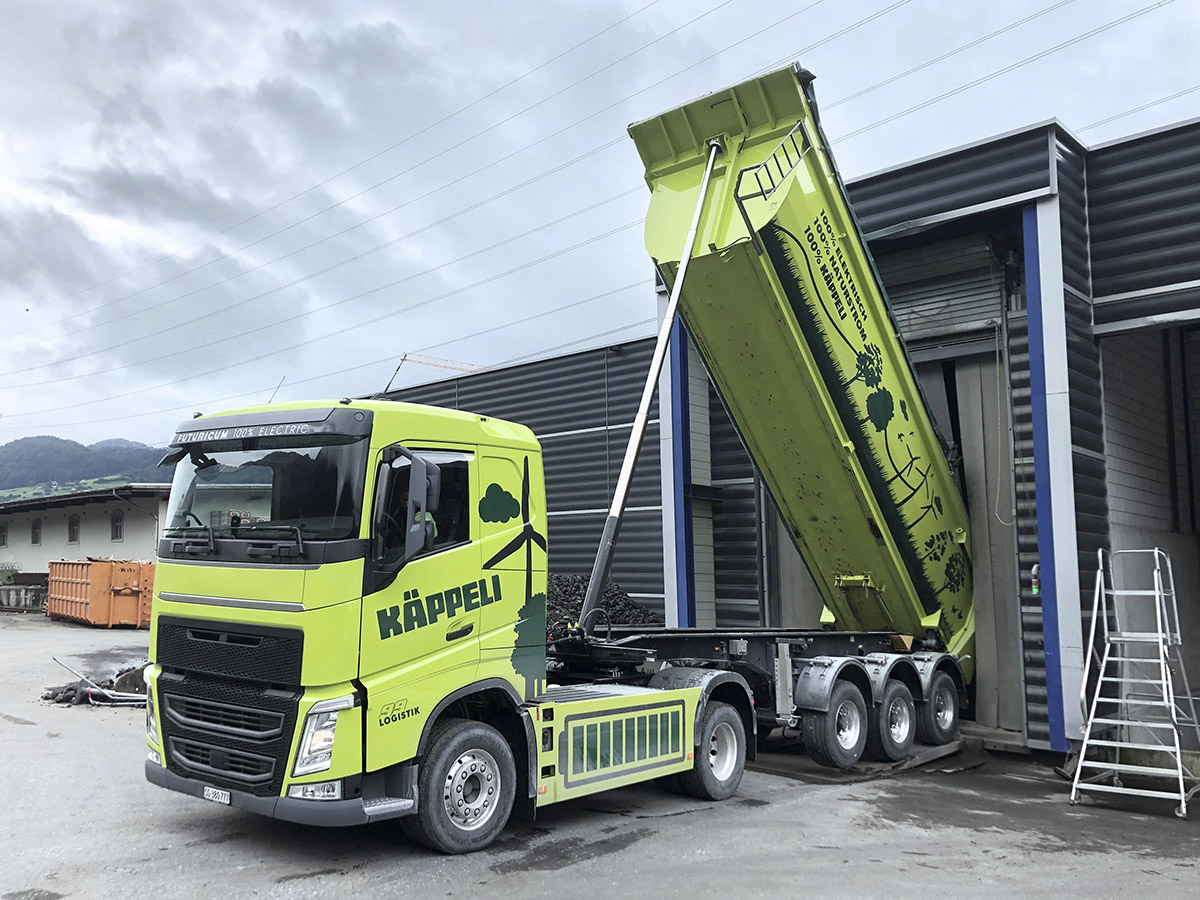 "A new kind of charging infrastructure is needed for long-distance trucks, as well as for ships and aircraft," says Vivien Dettwiler, chief commercial officer for battery and charger projects at Designwerk. "It is different from the infrastructure for electric cars and makes it possible to charge heavy commercial vehicles in a short time. This helps to ensure that zero-emission freight transport reaches every field of application."
The chargers will use nickel manganese cobalt lithium-ion batteries that Designwerk says may be sourced from electric trucks once the battery life has dropped below the optimum needed for road transport. Such second-life batteries can still charge and discharge well enough to work in stationary storage applications such as electric vehicle charging.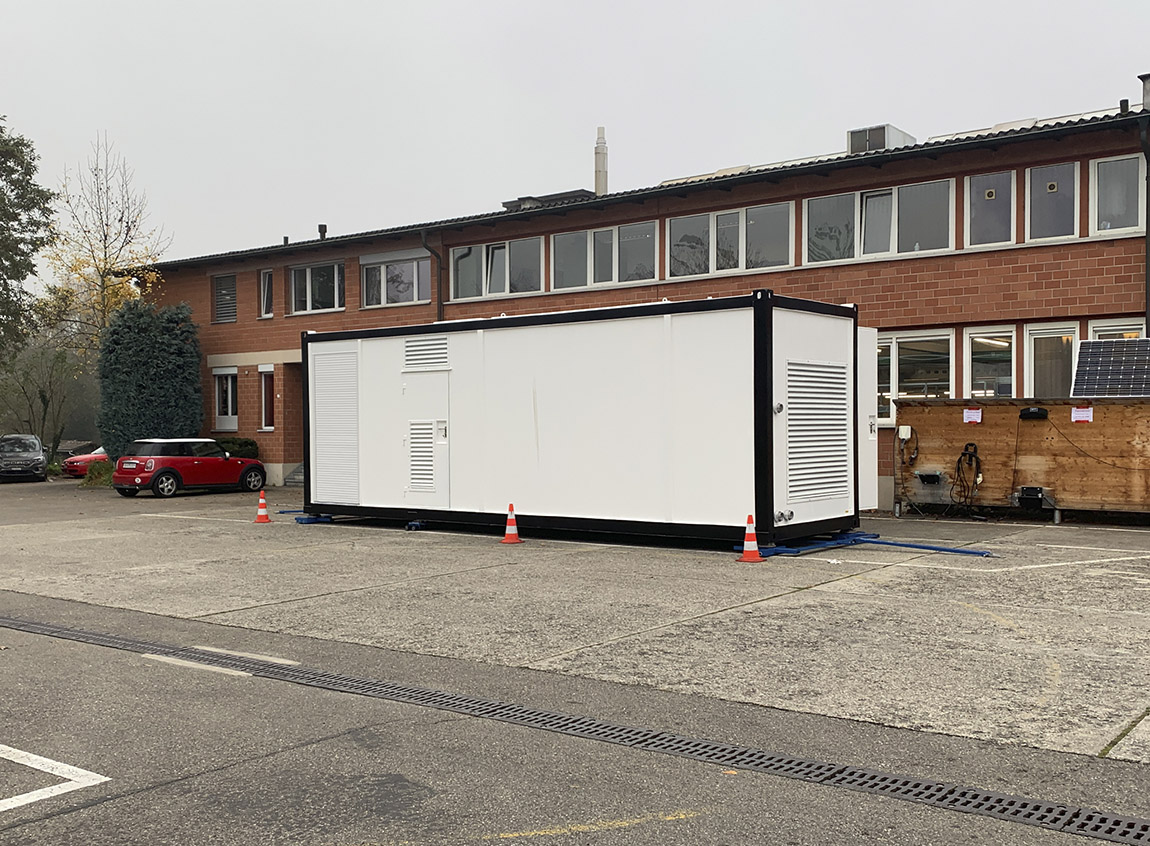 Second-life batteries
Reusing them in chargers provides greater longevity to the batteries and reduces the need for new battery materials including cobalt and nickel, which are expected to face supply bottlenecks as the electric vehicle market expands. Demonstration systems are being installed at Swiss firms Galliker Transport, Käppeli Logistik and Murg Flums Energie. Dettwiler says the megawatt charging system will also help stabilise the grid, by discharging back to the electricity network at times of peak demand.
"We install second-life e-truck batteries in our charging containers as a buffer to cope with peak demand," Dettwiler says. "This not only eliminates the need to expand the grid—it also means that the battery system should be able to feed renewable electricity back."
While adoption of electric cars is rising fast in many parts of the world, the heavy transportation industry has been hesitant to embrace electrification because of the lack of vehicles and charging infrastructure, plus high costs. This situation looks set to change in 2023, however. In addition to charging systems such as Designwerk's megawatt-scale charger, commercial electric trucks have begun to roll off manufacturing lines.
The food and drinks giant PepsiCo, for example, is expecting to add 100 Tesla Semis to its fleet in the USA in 2023, using them to make deliveries to customers such as Walmart. Volvo, meanwhile, is due to begin production of electric versions of its FH, FM and FMX trucks in the first quarter of 2023. And logistics company Dachser is adding 50 Mercedes-Benz eActros e-trucks to its European fleet.
Subscribe to Our Newsletter
Receive our monthly newsletter by email