Tidal stream technology developer signs up to test machine in 2023
By Jason Deign | Photo: EMEC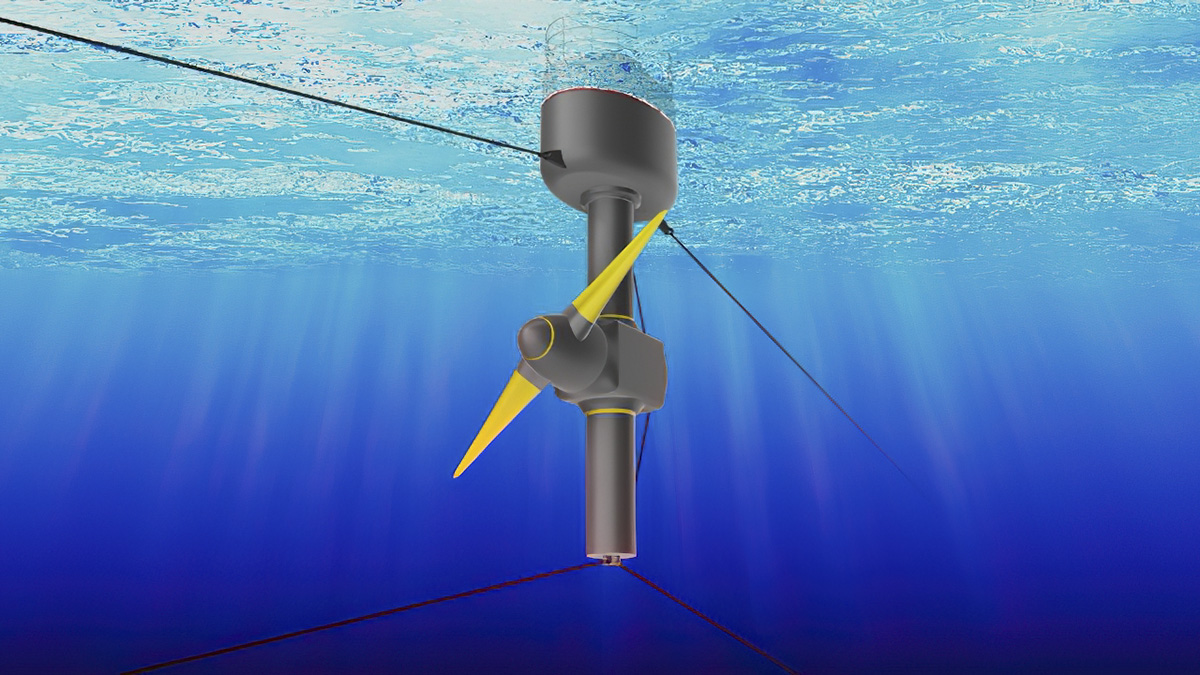 A Californian technology developer has signed up to test a new tidal stream turbine in Scottish waters next year. The tests will see Santa Barbara-based Aquantis attempting to crack a renewable energy concept that has massive potential but has remained challenging for developers so far.
Tidal stream machines are designed to work like underwater wind turbines, with power coming from the ebb and flow of the tides instead of the breeze. The European Marine Energy Centre (EMEC) in Orkney, where Aquantis has leased a test bay for a six-month testing programme, has been hosting tidal stream technology developers for almost two decades. But in that time few companies have managed to get viable machines to market.
The largest tidal stream array to date, called MeyGen, has up to 6 MW of capacity, which is less than a single offshore wind turbine can produce today. One of the challenges with early tidal stream technologies was that turbines were mounted on the seabed, which made it hard to access the machines for maintenance.
Aquantis, which is being funded by the US Department of Energy's Advanced Research Projects Agency-Energy Submarine Hydrokinetic And Riverine Kilo-megawatt Systems (SHARKS) programme, aims to overcome this problem by attaching its turbine to a floating spar buoy. The machine, called a Tidal Power Tug, has a 10-metre, two-bladed rotor delivering 160 kW of power. It will be put to the test in waters of up to 25 metres of depth at EMEC's Shapinsay Sound scale test site, to the north-east of Kirkwall in the Orkney Islands.
"A truly exciting moment"
"The Power Tug represents a number of design breakthroughs innovated through the SHARKS programme, aimed at reducing the cost of energy," says Peter Stricker, Aquantis' chief commercial officer. "We will observe performance of this system for the first time operating in open water at the Shapinsay Sound test site. This promises to be a truly exciting moment for the Aquantis team as we prepare for deployment into the UK market."
The Shapinsay Sound site is designed to give tidal turbine developers "their first real-sea experiences in gentler conditions to our grid-connected sites," says Richy Ainsworth, USA project engineer at EMEC.
If the Tidal Power Tug passes its tests next year, then Aquantis will have to prepare the machine for much tougher conditions. The best sites for tidal stream generation have notoriously powerful and fast-flowing tides. In one early Canadian tidal turbine test, the blades were ripped off a 10-tonne machine the second time it encountered a spring tide. Tidal turbine developers have still not quite worked out how to tame these forces cost effectively, despite waves of public sector funding.
The Aquantis Tidal Power Tug demonstration, for example, is being financed by the Interreg North-West Europe funding programme's 13 million EUR Demonstration Programme for Ocean Energy Pilot Farms and Supporting Technologies project, led by EMEC. "By testing at EMEC's scale test site, Aquantis will gain experience of marine operations while generating performance data to validate its loading and dynamics model, controller functionality and load mitigation techniques," EMEC says.
Subscribe to Our Newsletter
Receive our monthly newsletter by email