Wave energy hopefuls line up for European development project
By Jason Deign | Photos: Arrecife Systems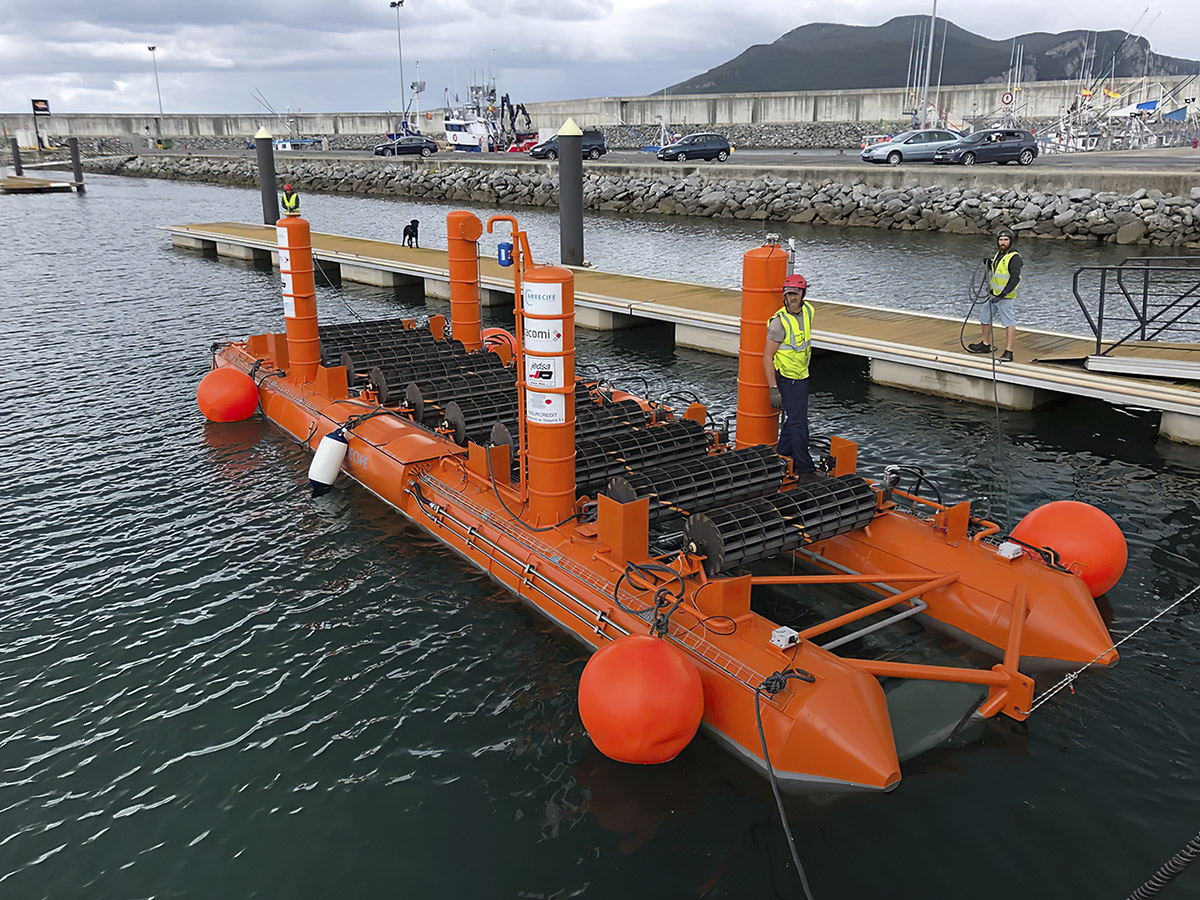 Five wave energy companies will share a 3.6-million-euro development pot after making it through the first phase of a European pre-commercial procurement programme. The money will go towards front-end engineering design of scaled-down prototype devices over the next nine months, prior to open-water trials in a further phase of the EuropeWave programme.
The EuropeWave hopefuls include a wide range of technologies. Arrecife Energy Systems of Bilbao, Spain, is pinning its hopes on a floating barge loaded with rollers that spin in the waves. Oil and gas engineering firm Australian Marine & Offshore Group Consulting's design has a suspended pendulum that moves back and forth. Ceto Wave Energy Ireland is developing a submerged buoy concept.
Meanwhile Idom Consulting, Engineering, Architecture, of Barcelona, Spain, is touting an oscillating water column wave device and Scottish developer Mocean Energy's Blue Horizon machine uses a hinged raft design. Three of these concepts will go through to the final phase of the programme. This will see prototype designs going into the water at the Biscay Marine Energy Platform in the Basque Country and the European Marine Energy Centre (EMEC) in Scotland for a 12-month demonstration and testing period.
"It is inspiring to see that the technologies hosted under phase one have shown excellent progress and produced high-quality phase two proposals," says Endika Aldaiturriaga, a project coordinator from Ente Vasco de la Energia (EVE), a Basque Government energy agency affiliated to EuropeWave. "This makes EVE confident that the programme is on track to demonstrate, through phase three's open-sea deployments in real sea conditions, that wave energy can play a part in delivering the goals set in the Basque Government's Estrategia Energética de Euskadi 2030."
Tim Hurst, managing director of procurement agency Wave Energy Scotland, says the EuropeWave programme is helping to propel the wave energy sector further towards commercialisation. "We have now reached a significant programme milestone with the announcement of the five most promising technologies that will proceed to phase two," he says.
"Scotland's collaboration with our European partners and the five successful technology developers means we have an ideal platform for supporting Scotland's and Europe's ambitious net-zero targets, all while fostering greater openness, standardisation and risk-sharing."
Plenty of resource
The idea of harnessing wave energy has lured technology developers for more than a century thanks to the wide availability of the resource, with one study estimating there could be almost three terawatts of capacity around the world. That is enough to meet around two fifths of the world's total power demand. Notwithstanding the potential, wave energy has been hard to tame, with no major commercial projects in operation today despite decades of technology development and testing.
One of the most promising designs, from Scottish developer Pelamis, was abandoned in 2014 when the company ran out of money. The 180-metre-long Pelamis machine became the first wave energy converter to feed electricity into the grid but there were no takers for the concept after the business went into administration.
Of two operational machines, one was sold to Orkney Island Council for a pound and the other went to EMEC for use as a test rig.
Subscribe to Our Newsletter
Receive our monthly newsletter by email