AI, 3D-modelling, and orange-peel fabrics – could technology ease fashion's environmental conscience?
BY HELEN MASSY-BERESFORD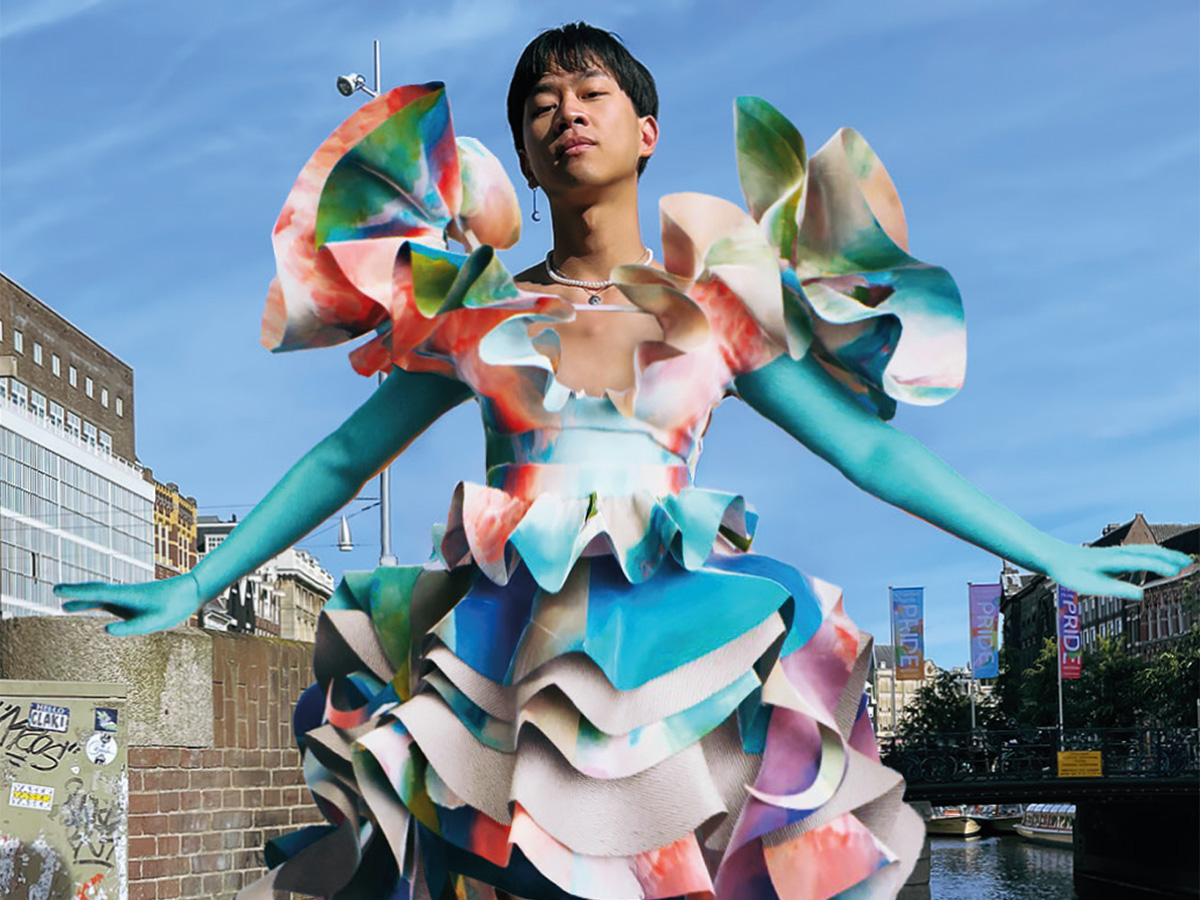 From piles of fabric offcuts wasted during the manufacturing process to a massive wastewater production and heavy carbon footprint, fashion has a sustainability problem. Helen Massy-Beresford looks into the many new technologies being employed to bring the fashion industry in line with the greatest trend of the century, sustainability.
The clothing and textile industry, which contributes $2.4 trillion to global manufacturing, employing approximately 300 million people, is responsible for two to eight per cent of the world's greenhouse gas emissions, according to the United Nations Alliance for Sustainable Fashion.
"The apparel industry uses enough fresh water to quench the thirst of five million people a year, produces 20 per cent of global wastewater and has a carbon intensity that exceeds aviation and shipping combined," Morgan Stanley analysts wrote in a May 2022 report on the sector.
Big names in the fashion world have recognised the scale of the challenge and are taking steps to limit their impact.
While technological solutions – everything from 3-D printing to artificial intelligence (AI) – can't provide all the answers, they can help. A May 2022, McKinsey report noted fashion companies invested 1.6 to 1.8 per cent of revenues in technology in 2021. By 2030, that figure is set to rise to 3.0 to 3.5 per cent. "Technologies such as robotics, advanced analytics and in-store applications may help streamline processes and support sustainability, as well as create an exceptional customer experience," McKinsey said.
Reducing waste with digital sampling
"Technology is the cornerstone for things to be done in a better way," says Ana Diaz Schiavon, fashion consultant and co-founder of sustainability-in-fashion training specialist Honest Fashion. "It's just we don't yet know how far that technology can go and how to implement it in the right way."
At the design stage, big manufacturers are looking at ways that technology can help them cut waste, including digital sampling using 3D modelling.
Hong Kong-based clothing manufacturer TAL Apparel Ltd, which makes one in every six dress shirts sold in the United States every year, is using digital sampling to cut waste. "At TAL, we are progressively switching to digital sampling because of its ability to benefit the environment by saving natural resources in manufacturing," says Delman Lee, vice chair of TAL Apparel Ltd.
"Using a cotton T-shirt as an example, according to the World Wildlife Fund, 2,700 litres of water are needed to make one cotton T-shirt. For every 1,000 digital samples produced, we save 2.7 million litres of water. Digital samplings also allow us to save time on logistics and avoid unnecessary carbon emissions generated by human activities."
Digital sampling can dramatically reduce the number of physical samples that go back and forth between a manufacturer and a designer, explains Hannah Lane, director of partnerships at Redress, an environmental NGO focused on reducing waste in the fashion industry:
"3D modelling can replicate exactly what a garment will look like in reality, using a virtual sample, down to how different fabrics with different compositions will drape on a model. "
Traditional sampling can call for as many as ten physical samples, but digital sampling is gaining traction, partly driven by COVID-19, which made getting samples to and from factories and organising meetings more challenging. Many brands using digital sampling now ask for just one 'top' physical sample before launching production, while some have even done away with physical samples altogether.  "This dramatically reduces wasted fabric, but also eliminates the unnecessary logistics of getting the samples back and forth between factory and designers, as well as reducing the time and costs involved: good news for the businesses involved, as well as the planet," Lane adds.
Redress also works with TAL on the Redress Design Award, which aims to encourage emerging fashion designers to adopt circular design techniques.
Citrus fabrics and chemical recycling
The materials used to make clothes and accessories are the biggest contributor to fashion's environmental footprint, Morgan Stanley says, with between 60 per cent and 70 per cent of items of clothing made using synthetic petroleum-based fabrics, which, when washed, shed microplastics that end up in oceans.
One solution to that problem is developing and using alternative, biodegradable fibres, and many companies are focusing research efforts in this field, using by-products from the food industry to create the likes of apple, mushroom or leaf leather or algae-based textiles and dyes.
Sicilian start-up Orange Fiber extracts cellulose from citrus fruit by-products to create fibres that are spun into yarn: Italian designer Salvatore Ferragamo used the resulting eco-friendly material in a 2017 sustainable womenswear capsule collection.
The industry is also tackling another challenge: completely rethinking the lifecycle of the fibres used to manufacture clothing, by increasing circularity. That means keeping materials in the loop, reusing and recycling them into new products rather than consigning them to landfill.
Dealing more sustainably with wasted fabrics, whether offcuts or discarded garments, is another important area of research in which technology will play a major role.
"One of the main challenges is sorting," says Diaz Schiavon. "We have textiles mixed together with different chemicals, colours, fibres that won't respond the same way to processes. It's very challenging to fully recycle mixed fibres."
The industry is looking for efficient and cost-effective solutions that go beyond traditional mechanical sorting of fibres for recycling.
"In the sorting process we can use technology to automatically identify fibres, separate and remix it and turn it into a new fibre. There are many start-ups working on different mechanical, chemical and composition processes," Diaz Schiavon says.
In October, chemical recycling specialist Worn Again Technologies, whose strategic investors include fashion giant H&M, completed a new funding round, raising £27.6 million to help it build a textile-recycling demonstration plant in Winterthur, Switzerland. The plant will make use of innovative polymer processing technologies and be able to upcycle 1,000 tonnes of textiles per year as the company expands.
Increasing use
Many large retailers, including some luxury brands, are also dipping their toes into the resale market, a challenge for retailers that need to coordinate the 'reverse logistics' of reselling, as well as managing transport cost and operations for second-hand items, Morgan Stanley says.
With the rise of fast fashion, and an increasing tendency to view cheap clothes as throwaway items fit only for a few wears, overproduction is also a huge issue.
"One of the important things is knowing what people will want to buy in the future and not producing things that they won't want," says Diaz Schiavon. "It's about changing the way we understand consumption – imagining how a future-conscious consumer would dress and how they would purchase what they wear, and thinking about creating that system for them."
Making better use of data to manage brands' product portfolios, and thereby increasing efficiency and reducing waste, is one of the aims of EDITED. The company uses artificial intelligence (AI) driven algorithms to sort and aggregate market data, creating easy-to-use decision-making tools that reveal patterns in consumer behaviour and help brands make smart choices that limit overproduction and waste.
The company's data tools can help to optimise inventory levels, including through smarter size management, improve merchandising and pricing – all of which helps fashion houses to reduce wasteful and costly leftover stocks, explains chief marketing officer Juliana Prather.
"It's not as sexy, but that's the reality – if you significantly reduce excess inventory, that's less being produced at all levels, from energy consumption to materials that go to landfill."
Through comparisons with other brands and products, EDITED's data can also help customers make smart decisions about pricing, another important way to cut waste: even a garment made from sustainable materials represents unnecessary waste if it is too expensive to sell.
"If a company is launching new sustainable products, one of the big challenges for retailers to expand these programmes is to know what to charge," Prather says. "More and more brands are seeing that they have to participate in sustainable objectives and have a profitable way to do that – which allows them to grow their (sustainable) programmes and get more management support for them."
Meanwhile, US-based software company Optoro specialises in improving the returns process for retailers and estimates that in 2021, customers using its platform, based on cloud-based software, data and machine learning, diverted 13.1 million pounds (almost 6,000 tonnes) of waste from landfill and were able to send 95 per cent of their returned and excess inventory to reuse channels. On average, its clients see a 25 per cent reduction in returns sent to landfill, the company says.
Fashion in the Metaverse
Start-up The Fabricant takes sustainability one step further – into the metaverse, specialising in digital-only clothing through photo-real 3D fashion design and animation. "We aim to show the world that clothing does not need to be physical to exist," The Fabricant says.
Its platform allows consumers to become creators, coming up with their own unique NFT fashion items with a curated collection from brands, creators and designers. New fashion seasons are hosted and designers and brands release raw materials for creators to mint, wear or trade their garments. "The Fabricant wastes nothing but data and exploits nothing but imagination," the digital fashion house says.
This innovative approach to fashion, which uses blockchain technology to track the provenance of garments and eliminate the risk of counterfeit, not only cuts down on waste but also democratises fashion and appeals to a younger generation instinctively at home in the digital world.
Looking ahead, there's plenty more potential for technological innovations to shake up the fashion industry, says Diaz Schiavon: "AI and the Internet of Things, automation, 3D printing and the virtual environment are all going to revolutionise the way we consume fashion."
However, technology does not have all the answers.
"It's a mix of a different range of technologies, put together creatively, that has to be attached to the human factor, in the factories. Technology can make great advancements, but it can't do it alone."
, she adds. "We can't buy tonnes of garments every year that are so cheap we don't end up knowing the value of them. As long as we keep buying things like that, companies will keep selling them – it's a business."
Subscribe to Our Newsletter
Receive our monthly newsletter by email