Cleantech Products of the Month: November 2022
BY SIGNE HANSEN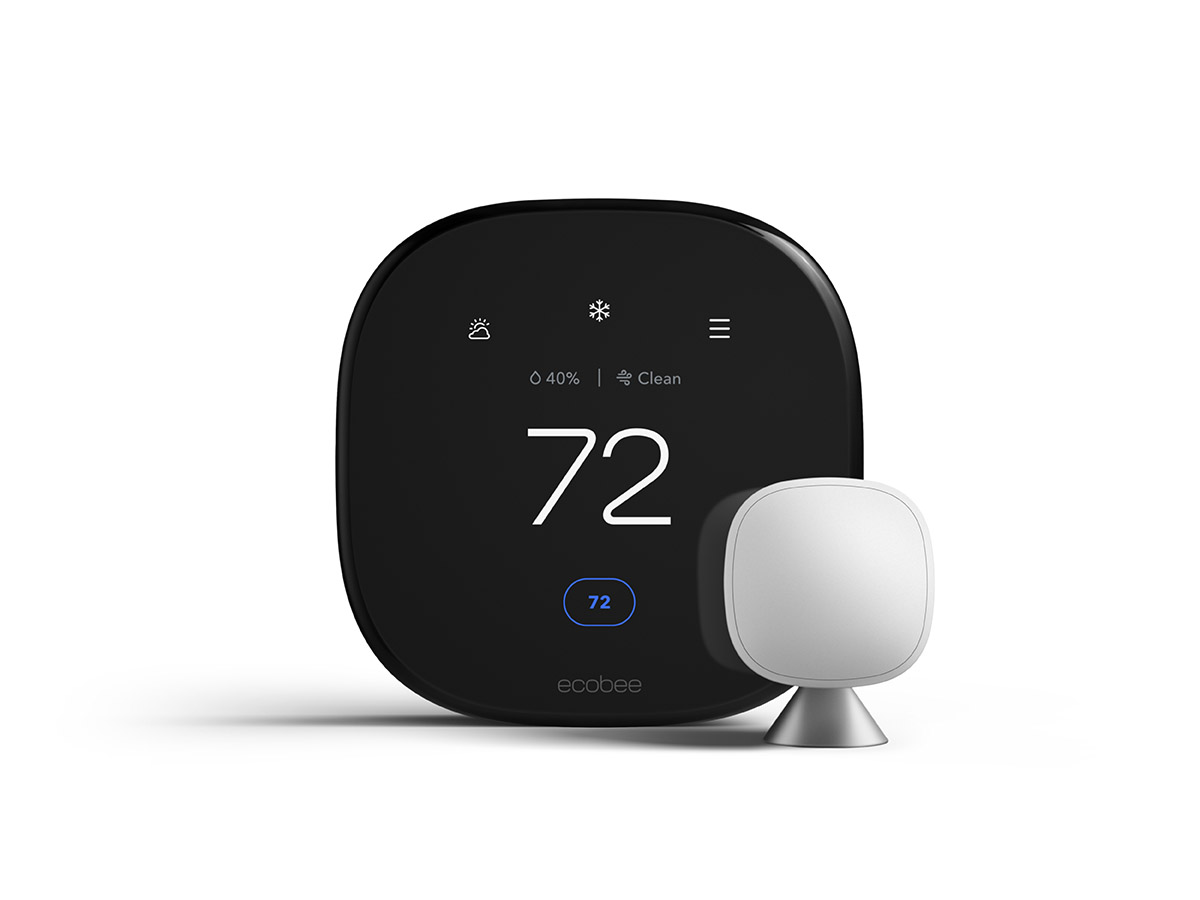 Cleantech can be many things – products specifically aimed at making your lifestyle or home more sustainable, or innovations to make the products we must have more sustainable. Moreover, a product does not need to be 'high-tech' to be cleantech – it can be a simple idea that makes it possible to buy or do something we love in a more sustainable way. The products selected here, represent a bit of all of that. Clean, green and innovative, they can help you get through the cold winter months in a more sustainable manner.
Ecobee Smart Thermostat Premium
During the current energy crisis, energy-saving measures have become more vital than ever. And, while turning off the heating completely is not an option for most of us during the winter months, there are ways to save on energy consumption without cutting down on comfort. One such method is offered by the Ecobee SmartThermostat, which has just been released in two new editions; the Ecobee Smart Thermostat Premium & Smart Thermostat Enhanced. Thanks to the eco+ suite of smart features, ecobee smart thermostats automatically help customers save up to 26 per cent on annual heating and cooling costs by learning and adapting to people's routines while at home and reducing energy use while away. In fact, eco+ is one of the reasons why ecobee has been named ENERGY STAR Partner of the Year for the second year in a row.
Furthermore, the new smart thermostats are built with radar – ecobee's most advanced sensor technology to date – for improved occupancy and motion detection. Moreover, with a harmonious combination of design and function, Smart Thermostat Premium is the only smart thermostat with both an indoor air-quality monitor and an embedded smart speaker, with a choice of Siri or Alexa built-in, encased in a stylish zinc body.
Ecobee Smart Thermostat Premium: $249.99
2023 Ford Mustang Mach-E
Taking public transport when possible and switching to an electric vehicle when not possible are documented to be two of the most efficient ways of reducing individual carbon footprints. Furthermore, it is commonly acknowledged that getting car owners to leave their flash combustion engines behind can be attempted by using either stick or carrot – the coveted 2023 Mustang Mach-E manifestly offers the latter. In 2020, Ford released Mustang Mach-E, the successor to the Ford Mustang, one of the most iconic names in the automotive industry. The electric SUV sports a wind-friendly teardrop shape, which improves the drag coefficient, and as a result, the range. Starting in fall 2022, Premium models built with the Extended Range battery will have a targeted EPA-estimated range of 290 miles on all-wheel drive models, up 13 miles from previous years' models.
Available on the 2023 Premium models with Extended Range Battery, as well as the GT Performance Edition, is furthermore an extra enticing coating of carrot, in the form of the new Mustang Nite Pony Package which, on the Premium, features high-gloss black 19-inch wheels and a black Pony, black front and rear lower fascia, door cladding, and black mirror caps on the grille, while the GT Performance Edition adds 20-inch high-gloss black wheels and black GT badge. Ford offers four different trim levels on the Mustang Mach-E, the Select, the Premium, the California Route 1 and the GT. Single motor RWD and dual motor AWD versions are available, as well as two different battery pack sizes.
Mustang Mach-E, GT Extended Range: MSRP: $69,895
Daikin Air to Air Emura Heat Pump
If you have read the feature on green heating on page 56, you will already be well-versed in the advantages of heat pumps. And, depending on where you live, you might want to take advantage of some of the subsidiaries handed out by many governments to support the switch away from fossil fuels. Of course, heat pumps come in many variations, and which one fits your home will depend on various factors such as the size of your home, insulation level, existing heating installations such as piping and radiators, and outdoor temperatures. If you live in a newbuild with high insulation levels, the Daikin air-to-air heat pumps offer up to A+++ energy efficiency thanks to a number of advanced solutions. The company's signature inverter technology, for example, reduces the energy consumption by up to 30 per cent compared to a non-inverter system.
As a market leader for heat pumps in Europe, Daikin offers the full range of solutions, including a multi-split system which allows you to connect up to five indoor units to one outdoor unit, enabling you to efficiently cool or heat up to five different rooms to different temperatures. On top of this, Daikin's new Multi + range connects a single outdoor unit with up to three indoor units and a domestic hot-water tank of 90 or 120 litres. The air to air indoor units come in a number of variations, our favourite is the Daikin Emura cooling and heating air to air heat pumps which with a sleek design, soft shadow lines, and additional smart has won several design awards including IF DESIGN AWARD and Red Dot Product Design Award 2022.
Subscribe to Our Newsletter
Receive our monthly newsletter by email