Will the houses of the future be printed in concrete?
BY JOHN SEMPILL | PHOTOS: CONCRETEPRINT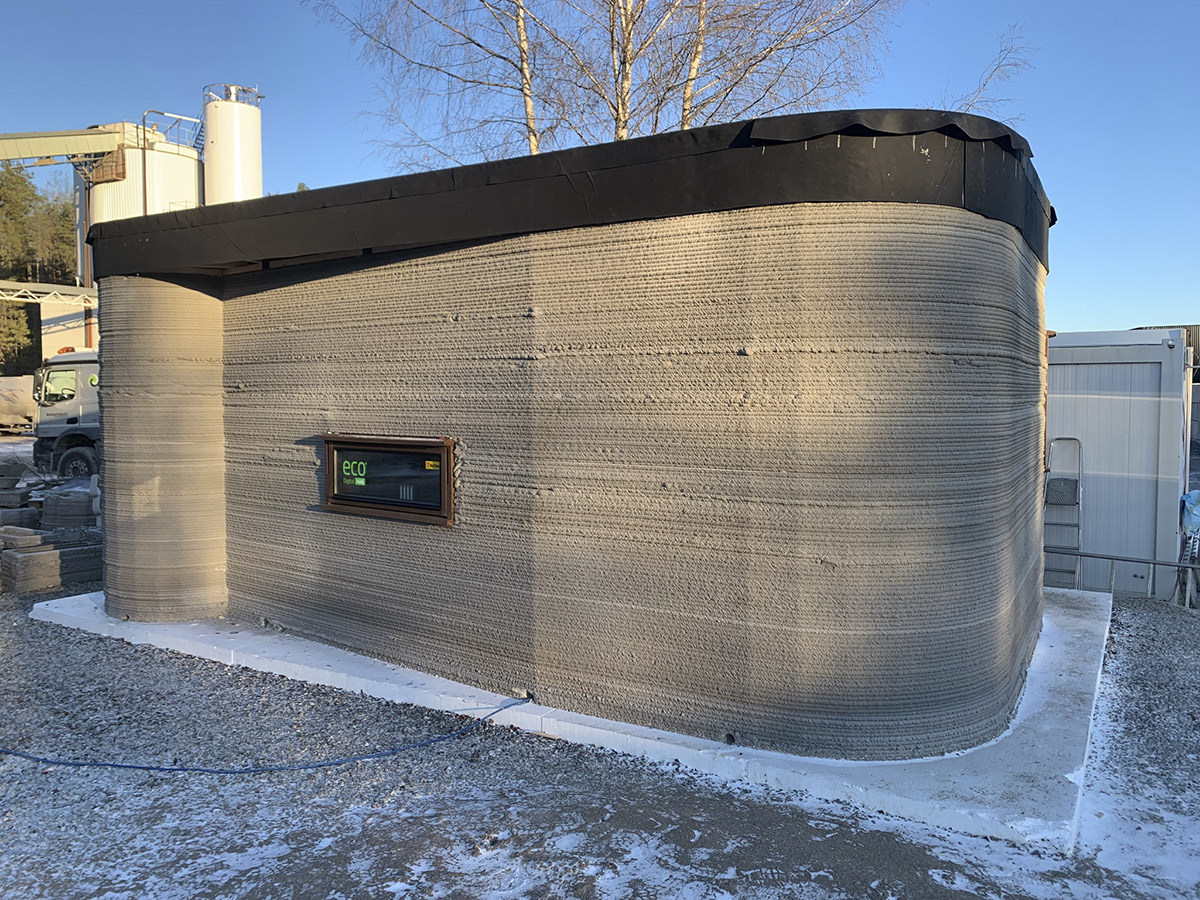 Many people look to preserve energy in everything they do, be it perfecting the way they drive to work, shower or eat. The construction trade is no different – John Sempill looks into whether 3D printing might offer a new, more sustainable way to build with concrete.
Traditionally, the construction sector has been plagued with unsustainable habits, risk aversion and a tendency to do things 'the good old way'. However, Swedish start-up, ConcretePrint, is looking to disrupt the game by printing homes instead of building them. "A house as big as 150 m2 can be built between 24 and 48 hours," says founder, Tobias von Haslingen. What does this mean in the long run? According to ConcretePrint, it means a cut in production costs by 30 per cent, as well as less planning and less transport and, crucially, the method almost eliminates all waste product.
"We can basically utilise all of the planned material," says von Haslingen. "If we print a 150 m2 villa, we might use a total of 30 m3 concrete, for inner and outer walls et cetera, and we might throw away somewhere between 40-100 litres, and that is basically in the printer cleaning process and when the first bit of concrete is pumped through the printer system."
A closer look at concrete
Concrete is interesting in itself, but its production is not without controversy. Traditional methods of making cement and concrete involve extremely high temperatures and thus release high amounts of carbon dioxide; with the climate agenda, this, of course, causes resistance. Von Haslingen, however, says critics aren't seeing the bigger picture. Concrete, he says, is produced to last for ages, and under the correct circumstances can compensate for its carbon dioxide release through binding carbon dioxide back into itself. His words are backed by researchers at RISE, Sweden's research institute, who have studied the lifetime properties of the material. "The latest IPCC report [Intergovernmental Panel on Climate Change] describes the role of cement in carbon dioxide emissions, but it also shows that, over their lifetime, concrete structures absorb 50 per cent of the carbon dioxide emitted during cement production," says Katerina Malaga, who researches sustainable concrete at RISE. "And there is another aspect," von Haslingen adds: "Concrete is the most used material on the planet – if the whole world were to use wood instead, then all the trees of the Earth would disappear rapidly."
What is more, Norway is looking at other ways to solve the carbon dilemma, by burying it in cavities below the seabed, and "if you bury the carbon dioxide, under the correct conditions, new bedrock is produced," von Haslingen says.
In other words, his point is that through carbonisation, concrete becomes a natural carbon binder. Thus, reusing carbon rubble in construction projects not only contributes to the circular economy, but also buries the carbon. Combined with carbon capture and storage projects, the concrete can thus become net carbon neutral or carbon negative, and the bedrock produced in the process could even be used in the construction industry. Of course, huge research and development resources are also deployed around the world to discover new and more carbon-dioxide efficient concrete mixtures and production methods.
Why print your home?
On top of being a more precise construction process, entailing less waste, the printing process also helps reduce the total cost of a building project. "If you do the maths, we're talking about huge sums," von Haslingen explains. "Just looking at the Swedish construction industry, there is a construction faulty rate of up to a fifth of the total construction cost in a project."
Printed houses also make the next steps in the building process easier. According to electricians, installation time is cut in half simply because the ground work is done – holes are already 'printed' in the right places, and most of the wall chasing is prepared in the printing process. "Today, more than 50 per cent of all decisions in a build are done on site," von Haslingen explains. "Here, you'll be able to save several building steps, all of the holes are in the right places, everything is where it is supposed to be. Of course, this has to be planned before print, but this then means the construction process will in turn be a lot swifter."
The vision of ConcretePrint is to produce houses ready for use after 30 days. But there are a couple of obstacles before this becomes a reality. "This isn't totally possible with the concrete used today, there is a moisture ratio to be considered. But looking forward, this area will develop and we'll have concrete with the correct characteristics."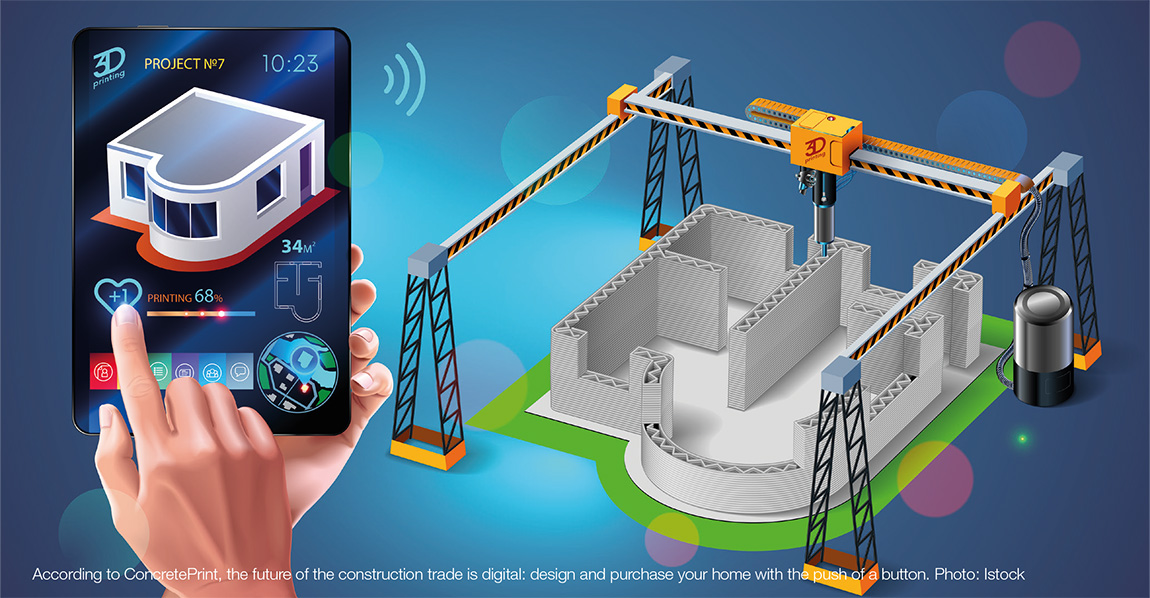 People should do what people are good at and robots the rest
Looking ahead, ConcretePrint's vision is digitalisation – to be able to design your dream home in an online application, and simply click the purchase button. A fleet of robotic workers will arrive on site, print your house, ready for painters and electricians to do the finishing touches. "This is still in the future," von Haslingen concludes. "But the vision is that people do what people are good at while heavy lifting and things like that are offloaded on construction robots. We won't need to do that anymore."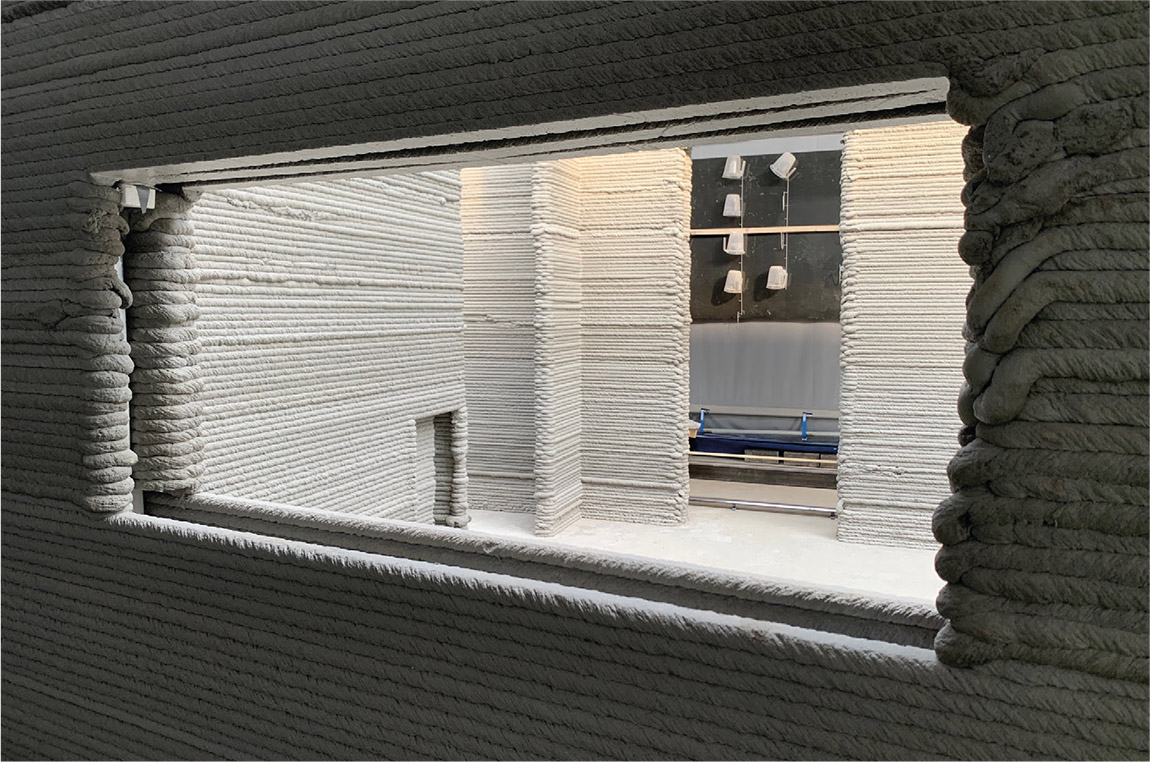 Subscribe to Our Newsletter
Receive our monthly newsletter by email