Amcham Finland: The Finnish approach is science-based and technologically agnostic
BY ROSA THURMAN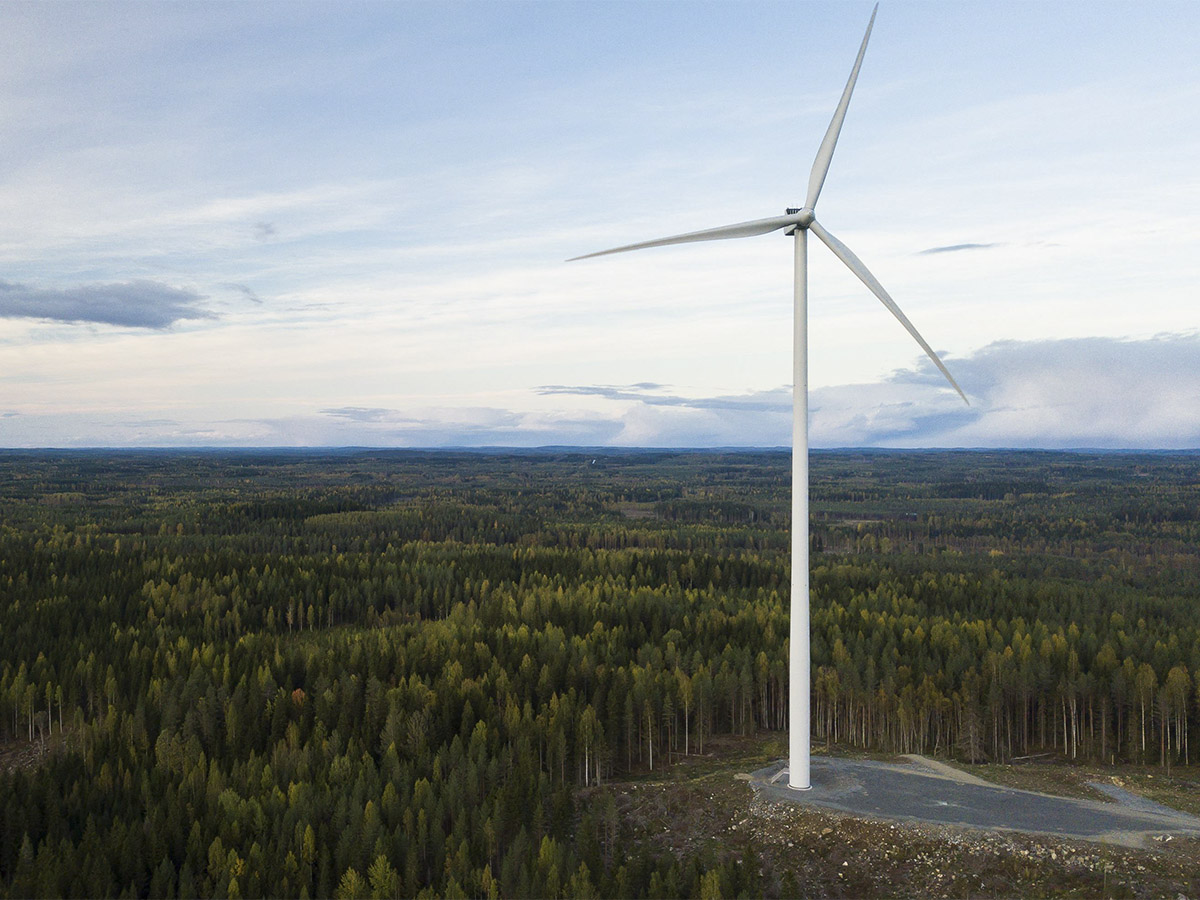 In 2019, Finland set the ambitious target of becoming carbon-neutral by 2035 and becoming the "world's first fossil-free welfare society". Rosa Thurman, director of Foreign Affiliate Services and Sustainability at Amcham Finland, writes on how her organisation works to attract foreign direct cleantech investment.
The strengths of Finland's business environment such as political stability, worker talent and digital infrastructure have long been recognised and have helped the country successfully top the Nordic rankings for attracting the most foreign direct investment (FDI) projects for several years in a row. The Finnish economy has continued to rebound swiftly from the Covid-19 crisis, but now with the war in Ukraine casting a shadow on the global investment landscape, the key question is how to retain the investor confidence in times of uncertainty and how Finland can continue attracting FDI in an increasingly competitive environment.
"Do not underestimate the power of a strong, long-term vision."  That has been a core message from investors and company leaders alike. When Amcham Finland gathered its diverse community of international investors and asked what they would need to expand their operations in Finland, the importance for a long-term vision for FDI and talent from the decision-makers was very high on their agenda. The investors agreed that in the current investment climate, predictability and enabling regulation, stability, transparency, and regular dialogue with the decision-makers is more important than ever.
Carbon-neutral by 2035
In Amcham's Finland FDI Vision report, one of the drivers for Finland's future competitiveness was to attract more FDI in the field of sustainability and to develop channels through which FDI can best support Finland in reaching the UN Sustainable Development Goals (SDG's). The Finnish Government programme starts with the words 'climate change'. In 2019, Finland set the ambitious target of becoming carbon-neutral by 2035 – in line with EU's target of 2050 – and being the "world's first fossil-free welfare society". These ambitious targets require close cooperation between the public and private sectors, of which sector-specific low-carbon roadmaps are one pioneering example.
Markku Kivistö, head of Industry, Cleantech, Invest in Finland, at Business Finland, the government organisation for innovation funding and investment, trade and travel promotion, noted the importance of how the Finnish society is based on strong private-, research- and public partnerships, and how the cooperation also extends to working together with global organisations, the EU and its Nordic colleagues.
Finland's green competencies have been a clear pull factor in attracting cleantech FDI. In the Environmental Performance Index, which assesses 180 countries on their environmental health and vitality of their ecosystems, Finland has been consistently among the Top 10 greenest countries in the world. In 2021, Finland also topped the Global Energy Innovation Index that ranks countries according to national contributions to the global clean energy innovation system and was ranked first in entrepreneurial experimentation and market formation. The same year, Finland was also ranked number one by the UN in an international comparison of sustainable development.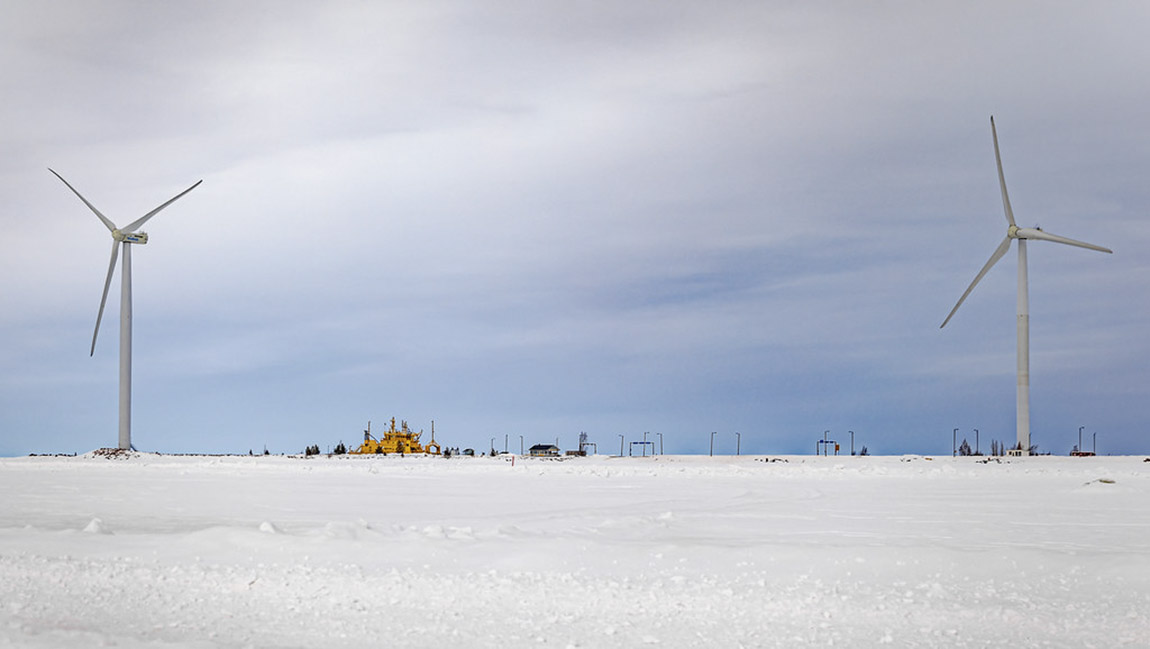 Reliable green electricity
Mr Kivistö explains how both objective and innovative ways that focus on solving climate change are attracting an increasing number of companies and research organisations to Finland. "Finnish electricity was 87 per cent CO2 free in 2021 and volume is substantially increasing, likely also in the future. Electricity is available in a reliable manner with the same terms across the country with one of the lowest costs in Europe. This creates an excellent opportunity for energy-intense businesses to expand in the EU and Eurozone and substantially lower their CO2 footprint. This applies especially for companies in hydrogen, power to X, battery value chain and manufacturing sectors."
Finland is rich in natural resources and the harsh climate has forced the country to develop efficient methods and alternative energy sources. This, together with the close connection to nature, has sparked innovative solutions on how to live in a sustainable and circular manner. Mr Kivistö also points out that the Finnish approach is science-based and technologically agnostic, leaving space for researchers and companies to develop innovative solutions. Meanwhile, political parties recently agreed to raise the public and private research and development spending to four per cent of GDP by 2030, to further help the overall landscape. Finland also has one of the best education systems in the world, making Finland's business environment attractive to cleantech investors.
Dialogue is key
With the increased competition for FDI and the geopolitical uncertainty, clear and targeted value propositions are needed to end up on the shortlist when investment decisions are being made in global headquarters. Regular dialogue with the decision-makers is key. Amcham Finland facilitates regular peer-to-peer discussions for CEOs and country managers, helping international investors to understand the short, mid, and long-term scenarios for Finland on different parameters such as political, geopolitical, and where the opportunities lie. Cleantech was identified as the key theme of Finland's country brand already in 2014, and it is believed that the key factors mentioned above and the open and welcoming mindset for FDI which the investors appreciate, will continue boosting the confidence among Finland's existing and future investors.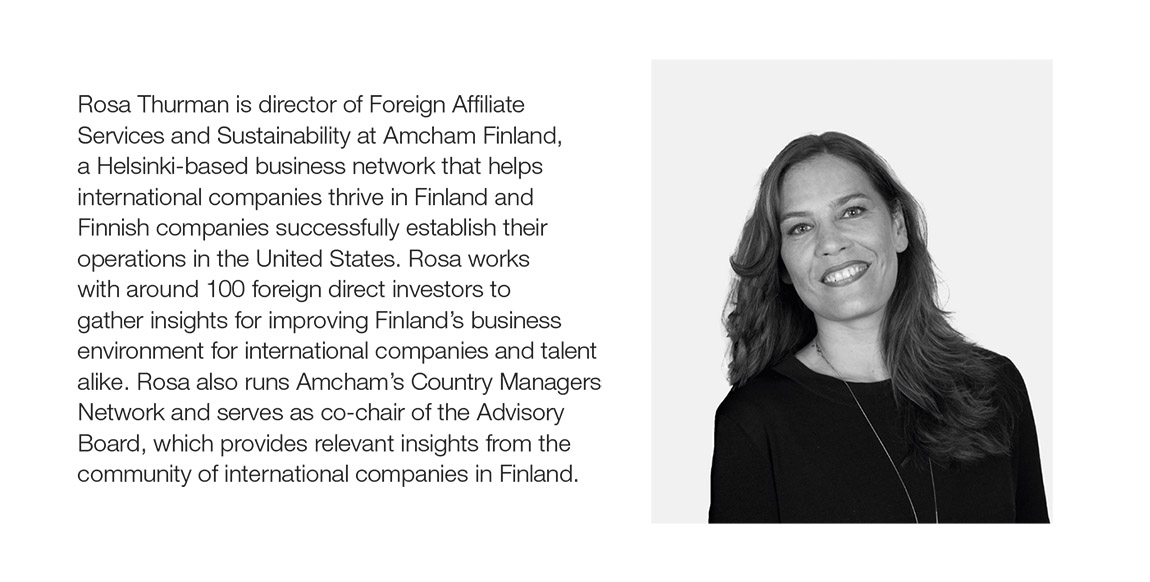 Subscribe to Our Newsletter
Receive our monthly newsletter by email