Europe's first agri-PV power-purchase agreement signed as interest grows
By Jason Deign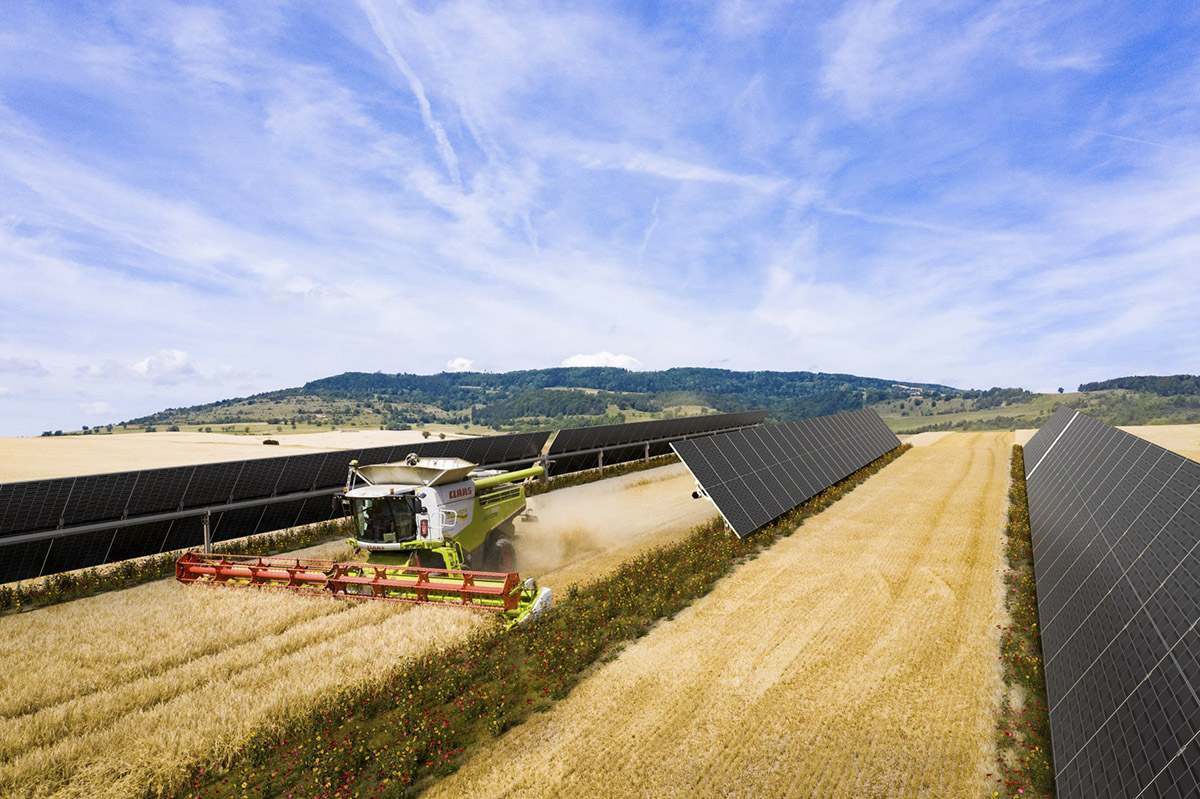 At the end of last year, Skylight maker Velux Group and BayWa r.e., a renewable energy developer, signed the first European power-purchase agreement (PPA) involving agriculture and solar power. The move underscores growing interest in agri-PV, where photovoltaic solar plants are combined with food production on farmland.
Under the terms of the PPA, BayWa r.e. will build two solar parks in Spain to power Velux's European operations with 100 per cent green electricity by 2024, saving 40,000 tonnes of carbon dioxide a year. The parks – one close to Seville and the other near Granada – will be connected to the grid between 2023 and 2024, with a combined output of 167 GWh a year; equal to the energy consumption of around 45,000 European homes.
The Granada plant, called Alhendín, will be BayWa r.e.'s first agri-PV project in Spain, with crops being grown between the solar panels across ten per cent of the development. To accommodate plant growth and farm machinery, the solar panels will be raised further off the ground than usual. The panels will also be used to collect rainwater for the crops in the project.
A great potential if challenges can be overcome
On its website, BayWa r.e. claims agri-PV can increase a farm's economic value by up to 30 per cent. In China, where agri-PV is practised widely because of a shortage of available land near grid connections, the analyst firm BloombergNEF has found this is not always the case. Instead, a 2020 study of Chinese agri-PV found the solar plants had higher costs and lower yields than traditional projects, and farming operated at a loss because of the need for manual labour to work between panels.
Nevertheless, if the challenges can be overcome then the potential for agri-PV is immense, according to the industry body SolarPower Europe. If just one per cent of Europe's arable land were combined with solar-power generation, then it could deliver more than 700 GW of electricity, SolarPower Europe says.
"Installed directly above crops, agri-PV provides shade, protects against hail or frost, enables stable crop yields and increases the electrical yield of solar PV panels," claims Alain Desvigne, chief executive of Amarenco Group and chair of SolarPower Europe's agri-PV work stream.
Biodiversity and community engagement
Furthermore, says BayWa r.e., the development of both solar plants will include a comprehensive suite of social and environmental measures to enhance local biodiversity and foster community involvement. The developer intends to set up interdisciplinary research groups with local universities – the Universidad Autónoma de Madrid and Universidad de Córdoba – to make sure local community and environmental considerations are prioritised in both plants.
"BayWa r.e. is happy to support Velux on their journey towards reaching carbon neutrality," BayWa r.e.'s global director of energy solutions, Andrea Grotzke, tells Discover Cleantech. "We believe that innovative projects like this one in Spain perfectly showcase the many opportunities that renewables offer, not only in terms of energy, but also community engagement and food production."
Subscribe to Our Newsletter
Receive our monthly newsletter by email