Battery manufacturing boom in the UK
BY JASON DEIGN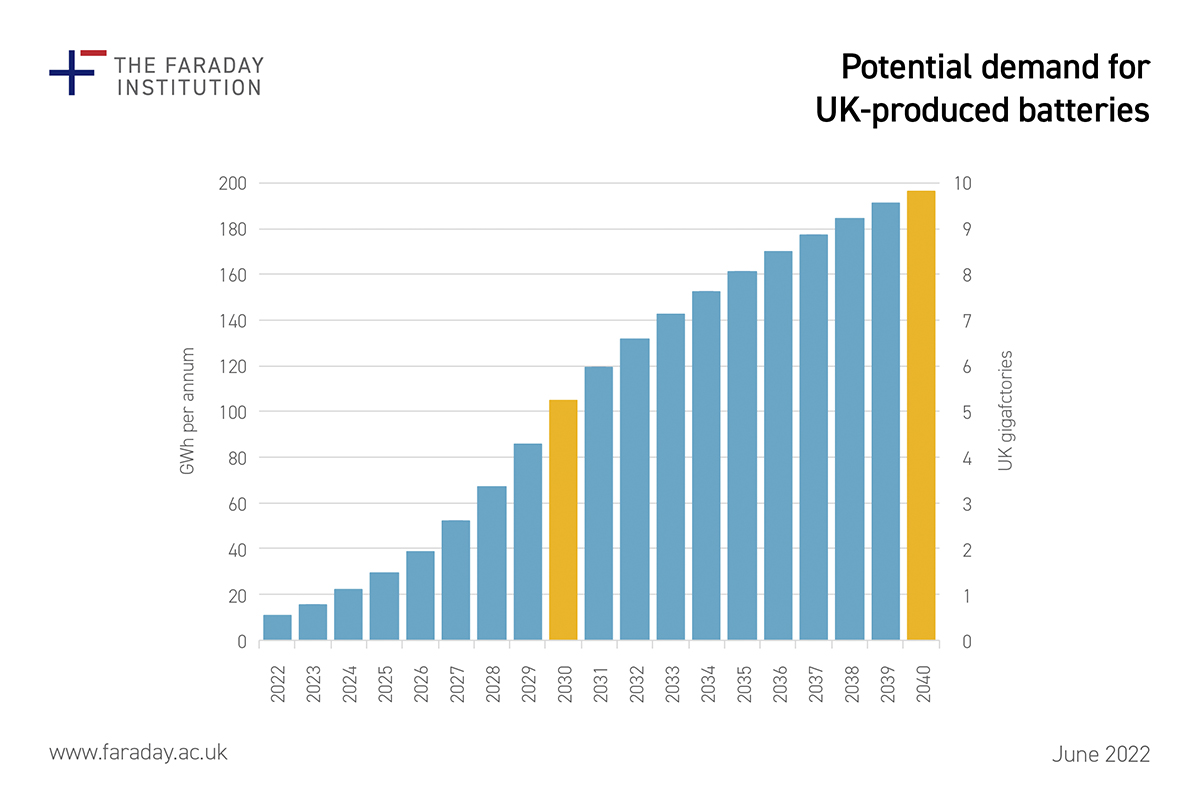 The UK could be home to ten battery gigafactories by 2040, according to the Faraday Institution, an independent institute for energy storage research and development. An update to a 2020 study by the institute forecasts the factories could deliver a total of 200 GWh of battery storage capacity a year.
Five 20 GWh-a-year facilities could be operational by 2030, the Faraday Institution believes. The combined electric vehicle automotive and battery ecosystem could be worth 22 billion GBP by 2030 and 27 billion GBP by 2040, it says. 'Gigafactory' refers to massive battery manufacturing plants. It was popularised by electric vehicle entrepreneur Elon Musk, who coined the term to describe the plants built to supply batteries for Tesla.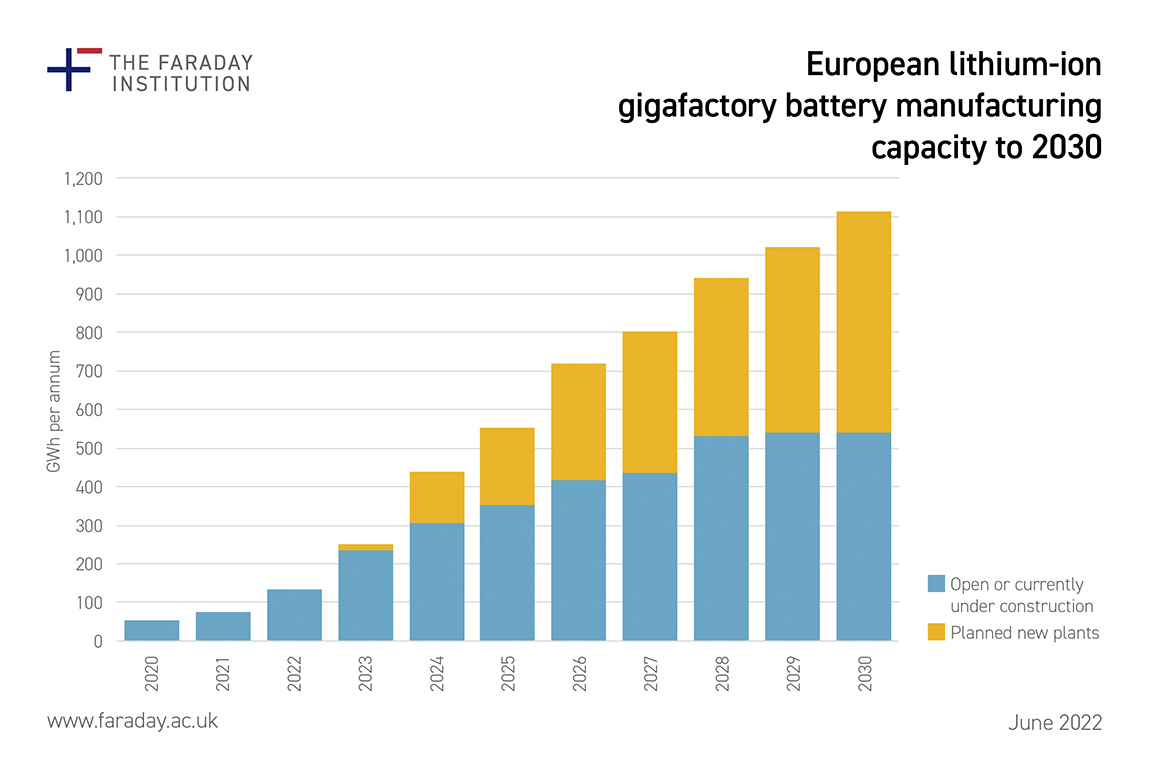 Britain does not have any Tesla battery plants, but "recent announcements in the UK by Britishvolt and Envision AESC have built excitement, particularly in the North East, about the potential to create a new, dynamic and highly skilled battery industry," says the Faraday Institution.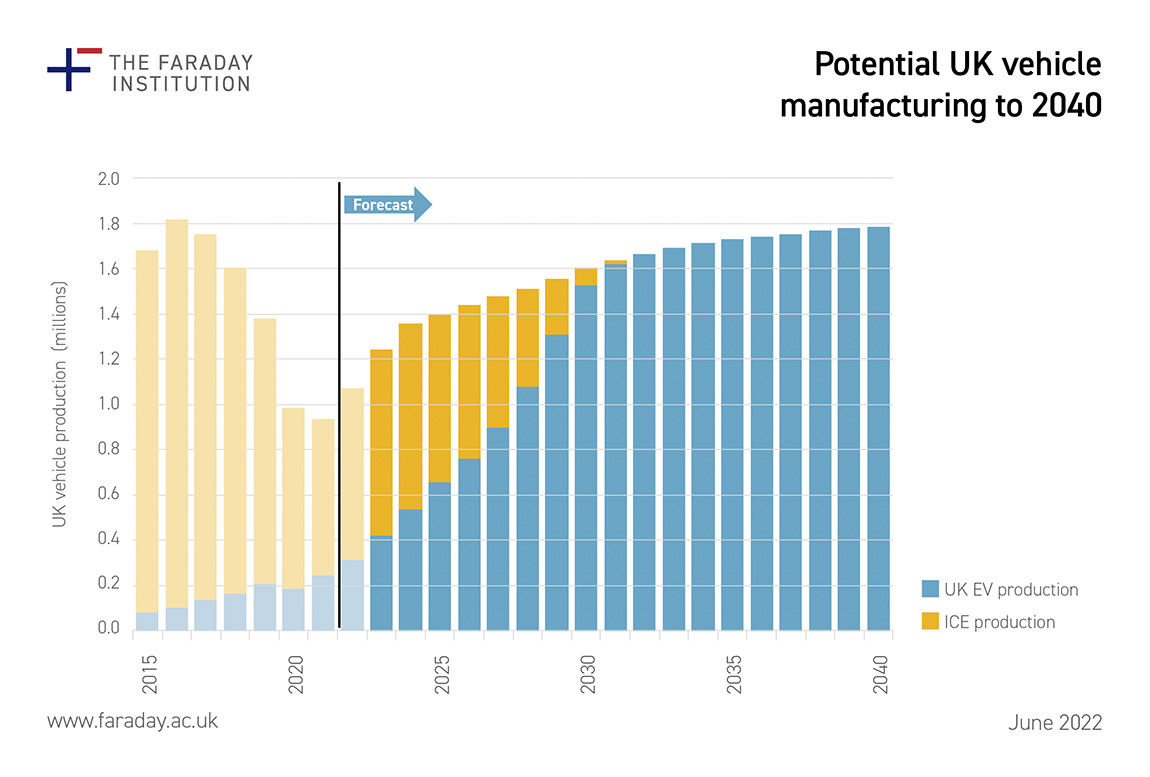 The government "has played its part by making bold policy commitments and increasing investor confidence in the UK as a location to do business," but more needs to be done, it adds.
On its current trajectory, the UK could have about 57 GWh of annual battery manufacturing capacity by 2030, equivalent to only about five per cent of the total in Europe. In contrast, Germany is set to install around 34 per cent of Europe's total battery manufacturing capacity. Germany already had four gigafactories in operation at the start of this year, totalling 15.5 GWh of capacity a year, compared to the UK with just one gigafactory and 1.9 GWh of capacity a year.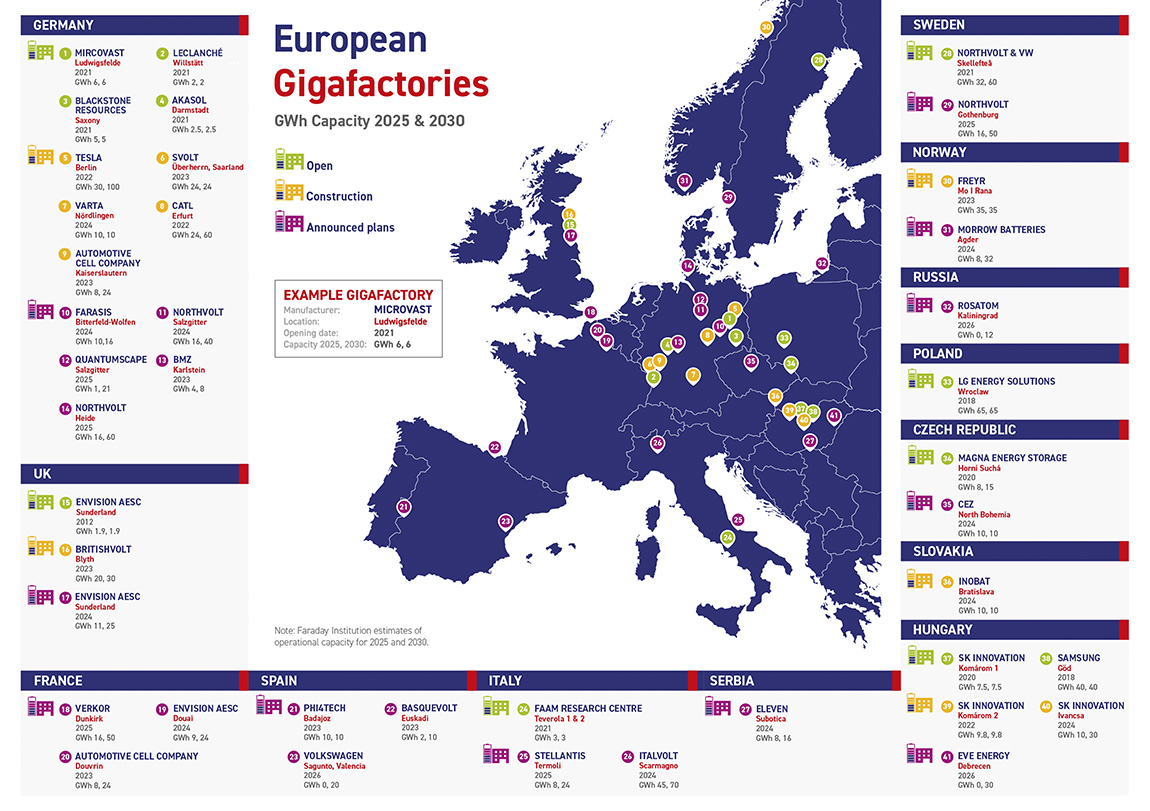 Giga scale
Tesla chose Germany for its first European gigafactory, which opened in March with an initial production capacity of 100 GWh a year. The Tesla facility builds Model Y crossover utility vehicles as well as batteries. "It is important that the UK Government continues to communicate the attractiveness of the UK as a battery manufacturing location to investors," says the Faraday Institution.
"Alongside cultivating new investors, it should also help to develop a resilient, sustainable and efficient supply chain, build up skills capability and commit to the long-term funding of battery research, particularly next-generation batteries," it adds.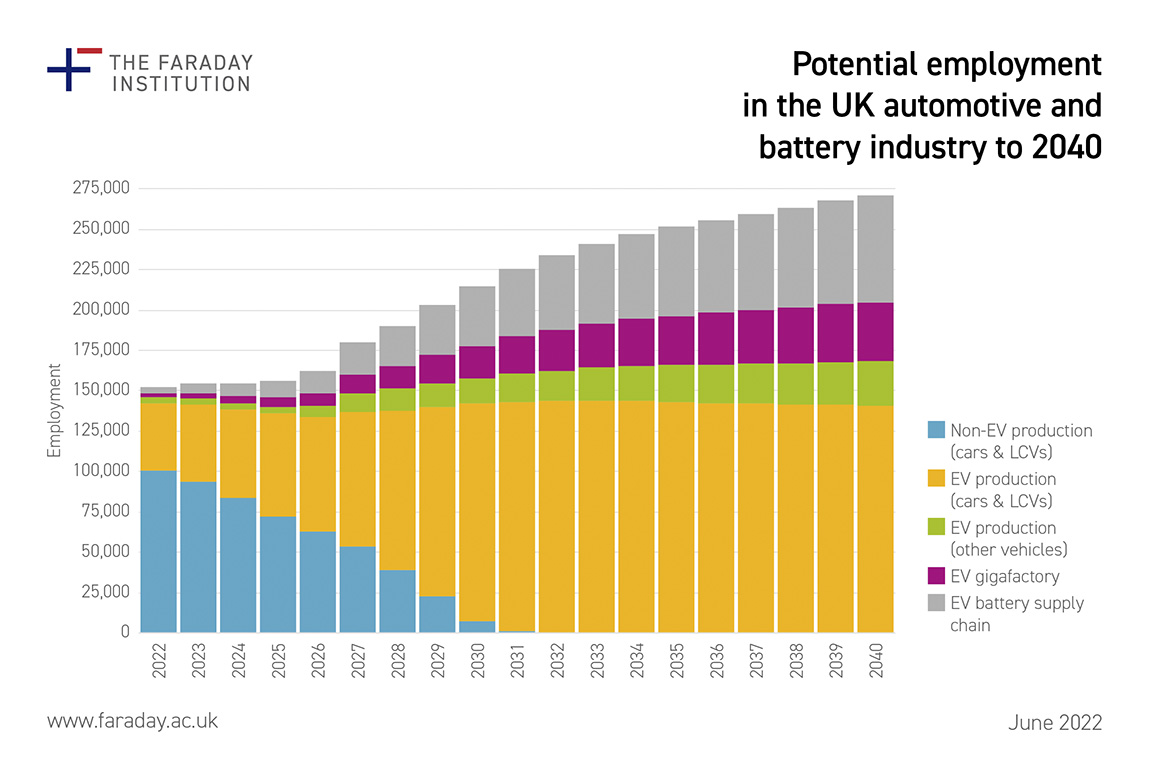 These batteries include solid-state, lithium-sulphur and sodium-ion technologies, which have yet to be commercialised at scale, but which carry significant promise for use in electric vehicles and energy storage applications. "The UK is already home to global experts in battery research and to well-established companies," says Pam Thomas, chief executive officer at the Faraday Institution.
"We must move quickly to exploit this competitive advantage by establishing large-scale domestic manufacturing in the UK while continuing to fund long-term battery research," she says.
Despite this, "there is a growing sense of optimism that a highly productive and sustainable battery manufacturing industry can be built in the UK," says Stephen Gifford, the Faraday Institution's chief economist. "By 2040, a successful industry could employ 170,000 people in EV manufacturing, 35,000 people in gigafactories and 65,000 people in the battery supply chain."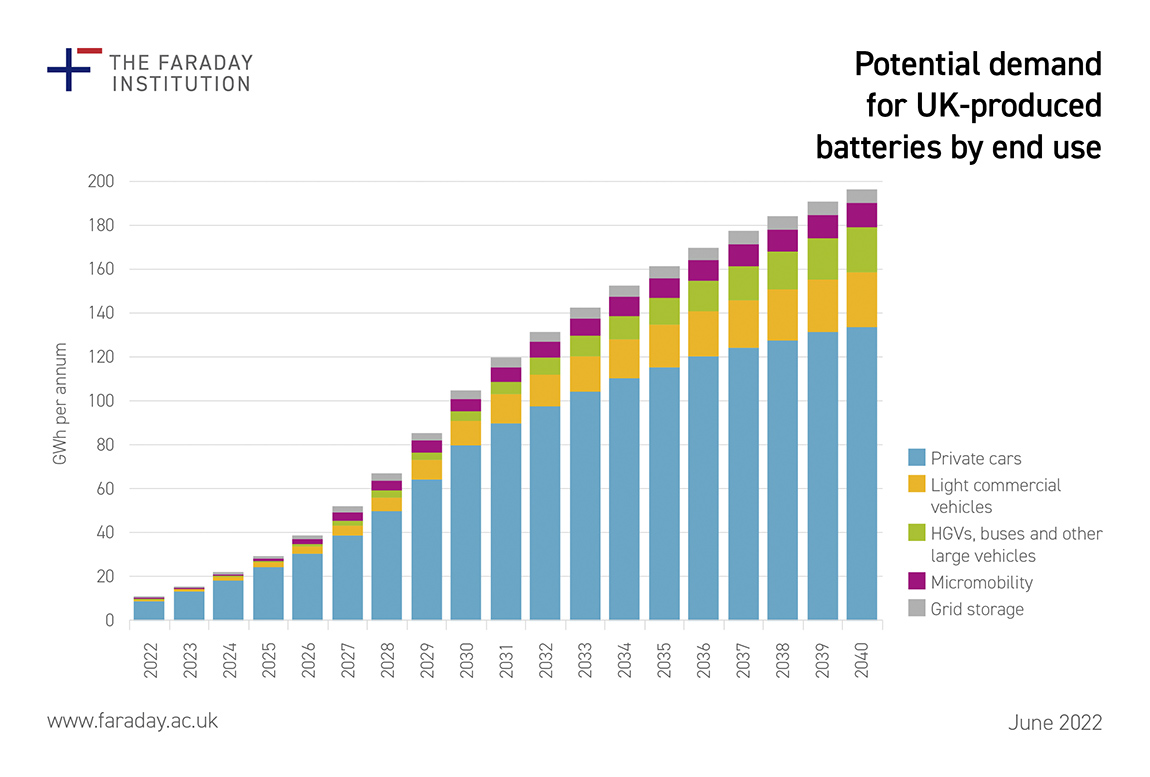 Subscribe to Our Newsletter
Receive our monthly newsletter by email