Circular&Co: Helping to create a more circular economy
BY JASON DEIGN | PHOTOS: CIRCULAR&CO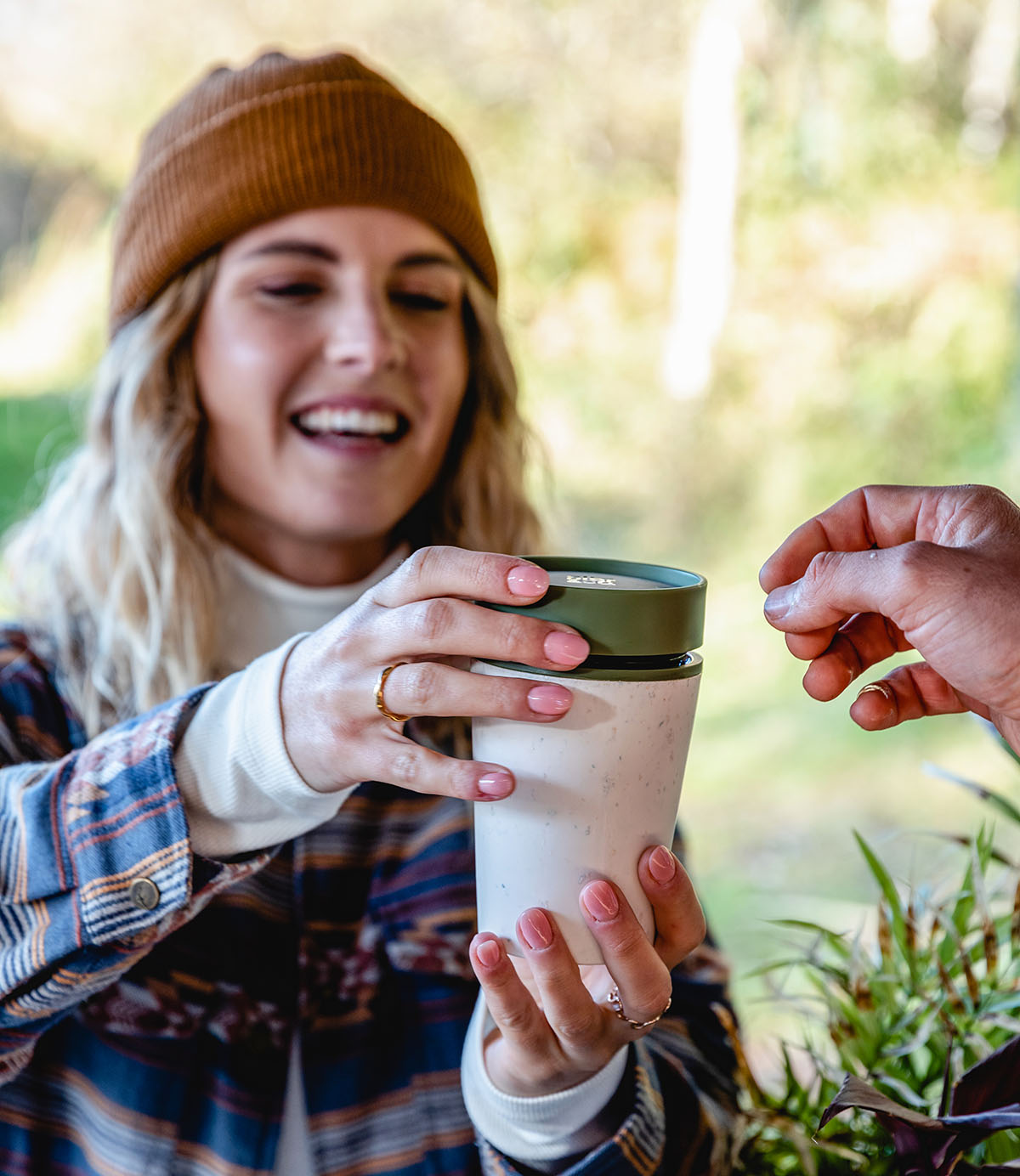 UK company Circular&Co is showing how business success can be perfectly compatible with creating a more sustainable society.
Millions flock to Cornwall in southwest England every year, drawn by pristine beaches and rugged landscape. The county's deep association with nature makes it an ideal location for a small UK company that is working to create a more sustainable future. Circular&Co, based in the scenic resort town of Perranporth, has as its mission "to inspire and educate everyone about circular design and why we must all welcome circularity into our everyday lives".
The company uses waste materials to create reusable cups and bottles, plus plant pots, house signs, tide clocks and barometers, as well as other homeware and garden products. On top of selling these consumer products from its website, the company works with businesses to provide branded goods and returnable cup schemes. Each Circular&Co cup is designed to last up to ten years and can be recycled at the end of its life.
Circular&Co is the brainchild of Dan Dicker, a product design expert who had previously worked at Dyson, the innovative consumer goods manufacturer best known for upending the vacuum cleaner market in the 1990s. Dicker founded a business called AShortWalk in a garden shed in 2003, after becoming disillusioned with the amount of waste created by manufacturing and consumption at the time. AShortWalk rebranded as Circular&Co in 2020.
ENAMOURED OF CIRCULAR DESIGN
"We all genuinely believe that circular design solves three of the huge issues we are facing," says Ashleigh Smith, Circular&Co's product designer. "It solves over-consumption; it solves carbon emissions, and it solves pollution and waste."
There is now growing recognition that embracing circular design criteria can help improve financial performance, says Smith. "The circular economy is one that stands the test of time from an economics perspective," she says.
That does not mean that switching to a circular economy approach is all plain sailing. A case in point: each Circular&Co cup contains up to 40 per cent recycled content, but that amount is not due to some technical limitation. Instead, it is down to food safety standards that force certain parts of the cup that come into contact with the drink being made from virgin materials.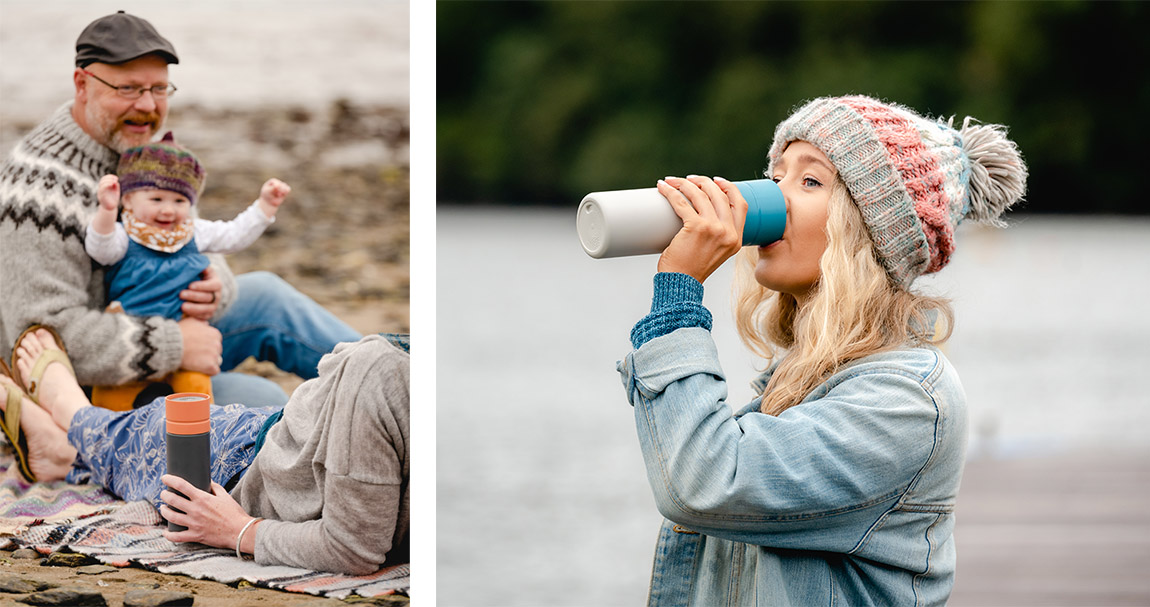 WORKING TO CHANGE THE SYSTEM
Dicker is working with industry to tackle this problem, and it is hoped that by the end of 2022 they, together with Nextloop (a partnership of 50 other global companies), will have developed a 100 per cent recycled plastic that is food safe. Another issue is that it is not enough to make sure circular economy products can be recycled.
Even though European plastic packaging recycling rates have risen significantly in recent years, from ten kilogrammes per person per year in 2009 to almost 15 kilogrammes in 2019, the amount of waste produced has risen to an even greater extent. Partly, this is because of deficiencies in waste collection, separation and processing, and partly it is because it does not make financial sense to recycle some types of plastic.
Hence, a key design attribute for Circular&Co is that its products should be recyclable under real-life conditions, and not just in theory. Despite these challenges, Circular&Co is going from strength to strength thanks to growing corporate and consumer awareness of the value of circular design.
BUSINESSES WANT TO CHANGE
Up to around 80 per cent of the company's revenues are from businesses that want to contribute to a cleaner, greener planet. Sustainable thinking "is endemic in business now, it's not the additional luxury that it once was," says Smith.
Although greenwashing still exists, in the business-to-business world "you're speaking a more friendly language," she says. "People do understand the need for this. They are all actively looking at how they can build circularity into their business models."
It is these businesses that Circular&Co is targeting with an innovative deposit return scheme. The idea is that cafes, coffee shops and others can sell their drinks in a branded returnable Circular&Co cup rather than single-use plastic cups. The retailer charges a deposit with each sale and that money gets returned if the customer brings the cup back. Alternatively, the customer can keep the long-lasting Circular&Co cup for their own use. Importantly, the cup will be fully circular, so made from waste material, designed to last and then fully recyclable.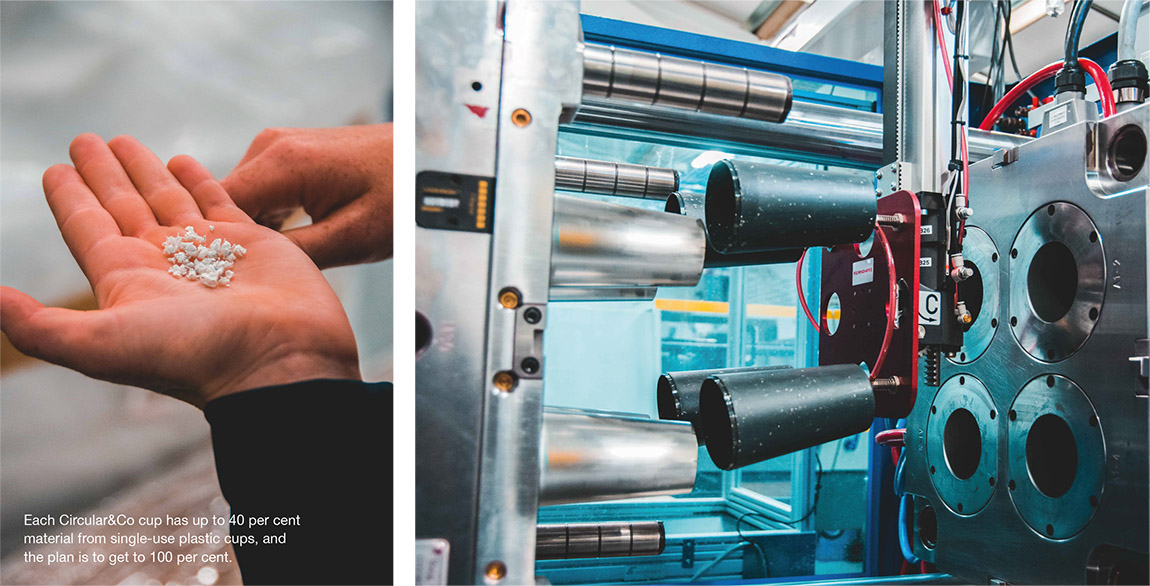 PULLING THE PLUG ON SINGLE-USE PLASTIC
The cups designed for the deposit return scheme are easy to stack and can withstand more than 500 commercial wash cycles, equal to around five years of use. Cup designs are the stars of the Circular&Co product line because "the vast bulk of our business is in those cups and they have the potential to make a big difference because single-use plastic is such a big problem," Smith says.
"It allows big campuses, like universities, to pull the plug on single-use stuff. It fits into this approach to looking at systems in the world that we live in, and how we can make them better."
Drawing on his experience at Dyson, Dicker is careful to make sure Circular&Co's products look great as well as being functional. This immediately changes the nature of the product, says Smith. "A £10 note is plastic, but you would never throw that away" she says. "By the switch to a circular economy, you're putting value on waste."
SERVING A GLOBAL CUSTOMER BASE
This idea has helped pull in customers from all over the world, allowing Circular&Co to grow from a one-man band to a busy enterprise with 18 members of staff. The company has also developed various partnerships to serve its growing customer base. For its cups, for example, Circular&Co gets raw material – essentially, processed single-use cup plastic – from a supplier in Wales. The cups themselves are manufactured by Polymermedics of St Austell in Cornwall.
Other products, such as bottles, are initially made in China, then once the product has a proven market, they look to bring production closer to come. The company carefully weighs up such choices on environmental grounds and collaborates with the University of Exeter on life-cycle analyses of its products. You have to judge a product's environmental impact not just across its own lifecycle, but its total lifecycle within your range.
"We're actively making decisions not necessarily because it's better for the company but because it's the right thing to do," Smith says.
The best part of all is that Circular&Co is showing how business objectives need not clash with sustainability. "We're not tree huggers," says Smith. "We have a really beautiful brand that we are all really proud to be a part of."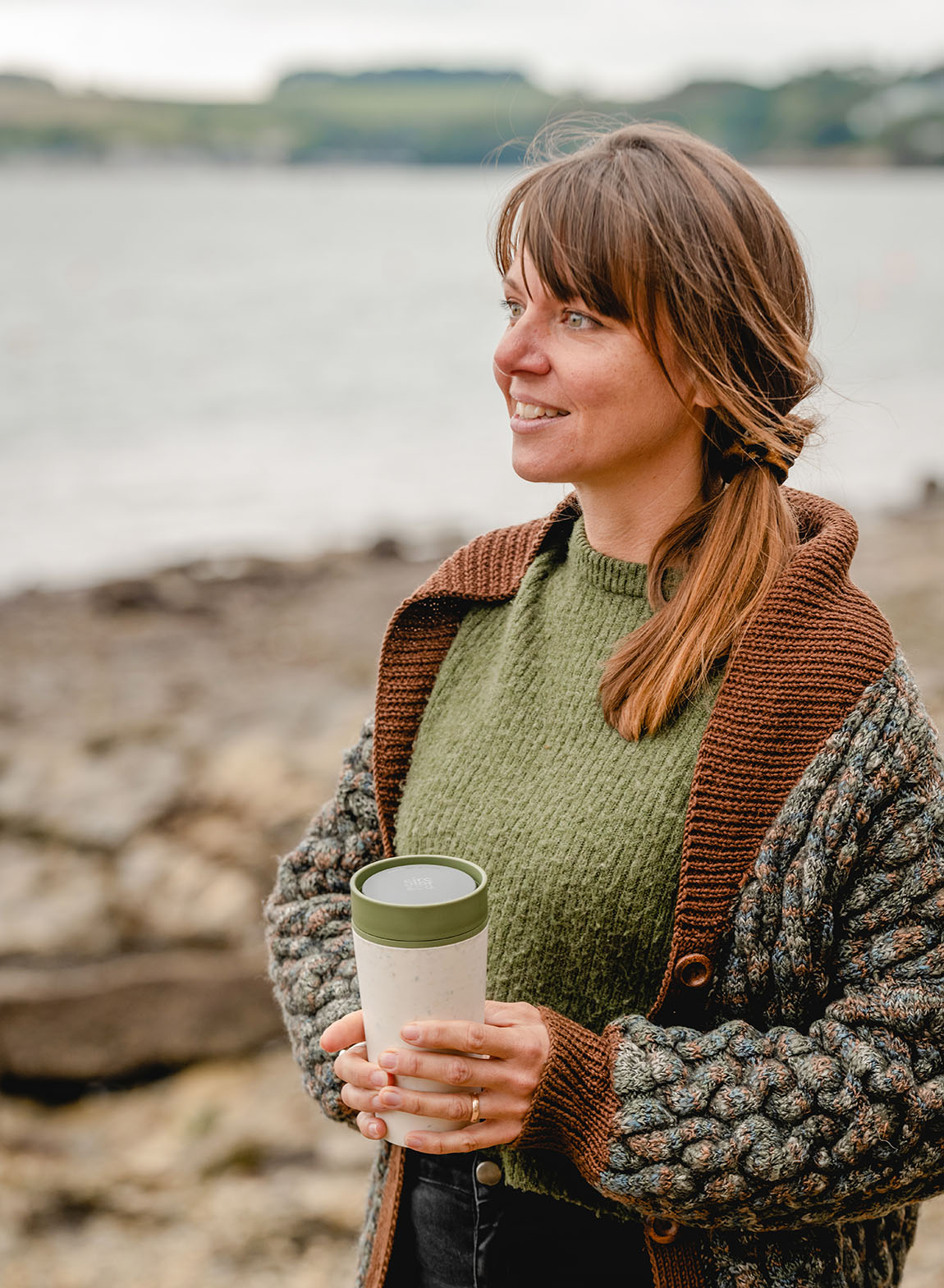 Web: circularandco.com
Subscribe to Our Newsletter
Receive our monthly newsletter by email