Glassmaker looks to hydrogen for a lighter carbon footprint
By Robin Whitlock | Photo supplied by Rebecca Eatwell, Managing Director, Font Communications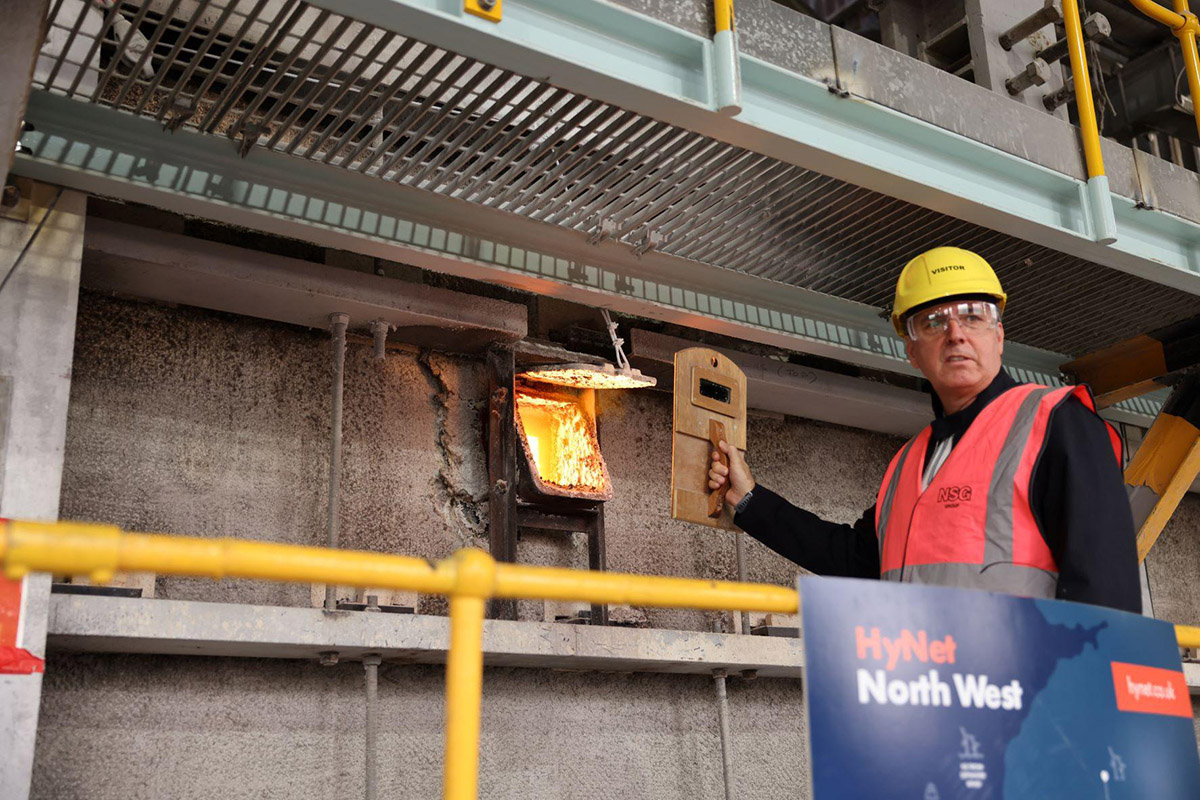 Leading UK glass supplier, Pilkington, is the latest company to join the UK's North West Hydrogen Alliance (NWHA), following the completion of a world-first trial, last year, using hydrogen for glass production instead of natural gas.
Industry in general remains largely dependent on natural gas for manufacturing products. Current processes require flames to directly heat materials, particularly in the glass, brick and cement industries. Switching these processes to electricity would be prohibitively expensive, while using hydrogen in contrast is relatively low-cost. A small number of industrial sites in the UK's North West are already use hydrogen, but the NWHA is seeking to expand this activity and this is being initiated through a series of large trials.
Pilkington's role in this process will be to help replace natural gas with hydrogen in the glassmaking industry, thereby decarbonising glass production and making the industry more sustainable.  In September 2021, Pilkington, part of the Nippon Sheet Group (NSG), manufactured architectural glass using hydrogen in a world-first trial, part of the HyNet Industrial Fuel Switching Project. The trial demonstrated that hydrogen is just as capable as natural gas of achieving an excellent melting performance while also greatly reducing carbon emissions.
"While glass is a sustainable, infinitely recyclable material, it requires intense heat to produce," says Neil Syder, managing director at Pilkington Glass. "Reducing CO2 emissions and maintaining the security of energy supply for our furnaces will remain fundamental to our continued business. Hydrogen offers a real solution to decarbonising the glass manufacturing process and the recent trials at our Greengate Works site in St Helens proved that it can be successfully used to fire up our furnaces."
The company joins existing NWHA member Glass Futures, a not-for-profit company engaged in creating a 'Global Centre of Excellence' pilot plant facility in St Helens, which aims to make glass the low carbon material of choice. The facility will incorporate a full-scale batch plant, a 30-tonnes per day furnace with abatement and heat recovery, an IS machine and cold end container process coating, inspections and packing line. Development of alternative fuel technologies will be a key project within this facility.
Green hydrogen
However, there are some challenges facing a transition to the use of hydrogen in glass-making. Firstly, it would entail the development of a network of pipelines to key locations. Secondly, clean green hydrogen requires electrolysis to separate hydrogen from oxygen in water. This would have to be achieved by renewable energy plants such as wind farms using electrolysers.
The Pilkington trial was conducted with fossil-fuel derived hydrogen supplied by BOC. Although the company is planning to explore the production of green hydrogen, the main point of the trial at St Helens was to prove that glass plants can safely use 100 per cent hydrogen.
In Germany, however, the Federal Association of the German Glass Industry (BV Glas) is already investigating the use of green hydrogen in glassmaking, through its Hyglass project in Essen. This is being conducted in collaboration with the German Gas and Heating Institute (GWI) and aims to lay the foundations for using hydrogen in industrial plants.
Another challenge is that the use of hydrogen in glass manufacturing is inefficient, with 45 per cent of the hydrogen remaining in the glass. In a situation where steel, cement and transportation also need hydrogen, this means the glass industry could be squeezed out and more innovation may be needed before green glassmaking in the UK becomes fully viable.
Subscribe to Our Newsletter
Receive our monthly newsletter by email