Green heating and the energy crisis – Should we wait for the silver bullet?
BY SIGNE HANSEN | PHOTOS: DREAMSTIME.COM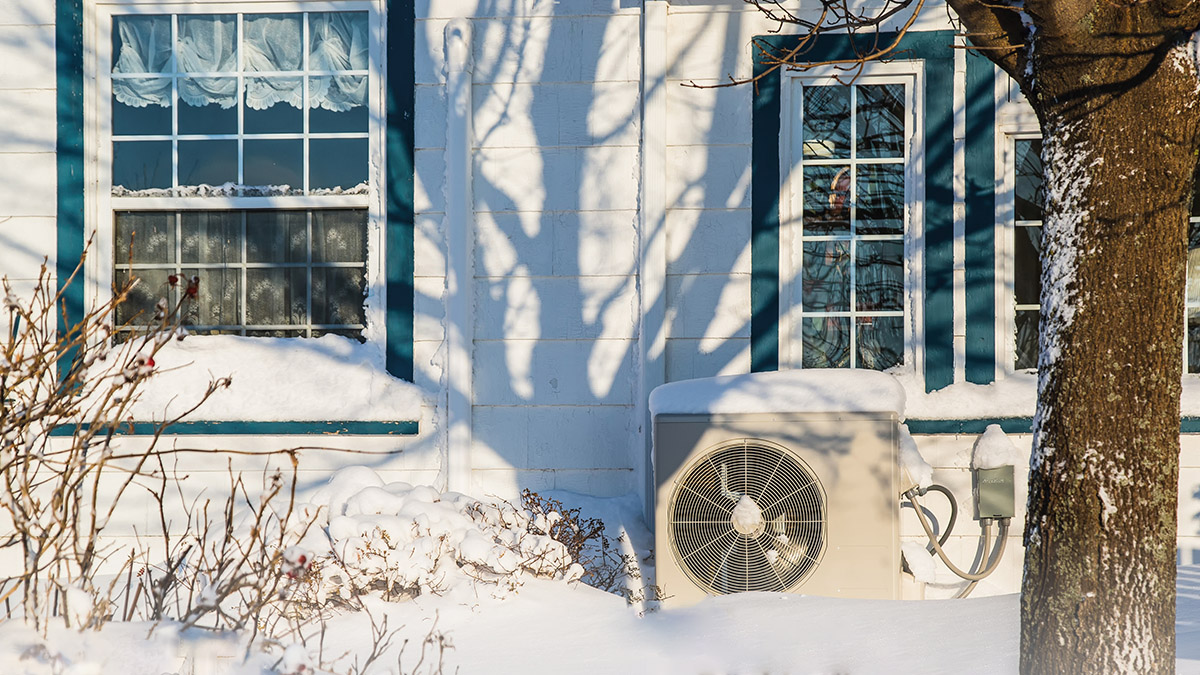 Due to the global energy crisis, the hunt for green alternatives to replace oil and gas boilers has reached a new level of urgency. The bad news is, unlike what some politicians say, there is no silver bullet – the good news is the solution has been around for decades. We look at why heat pump technology, essential to the IEA's roadmap to net zero, is still struggling to gain a foothold in some regions, including the UK, and whether a politicised hydrogen hype should take some of the blame.

With 1.4 million units installed, Norway is the uncontested world leader when it comes to heat pumps. In fact, the cold Nordic country has heat pumps installed in more than half of all households. But while Norway and the other Nordic countries are well ahead of the rest of Europe when it comes to heat pump adoption, the EU also saw a record high number of units installed last year. According to data from the European Heat Pump Association (EHPA), heat pump sales grew by 34 per cent in 2021, reaching 16.98 million heat pumps installed in total. In terms of carbon reductions, this is good news as heat pumps now avoid over 44 million tonnes of CO2 in the EU, but according to renewable energy body REN21, much more could and should be achieved. "When you look at the heating and cooling sector which accounts for over 50 per cent of total energy consumption, renewable energy accounts for only 11 per cent," says Rana Adib, executive director:

The recent growth has made the goal of the European Commission's REPowerEU plan, published in May 2022, seem within reach. Those targets require around 20 million heat pumps to be installed in the EU by 2026, and nearly 60 million by 2030.  However, in the UK, despite a government set target of 600,000 heat pumps being installed every year by 2028, heat pumps are still struggling to gain a foothold.
A mature cleantech technology
When some regions are slower to switch to heat pumps than required by carbon emission goals, you might think it to be because the technology is new and people are hesitant to invest in it. But while the latter might be true, the former is not. As a matter of fact, heat pump technology has been established for more than 150 years, and the first ground-source heat pump was brought into use more than 70 years ago.  Bean Beanland, director for growth & external affairs at the UK's Heat Pump Federation, explains:

Beanland, who has been a dedicated advocate for heat pumps for more than a decade, goes on to explain: "When talking to community groups, I often say – hands up those who have heat pumps, and out of 50 people, one or two usually raise their hands. To that I reply – that's great, but the rest of you failed the exam question, because you all have refrigerators, and they are built on heat pump technology. Heat pumps are everywhere – it's one of the most common technologies around, and the science is very simple."
In short, the technology relies on what Beanland calls "school physics", namely the fact that when a gas is compressed, it gets hot. The heat pump system uses the heat from the ambient air, water or ground to heat a refrigerant (which boils at very low temperatures), turning this into a vapour which is then compressed to increase the temperature. The opposite is done to create cooling and heat pumps can thus be designed to be used for both, a significant point as cooling loads often exceed heating loads in new commercial buildings.
If the heat pump uses the ground or water as its ambient energy source, the installation cost may go up, as underground or underwater loops or boreholes need to be installed. But the energy consumption goes down, as water and ground heat tend to provide higher and more stable source temperatures (the stability of source temperatures through the year also allows ground and water systems to provide passive cooling through summer months, a much more energy-efficient method of cooling). Thus ground and water systems are usually best-fitted for large housing projects, industrial sites, district heating, agriculture etc., while air-source heat pumps are mostly installed in private homes. But broadly speaking, a heat pump reduces primary energy consumption by 50-70 per cent depending on type and climate, and, when running on green electricity, can reduce emissions to zero.
Up-front costs and lagging political will
One of the problems with heat pumps is capital cost. While the competitiveness of the running costs of heat pumps depends on the price of electricity, they are less than cheap to install, and for many that adds up to a negative economic incentive. "For commercial new builds, it is becoming the obvious choice, but some domestic house builders are still reluctant to install heat pumps because they think it's more expensive, and they don't think potential buyers will pay a premium. That's a tragedy; that we're continuing to make the problem worse by still installing gas in new buildings  because we don't yet have a moratorium on the deployment of new gas systems," says Beanland.
The countries that have seen the most successful implementation of heat pumps have done so thanks to a number of factors, including different governmental incentives to replace gas and oil boilers, such as bans on new boilers, higher tax levies on gas, reductions on tax levies on electricity for heating and more. In the UK, several schemes have been in place to subsidise the cost of instalment. Currently, the government's Boiler Upgrade Scheme (BUS) offers £5,000 in subsidies for homeowners to install an air source heat pump and £6,000 for a ground source heat pump. But Beanland, and others in the sector, believe the government needs to think in line of evening out the market by lowering prices of electricity for heating rather than handing out subsidies. "We currently apply environmental and social levies to primary fuels; on electricity that represents 23 per cent of the price, but for gas it is only 1.8 per cent, so we have a tax regime that encourages the burning of fossil fuels. We are asking for those levies to be moved; of course, ideally put on fossil fuels because that would sway people, but clearly if you did that overnight you'd drive a whole lot of people into fuel poverty. If government removed the levies and modified the mechanism that ties the wholesale price of electricity to the wholesale price of gas, the price of electricity would reduce significantly, and that would make heat pumps the cheapest form of heating," Beanland says, adding: "Under the recently introduced price caps, the situation in the UK has changed to some extent, but the multiplier between gas and electricity prices is still too high to compensate for the capital costs of heat pump installation.
Hydrogen – the white knight in shining armour
Beanland's objection to the efficiency of the current government scheme is justified in the figures from the EHPA, which reveal that the UK was bottom of the list when it came to heat pump installations in 2021.  Actually, the numbers reveal that with current installation numbers, it would take more than 600 years to reach the independent Climate Change Committee's target of 27.2 million homes having a heat pump in 2050.
There are, however, various factors, on top of price, contributing to a more pronounced scepticism to heat pumps on the UK market, one being that the housing stock is old and often badly insulated, making heat pumps less efficient. This is, Beanland points out, partly due to the previously incredibly low gas prices, reducing the incentive for better insulation and promoting what he calls "a wasteful attitude" towards heating. But poorly insulated houses are not the only consequence of a vast and historically cheap supply of gas. In the UK, an extensive gas network currently delivers gas into over 85 per cent of homes, and arguments against heat pumps are often voiced by organisations who would rather see the network kept intact in the hope that green hydrogen or biogas might someday replace fossil gas.
One of the organisations voicing this view is the Energy and Utilities Alliance. In response to the government's mini budget scrapping the cap on energy prices from April, CEO Mike Foster states. "While all this is happening, the Government's own Boiler Upgrade Scheme hands out £5,000 subsidies to the well off to change their heating, while millions struggle to pay their bills. It's immoral in these difficult times and needs to be culled, with the money used more wisely." He goes on to stress that rather than making the gas grid redundant, the solution is in the longer-term to switch away from fossil gas to a network filled with hydrogen.
This view was recently reiterated by the UK's previous Secretary of State for Business, Energy and Industrial Strategy, Jacob Rees-Mogg, who stated that hydrogen was the "silver bullet" that could with "some adjustments [be] piped through to people's houses to heat them during the winter."
Cracks in the armour
Unfortunately, according to many people in the cleantech industry, the white knight may very well never actually arrive, as green hydrogen is unlikely to be produced in the quantities needed to cover all the uses it is being touted for, and its properties, and likely cost, make it more suitable for heavy industry and heavy transport, than heating homes.
At the World Hydrogen Congress in Rotterdam, the influential cleantech speaker and analyst Michael Liebreich told attendees he was recognising the signs of an economic bubble in the hydrogen sector, partly due to statements like that of Rees-Mogg. Liebreich then went on to point out the challenge of replacing the 94 million tonnes of hydrogen made from unabated natural gas and coal and emitting 830 million tonnes of carbon yearly with green hydrogen. This would, he stated, require 143 per cent of all the wind and solar installed globally to date. Liebreich is a prominent voice in the cleantech sector, and he is not the only one highlighting the dangers of pushing green hydrogen as the solution to everything from heating to transport and power generation. Commenting on his own peer-reviewed scientific paper on hydrogen, Jan Rosenow, a Principal and Director of European Programmes at the Regulatory Assistance Project (RAP), board member of the European Council for an Energy Efficient Economy, and Honorary Research Associate at Oxford University's world-renowned Environmental Change Institute, concludes: "Hydrogen for heating is a distraction: inefficient, costly and resource-intensive. This is what all independent studies conclude. My new peer-reviewed paper reviews 32 independent studies. Not one suggests a major role of hydrogen for heating."
Not surprisingly, Beanland agrees: "In the background of everything, we have this supposed white knight of hydrogen, which is used to obfuscate people's thinking – we better wait, we may have hydrogen. It makes it very difficult to persuade people to switch to heat pumps," he says and rounds off: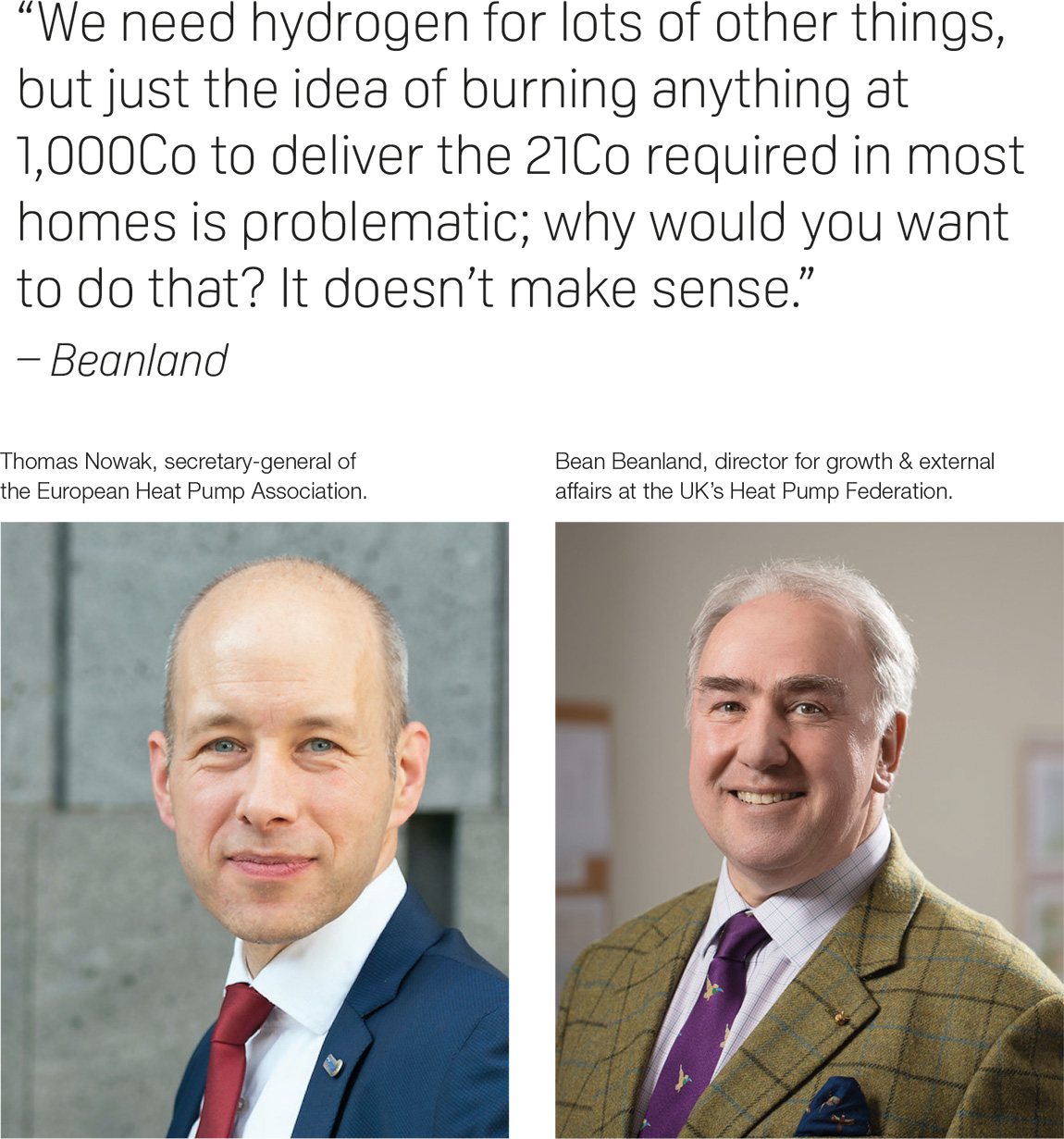 Internal market challenges
Despite the obstacles, further growth is expected within the heat pump sector in the coming years, with the EHPA predicting that last year's impressive figures could "skyrocket further next year".
However, within the sector there are concerns that government targets need to be followed by a consistent strategy on how to super-charge the sector to be able to meet the expected increase in demand and avoid supply or HR bottlenecks. Thomas Nowak, secretary-general of the European Heat Pump Association says: "Europe needs a heat pump strategy, and the industry [needs] an EU heat pump accelerator to speed up deployment and help Europeans get off fossil gas faster.
Thus, as governments struggle to meet energy demands, the question that begs itself is whether politicians will, like Rees-Mogg, rely on the white knight of green hydrogen to come to the rescue – and in the meanwhile scramble to boost oil and gas independence through methods like fracking – or whether they will take the steps necessary to support the sector delivering a solution that is endorsed by energy experts and applied by millions in some of the world's most sustainable high-income nations.
Subscribe to Our Newsletter
Receive our monthly newsletter by email