How zero emission technologies are taking flight
BY HELEN MASSY-BERESFORD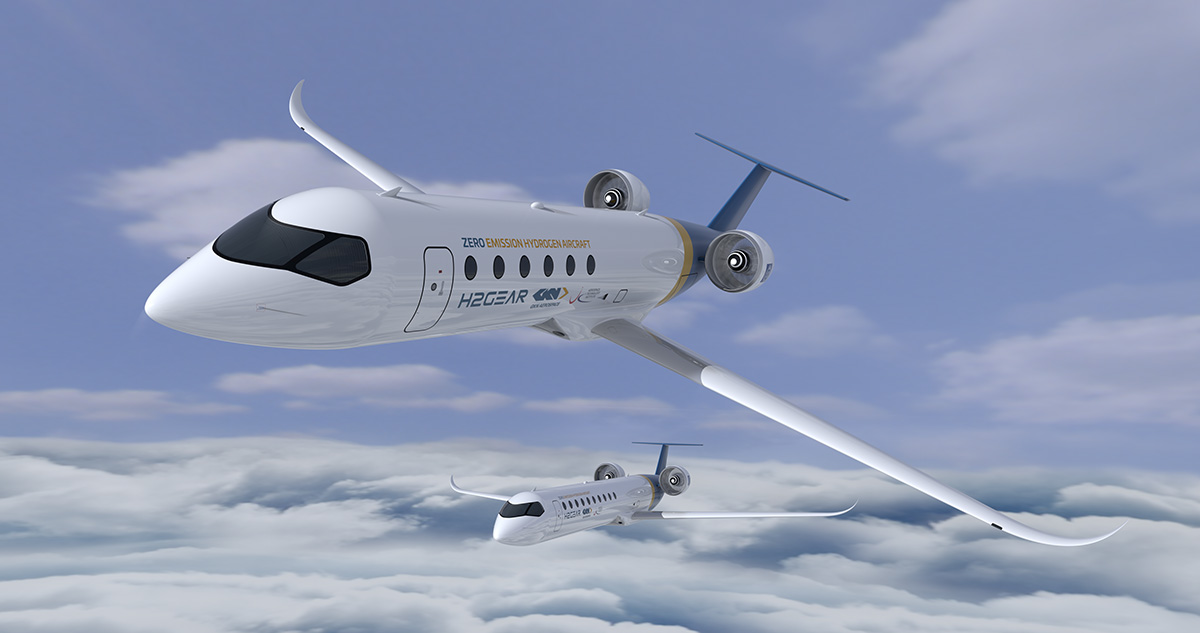 Modern air travel has expanded the world and its possibilities – but, it has come at a cost. Before the pandemic, the global aviation industry accounted for about two to three per cent of man-made CO2 emissions; fortunately, industry leaders are hard at work to reduce emissions. Aviation specialist Helen Massy-Beresford investigates the possible future of zero emission flight.
After two years of unprecedented crisis, the aviation sector is enjoying its recovery: holidaymakers and business travellers alike are ready to get back in the air and bookings are increasing.  But it's not quite back to business as usual. Those long months of empty airports and silent skies focused minds like never before on the sector's next big challenge.
Cutting carbon dioxide emissions is now a major priority for airlines, airports and manufacturers around the world.
"Decarbonising aviation is the challenge of a generation, but we know it can and must be done," said Johan Lundgren, CEO of easyJet on 19 May, as the low-cost carrier set out a new interim target of cutting its carbon dioxide emissions by 35 per cent from 2020 levels by 2035.
Last year, the global airline industry agreed on an ambitious target: net zero by 2050. In Europe, reducing the environmental footprint of aviation, and the broader transportation sector, is a key part of the European Union's long-term climate goals.
Small but important changes
Getting legislation in place to effectively manage areas such as the taxation of aviation fuel, the development of green technologies, the more efficient management of airspace and the effective offsetting of airlines' carbon dioxide emissions will be vital in driving the decarbonisation of an industry that brings social and economic benefits in the form of trade and connectivity but at a price – aviation worldwide accounted for about two to three per cent of man-made CO2 emissions before the COVID-19 pandemic.
Airlines and manufacturers are already working hard on the technologies that will reduce their environmental impact in the years to come.  Some of the changes are straightforward – albeit not easy to implement.
In April, Air France launched Air France ACT, a decarbonisation programme targeting a 12 per cent reduction in total emissions by 2030, compared to 2019. Areas of focus include the cabin, where the airline can demonstrate to increasingly sustainability-conscious customers that it is making a difference.
"We want to give our customers a more sustainable flight experience," says Fabien Pelous, the airline's senior vice president of client experience. "First, because that's our responsibility as an airline, but also because it's now a real expectation among customers, and even a factor in their choice of airline."
Steps include reducing waste through advance in-flight meal choices and limiting the use of single use plastics – plastic cutlery and glasses have already been eliminated and soon meals will be served in dishes made from sugar cane residue.
The invisible changes making a real difference
While passengers can see and appreciate changes such as these, to meet CO2 reduction goals, Air France's ACT program also relies heavily on what is currently the most important – but completely invisible – change the industry is putting in place.
Sustainable Aviation Fuels (SAF) can take the form of biofuels, made from renewable waste such as cooking oil or agricultural residues, or synthetic kerosene, produced from hydrogen. While aircraft cannot yet operate on 100 per cent SAF, these fuels can simply be 'dropped in' or blended with standard kerosene, cutting a flight's carbon footprint at a stroke.
In May, Air France demonstrated the potential of SAF – alongside that of other technologies – with two flights from its Paris Charles de Gaulle Airport base, one to Montreal, Canada and one to Lisbon, Portugal. The Montreal flight, an Airbus A350, was fuelled with 16 per cent SAF and the Airbus A220 flight to Lisbon with 30 per cent SAF. That compares with a 1 per cent minimum required by French authorities from the beginning of this year.
The airline also demonstrated what eco-piloting (steps such as choosing the most fuel-efficient trajectory or using only one engine for taxiing on the ground) and electric ramp and cargo transport equipment can achieve, and plans to look into the potential of other technologies; including artificial intelligence to optimise flight paths or autonomous vehicles to transport baggage.
The flights emitted around 45 per cent less CO2 than a comparable normal flight – great news for aviation's sustainability efforts.
The sticking points
But the sticking points for the whole industry when it comes to SAF are their higher cost, and (limited) availability.
"We know that we will have to continuously increase the level of SAF that we are putting in our aircraft," Air France CEO Anne Rigail says, noting that the airline would need to use more than 10 per cent SAF by 2030 to meet its goals. The challenge will be finding sufficient supply, Rigail says, and the solution may lie beyond biofuels. "We know that we need more volume and that for bio-SAF it will be limited. The big question is: will energy providers be able to invest in a different type of fuel – will we be able to have synthetic fuel," she explains.
Industry players agree synthetic fuels will play an important role in decarbonising the sector.
"Synthetic drop-in fuels are an essential pathway to enable net-zero CO2 emissions for the large existing aircraft fleets in operation today," says Max Brown, VP Technology at GKN Aerospace. "This is a fundamental step in decarbonisation and is necessary for new aircraft until new technologies, e.g. hydrogen aircraft, become available," Brown says.
Boosting the use of SAF, whether biofuels or synthetic fuels, will require the cooperation of fuel producers, airlines, airports, and governments, which need to encourage investment in the emerging sector. Many are already on the case: British Airways, for example, has teamed up with sustainable fuel producer Velocys, while in May, in a bid to boost investment and knowledge, the British government launched an ambitious challenge to operate the first zero emission transatlantic demonstrator flight by 2023.
Air France's sustainable flights also showcased its new Airbus A350 and A220 aircraft, which burn between 20 and 25 per cent less fuel than previous generation aircraft.
Zero emission technologies
For all airlines, replacing ageing fleets with modern, more fuel-efficient upgrades, is a major carbon reduction tool – even if it represents major expenditure – 1 billion euros per year for Air France – a tough call after two years of unprecedented disruption.
But for net zero, even the latest generation of aircraft equipped with SAF, won't cut it. Aircraft and engine manufacturers are working hard – and in close cooperation with airlines – on the future technologies that will allow for a more dramatic reduction. Zero emission electric cars are already a reality on our roads, but in the 2030s, we could be flying on holiday on electric or hydrogen-powered zero emission aircraft too.
Toulouse-based aircraft manufacturer Airbus is working on hybrid-hydrogen aircraft through its ZEROe concepts, which are powered by hydrogen combustion through modified gas turbine engines. Liquid hydrogen is used as fuel for combustion with oxygen, and hydrogen fuel cells create electrical power that complements the gas turbine, resulting in a hybrid-electric propulsion system.
The manufacturer launched its ZEROe demonstrator earlier this year and aims to test hydrogen combustion technology on an Airbus A380 test platform with a view to developing the world's first zero emission commercial aircraft by 2035.
Engine manufacturer Rolls-Royce's Spirit of Innovation electric aircraft is already flying – and flying fast. In January, it set a record of 555.9km/h over three kilometres, becoming the world's fastest electric vehicle.
The aircraft used a 400kW (500+hp) electric powertrain and the most power-dense propulsion battery pack ever assembled in aerospace, Rolls-Royce confirms, noting that it worked in partnership with aviation energy storage start-up Electroflight and automotive powertrain supplier YASA.
Warren East, CEO of Rolls-Royce, said at the time of the record: "This is another milestone that will help make 'jet zero' a reality and supports our ambitions to deliver the technology breakthroughs society needs to decarbonise transport across air, land and sea."
Rolls-Royce has also agreed to work with aircraft manufacturer Embraer, and Norwegian regional airline Widerøe, to study the concept of a zero-emission regional aircraft.
The partners have committed to studying a wide range of applications for new propulsion technologies, looking into solutions including all-electric, hydrogen fuel cell or hydrogen fuelled gas turbine powered aircraft.
Widerøe itself hopes to have at least one zero emissions aircraft in commercial service by 2026 and, by 2030, plans to start replacing its ageing fleet of Dash8 aircraft with zero emission successors.
The future potentials
EasyJet is also exploring all the options. It has been working on a planned 186 electric aircraft with Wright Electric for some years – in-flight engine testing is set for 2023, and entry into service for 2030. The low-cost carrier is also working with aerospace supplier GKN Aerospace, supporting the technology specialist's development of Hydrogen Combustion (H2JET) and Hydrogen Fuel Cell (H2GEAR) technology, a collaboration programme aiming to develop a liquid hydrogen propulsion system in which liquid hydrogen is converted to electricity within a fuel system.
Teaming up with an airline provides valuable operational insights: "Partnering with easyJet was important to GKN Aerospace in order to understand the potential future platform and fleet operational needs, as well as develop scenarios on future drivers including development and verification of the economic viability of the technologies," Brown says. "This will include an investigation of the potential tipping points between the application of hydrogen combustion and advanced cryogenic hydrogen electric (fuel cell) propulsion."
GKN itself is working on a variety of technologies, including integration for battery electric aircraft; fuel consumption drivers such as mass, aerodynamics and noise; the recyclability of materials and the increasing electrification of aircraft.
The partners will next focus on developing the current and future anticipated drivers for the economic model for hydrogen aircraft as well as exploring the opportunities for flying technology demonstration, Brown says. The first flight of this technology could be as early as 2026, with likely entry into service between 2031-2035 including industrialisation, Brown predicts. Looking further ahead: "Hydrogen combustion is scalable to larger, even longer range aircraft."
Subscribe to Our Newsletter
Receive our monthly newsletter by email