Lead the way, Helsinki
BY EMMA RODIN
Can you travel without leaving a mark? Perhaps not yet, but it is an idea not too far from reality in the city of Helsinki. At the forefront of sustainable change through a multitude of efforts, the Finnish capital is reaching for carbon neutrality by 2030 – and aims to become the most sustainable destination in the world. Ambitious? Yes. Impossible? Far from.
For a fifth consecutive year, Finland was recently voted the world's happiest country in the World Happiness Report. The report, which is based on variables including freedom to make life choices, helps tell the story of Helsinki and the positive path the city is on. With a solid foundation as such, Helsinki's overall growth, level of innovation and action-taking – are hardly surprising.
The city is itself a pioneer in urban development with nature on its doorstep. The Baltic Sea is only a bike ride away, and there are plenty of green areas to help residents recharge and breathe. "You are never more than 10km away from the sea in Helsinki," explains Birgit Liukkonen, senior sustainability advisor at Helsinki Partners. "It is a great blend of urban culture and the calm of nature," she adds.
A place of sustainable growth
Titled 'A City of Growth', Helsinki's current city strategy outlines numerous guidelines for 2021-2025 and incorporates the most important choices and priorities into the city's everyday life, including nature conservation and ambitious climate objectives.
On that note, Helsinki is committed to achieving carbon neutrality by 2030, and to promote a more sustainable way of life for everyone. Helsinki also continues to evaluate and guide the growth of the city in line with the UN's Sustainable Development Goals (SDGs). Along with New York, Helsinki is one of the first cities in the world to report SDGs on a city level.
"Here in Helsinki, the view to sustainability is holistic by nature. We like to think that sustainable solutions are not only environmentally friendly and energy-efficient, but also made up of citizen wellbeing, equality and functional everyday life,"  says Liukkonen.
There is also Helsinki's Tourism and Events programme. This outlines the city's sustainable tourism principles and exists to help the city propel into new heights by promoting wellbeing.
The sustainability aspect of tourism in Helsinki is indeed heavily considered, with the city aiming to become the world's most sustainable destination in due course. This action, together with the reach for carbon neutrality and UN SDGs reporting, work in harmony to push Helsinki onwards and upwards.
Think Sustainably
Created to make sustainability more accessible to locals and visitors alike, Think Sustainably is a digital service on myhelsinki.fi, a website run by Helsinki Partners – the city marketing, investment and talent attraction company owned by the City of Helsinki.
Described as easy access to sustainable choices, Think Sustainably gives anybody the chance to choose, live or visit sustainably. It guides users to greener services, including everything from transportation and attractions to food and hotels, inviting anyone to be part of the change. And although the service primarily helps the public make better choices, it is equally useful for businesses as a tool to promote their sustainability efforts. Win, win.
"The service is tailor-made for Helsinki and is based on criteria that highlights ecological and social sustainability as well as environmental issues," explains Liukkonen. Participating brands need to meet these criteria, which works well for brands on either side of the spectrum.
Brands that have only just started their climate journey will gain insight into their operations and can use it as a checklist, while those already on a good path get help to communicate just that. "We are firm believers that change needs to happen on a city level, and this service has become an important part of giving anybody the opportunity to be part of the change," adds Liukkonen.
Meet the criteria
Businesses that are included in Think Sustainably get a green tab if they meet the criteria. These fit all kinds of businesses, from small cafés to big hotels, and are separated into categories like attractions, or restaurants, cafés and bars. The events category, for instance, has 23 criteria focused on areas including recycling, energy saving and vegetarian food, plus other ways of reducing the carbon footprint of events.
Another aspect to highlight is the service review system, which is based on trust and transparency. There is no auditing process for the criteria as their fulfilment is left on a trust-based agreement with the service providers. Additionally, the myhelsinki.fi website offers an easy way for users of the service to leave feedback on the brands involved. "We believe that businesses that choose to take part in this service are already motivated to change and work towards sustainability," explains Liukkonen.
Helsinki, today and beyond
Helsinki is a compact and walkable city. This, together with its popular city bike system and functional local transportation (such as rail traffic run on sustainably produced electricity), makes it easy for visitors to move about in a green way.
An impressive 40 per cent of Helsinki consists of green areas, and the city is also one of few capitals with real nature so close by. There are over 60 nature reserves in the city area and 130km of seashore open to everyone. All in all, this forms a unique experience for visitors and is a place of pure goodness – quite literally.
Thanks to its neat size, Helsinki can play around with different sustainable solutions and is a perfect example of what change on a city level can look like, done well. One can only hope that other cities will follow suit, and that the title match for the world's most sustainable destination becomes one that everyone can (and wants to) fight.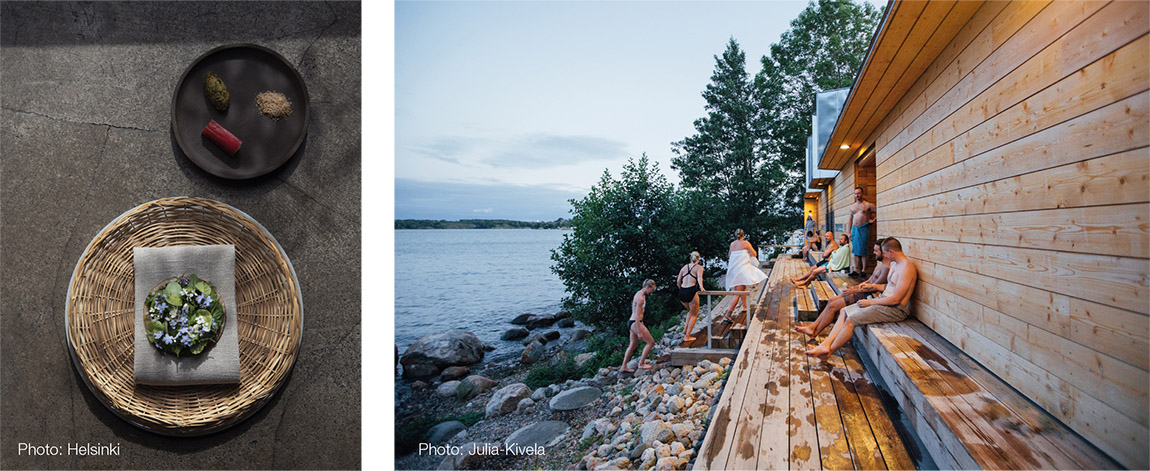 Web: www.myhelsinki.fi Facebook: myhelsinki Instagram: @myhelsinki
Subscribe to Our Newsletter
Receive our monthly newsletter by email