Looking forward – what to expect from the cleantech markets of 2022 and beyond
By Mike Scott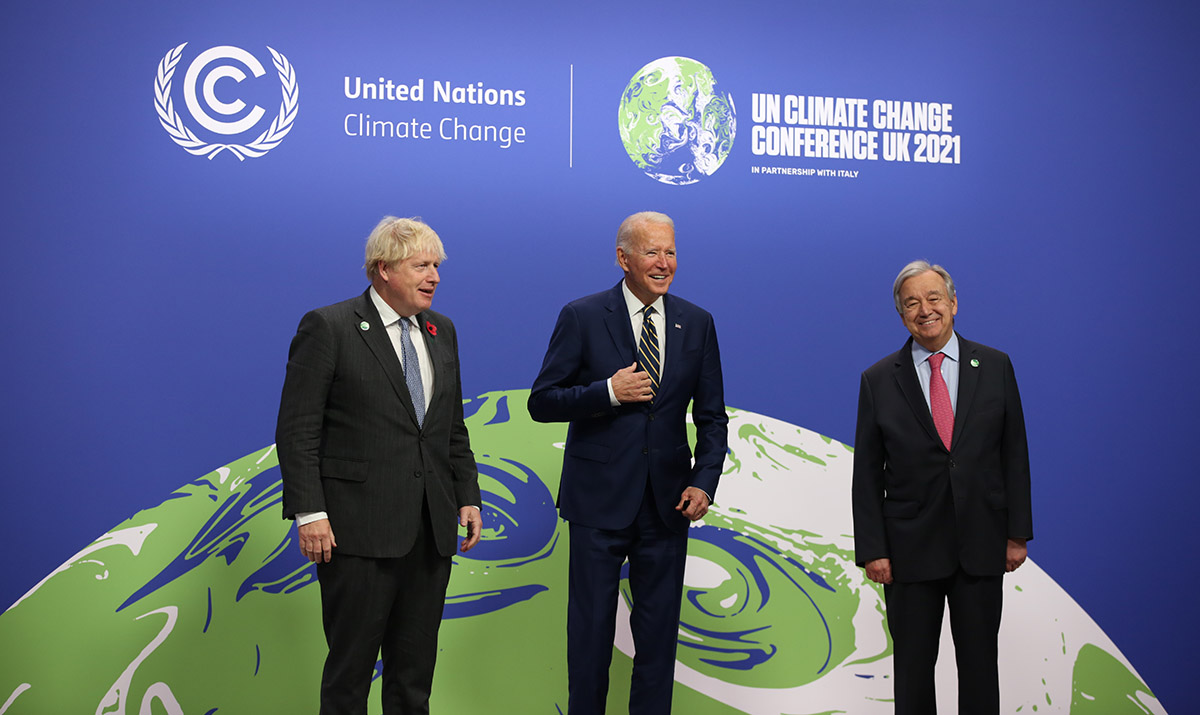 Where will cleantech and the sustainability agenda go in 2022? After the COP26 climate conference in Glasgow, environment and business writer Mike Scott deciphers what major developments we might expect from the cleantech markets of 2022 and beyond.
Ending a year of devastating extreme weather events around the globe, the COP26 climate conference in Glasgow has the world on its toes trying to digest and decipher its implications.
The direction of travel is clear – 90 per cent of the world's emissions are covered by some kind of Net Zero target, governments have been invited to submit even more stringent emissions reduction plans next year, and a wave of new finance is about to be unlocked after COP26 finally agreed on the rules for global carbon markets, six years after they were first proposed in Paris in 2015.
The momentum to decarbonise will continue to grow next year across the economy. One of the biggest growth sectors will be clean hydrogen – particularly 'green' hydrogen produced using renewable electricity and water. In 2020, the global installed capacity of the electrolysers used to create hydrogen was about 200 MW (megawatts). By 2025, it is predicted to be 30 GW (gigawatts).
"Nearly everything has doubled already this year in the world of clean hydrogen, and we expect the momentum to continue in the months ahead," said Martin Tengler, lead hydrogen analyst at research group BloombergNEF.
"More than 40 countries have now published a hydrogen strategy or are developing one. More than 90 projects are being planned worldwide to use hydrogen in industry. Electricity generators have almost doubled their planned hydrogen-fired turbine capacity since January."
Booming development in the carbon capture and building sectors
With a number of coal-producing countries signing up to a deal to phase down the use of 'unabated coal', there should also be significant progress in carbon capture, usage and storage (CCUS), after years of little progress.
"It's going to be a probably three to five trillion dollar industry if you look at how much carbon capture is going to be needed around the world," says Vicki Hollub, CEO of Occidental Petroleum.
Buildings are responsible for about 40 per cent of global emissions and will be a major focus of climate action over the next few years as cities, construction companies, investors and occupiers look to make the sector more sustainable.
That will involve measures all the way along the value chain, from low carbon concrete and steel to designing for reduced energy consumption, installing more renewable energy, energy efficient equipment and building management systems, right through to looking for ways to reuse materials at the end of the building's life.
Buildings will also become much more integrated into the cities in which they are located, which in turn will be much smarter thanks to an overlay of digital infrastructure that will make everything more efficient, from transport to shopping to paying your taxes.
"How our towns, cities and countries continue to grow really matters to the global climate crisis. We have to realise that what worked in the built environment and infrastructure sectors in the past will not work in the future," points out Nigel Topping, UN High Level Climate Champion for COP26.
Reducing agricultural emissions
More than 100 countries agreed to cut methane emissions by 30 per cent by 2030 – a move that could have a significant effect on total emissions, because methane is more than 80 times as powerful a greenhouse gas as CO2 in the short term.
While the spotlight will fall on the fossil fuel sector, methane is also a significant issue for the agricultural sector, particularly rice and livestock.
Tackling the issue will not only involve new feed additives for cattle, such as seaweed, but also extensive IoT sensors and satellite monitoring to identify leaks. "Cutting back on methane emissions is one of the most effective things we can do to reduce near-term global warming and keep it to 1.5°C," says Ursula von der Leyen, the European Commission president.
Agriculture has other climate impacts, including from deforestation and the use of fossil fuel-based fertilisers. Agritech will be a big growth market in years to come, with plenty of opportunities to improve efficiencies using digital technologies such as artificial intelligence and more sophisticated irrigation technology, as well as lower tech solutions such as regenerative agriculture.
There will also be huge interest in substitutes for meat, dairy and fish, both plant-based and lab-grown products, as well as a boom in vertical farms.
All of this is set to happen at the same time as the continued acceleration of the rollout of renewable energy and energy storage, electric vehicles and charging infrastructure.
Turning attention to the hard-to-abate industries
Other forms of transport such as trucks, aviation and shipping will be harder to decarbonise, but a lot of work is going on to cut the impact of these sectors using technologies such as hydrogen, batteries, sustainable fuels and even – in the case of shipping – good old-fashioned wind power.
Attention will increasingly turn to the so-called 'hard to abate' industries, such as steelmaking and cement, where carbon is not just part of the fuel used to provide heat, but an essential component in the manufacturing process. Alternatives, such as electrification and the use of clean hydrogen, will start to scale up rapidly over the next few years.
The war on plastic waste will become more organised, too, with innovations ranging from reverse vending machines to chemical recycling and capturing the material both before it reaches the sea and from the middle of the ocean.
Support and restraint
With the impacts of climate change already becoming evident in the form of huge floods, wildfires, droughts and heatwaves across the globe, more investment will go into helping communities to adapt to climate change through measures such as flood protection, better prediction of natural disasters through measures such as AI and machine learning and early warning systems.
Water resources are becoming increasingly scarce because of population growth and rising temperatures, so technology that allows water to be used more efficiently will become more important throughout this decade.
Jonquil Hackenberg, head of climate response at PA Consulting, says: "There is a virtuous circle where reducing water consumption and using water more efficiently reduces energy use and costs, resulting in lower carbon emissions and wider benefits to the environment."
What to expect from the cleantech markets of 2022, in short: A massive growth in the green hydrogen sector. Significant progress in carbon capture, usage and storage (CCUS). A major focus on the entire value chain of the built environment and infrastructure. Spotlight on the methane emissions of the fossil fuel sector and the agricultural sector. A big growth in the market of agritech. More work into decarbonising the transport sector, especially trucks, aviation and shipping, with the use of hydrogen, batteries and sustainable fuels. More focus on helping communities adapt to climate change. More tools to help reduce water consumption. Ongoing focus on the EV sector, plastic recycling, renewable energy and energy storage.
Subscribe to Our Newsletter
Receive our monthly newsletter by email