Mater: The Danish furniture brand revolutionising circular design
BY LENA HUNTER | PHOTOS: MATER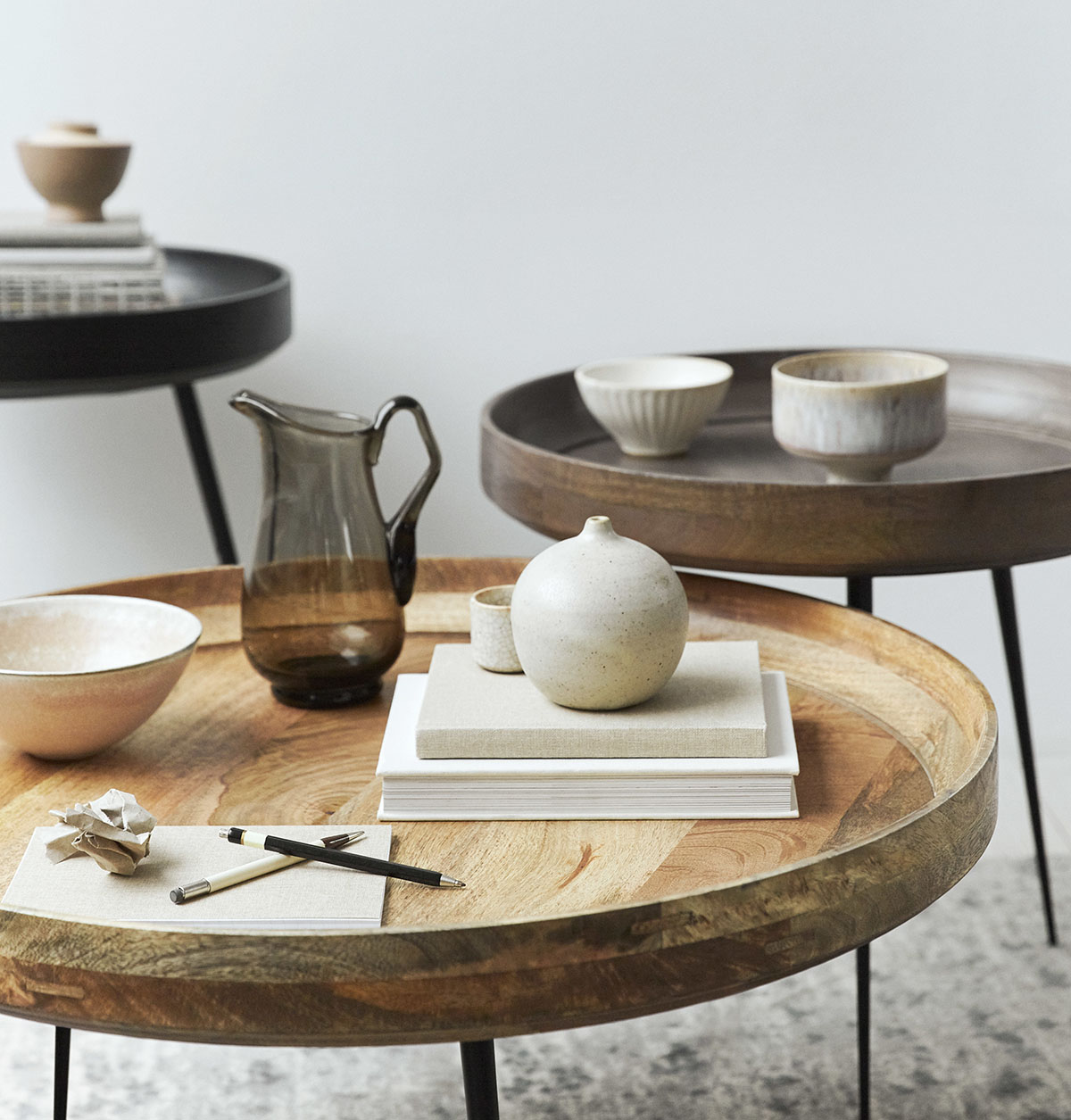 Danish design company Mater's game-changing cleantech invention is set out to revolutionise circular design. Discover Cleantech design expert, Lena Hunter, investigates how the furniture brand has rethought the design and production of furniture to minimise environmental impact.
When Henrik Marstrand founded Danish furniture brand Mater in 2006 on the principles of circular production, the term 'cleantech' existed only in specialist circles and sustainability was still an emerging trend.
Now, after years of research into green production of furniture, lighting and objects, Mater has built partnerships for change with universities, cult-design houses, manufacturing facilities and private businesses that all support the United Nations Sustainable Development Goals.
"Mater means 'mother' in Latin. The name is the daily reminder of our small contribution to preventing the challenges Mother Earth faces. Design influences how we live our lives; it shapes values, culture and society. As a manufacturer, we can rethink dubious practices and create ethical and sustainable design that minimises adverse social and environmental impacts," says Marstrand.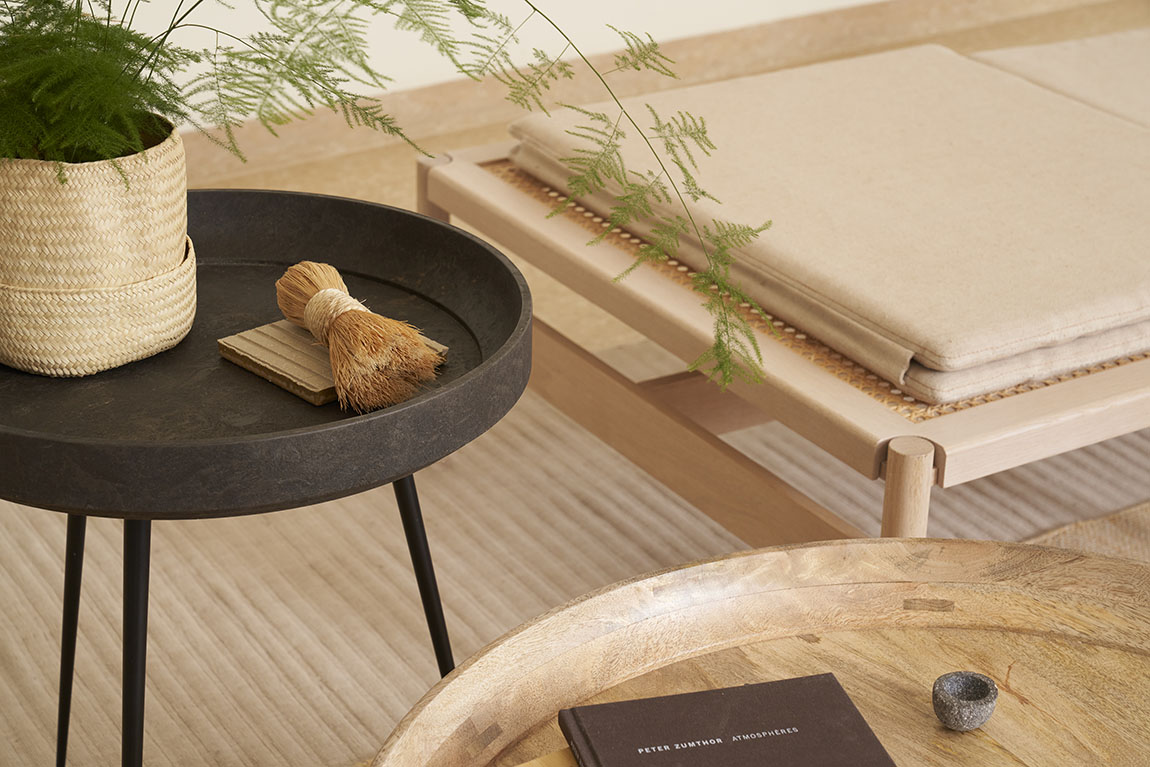 An industry-wide issue
"The overarching problem in the furniture sector is that it's based on virgin materials," says marketing director Trine Mark Egeberg. "Timber is a major culprit, but new metals and plastics are also constantly being produced. We're draining nature's resources."
Disposal is another burden: according to the European Federation of Furniture Manufacturers (UEA), furniture accounted for more than four per cent of all solid municipal waste in the EU in 2020.
Mater attacks the problem from both ends. "Our furniture is made from recycled materials and waste. Plenty of materials have already been produced, so we reuse what we have," says Mark Egeberg.
And at the core of their circular-economic approach is a ground-breaking green technology process, dubbed MCM.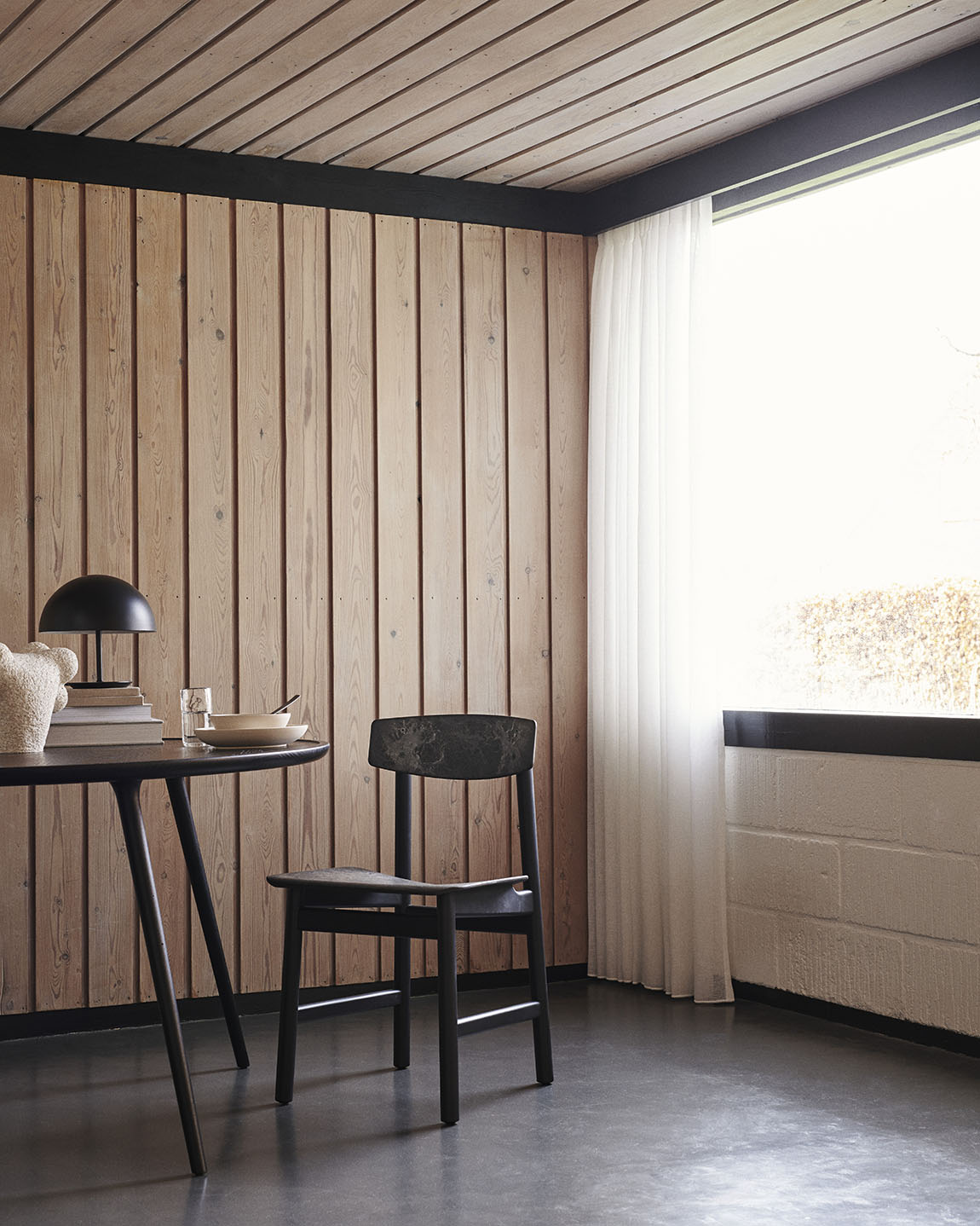 Breaking the mould with Mater Circular Material
Mater Circular Material (MCM) is a patented cleantech production in which fibrous waste is upcycled into a unique composite suitable for press-moulding.
The process sees coffee-shell fibres left over from the roasting process, or waste sawdust from furniture production, mixed with a binder of upcycled plastic from the production of insulin pens, or buttons.
"It's a new type of material – its own category. Just as wood and plastic have their own sub-types, so too does MCM depending on which waste stream it's based on," explains Mark Egeberg.
"It's had a very strong reception – particularly amongst architects. The texture is novel – similar to stone or marble, but extremely malleable. MCM opens the door to a new realm of design possibilities."
"We saw huge potential from the start, and MCM is the product of three years of trial and error. This is a completely new technology on the market and we've only scratched the surface of what it can do for us."
Timeless design icons, rethought
The first of Mater's MCM products was the Earth Stool, designed by Danish architect Eva Harlou and made from coffee-shells and upcycled plastic pellets. Production was based at the Technical University of Denmark (DTU) in Copenhagen – a forerunning European institution in cleantech.
Since upscaling to more industrial facilities, a slew of new MCM products have followed. The Eternity Sidechair by interior-design studio Space Copenhagen is a simplified nod to the hallowed Arne Jacobsen egg-chair.
Beside innovating in the industrial sphere, Mater is pushing the boundaries of Scandinavian design tradition. When they launched the iconic Conscious Chair by Børge Mogensen & Esben Klint, it was the first time a Børge Mogensen design had been produced in a different material to the original.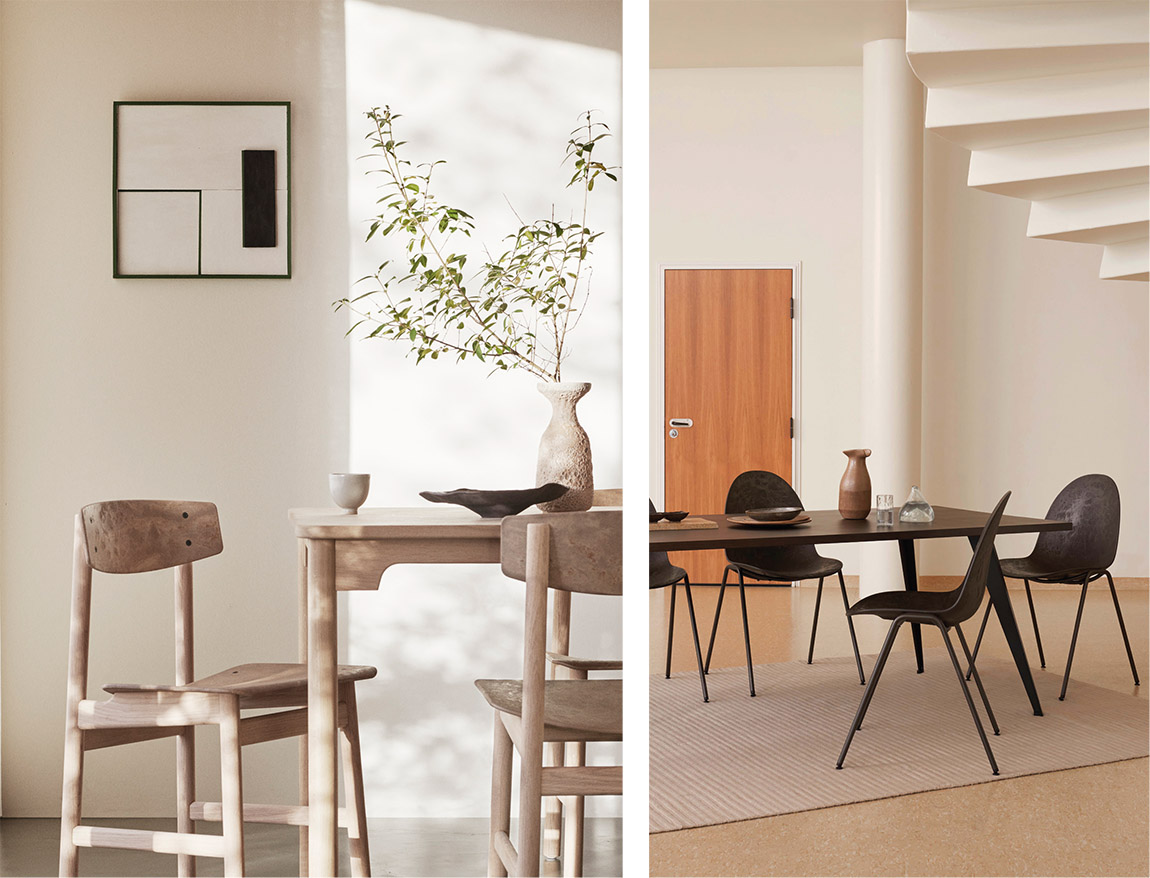 A multitude of sustainable resources
Mater's repertoire of green materials additionally includes spent grain, energy saving LEDs, upcycled aluminium and FSC-certified wood. Mango wood, saved from burning at the end of the tree's natural fruiting life, is transformed into the elegant, best-selling Bowl Table.
Mater's projects support both land and sea. A single Ocean Chair seat uses 960g of plastic waste, saving up to 82 per cent of CO2 emissions compared to virgin equivalents.
"We're producing Nanna Ditzel's 1954 wooden garden range in recycled plastic from fishing nets. We were the first to use fishing nets in furniture four years ago," says Mark Egeberg.
In fact, the reimagined Ditzels are part of Mater's largest and most impactful circular-economic project: collecting the waste of large businesses and returning it as upcycled furniture.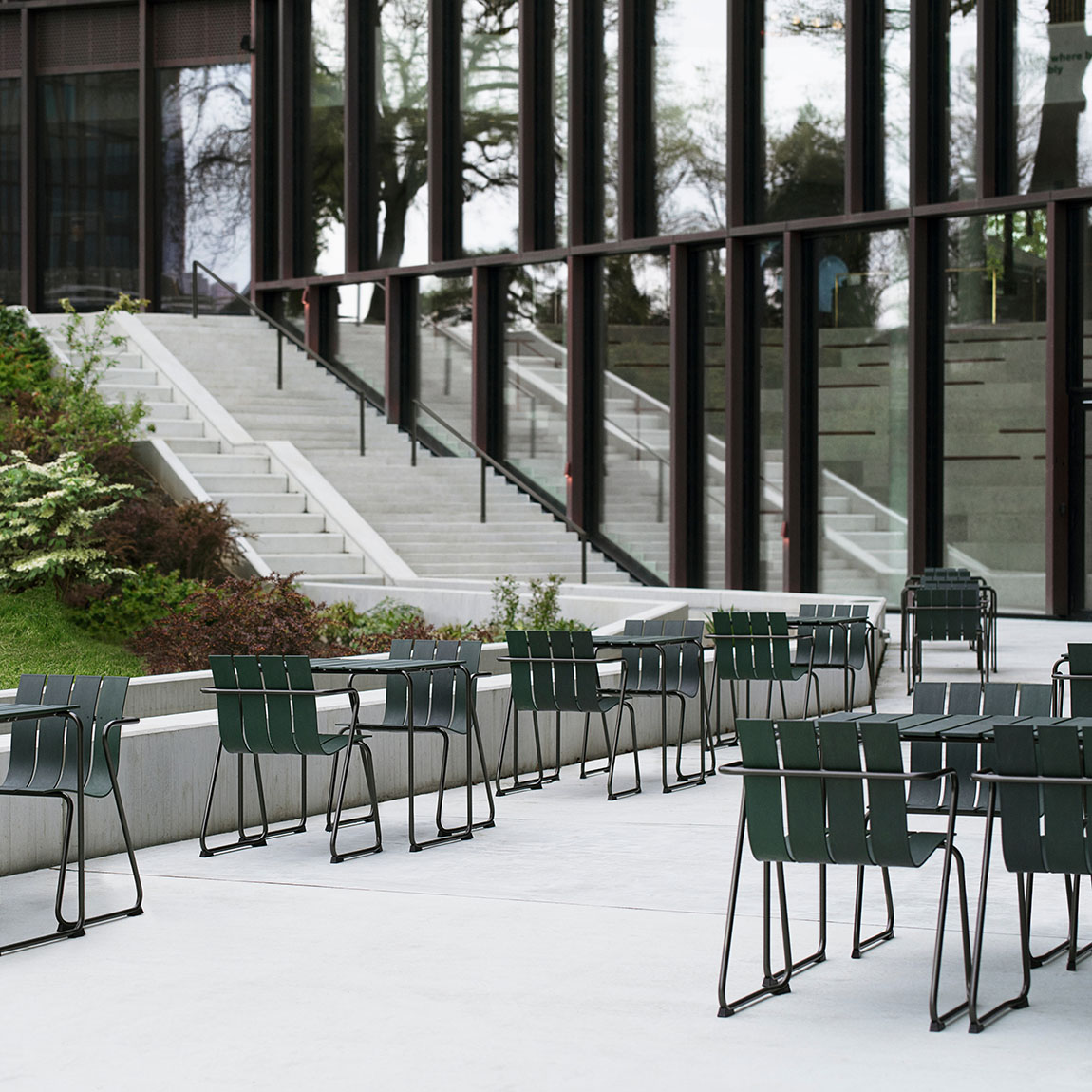 Large-scale circular economy
Mater's major waste-recycling partners include Carlsberg, Novo Nordisk and BKI Coffee. "Many businesses are interested in novel solutions to dealing with their waste," explains Mark Egeberg.
"For example, we took Carlsberg's plastic beer kegs and turned them into furnishings based on Ditzel's designs, which they can use in their offices. It's a unique way to create a different waste stream for big businesses."
But the story doesn't end there: furnishings made from MCM can be recast again and again. "If, in ten years, they no longer need chairs, but they need a table, we can reshape them into something new."
"In the world we live in, we must think of circularity as key when inventing new materials." – Henrik Marstrand, Founder
"We'll always be first movers"
Mater has transformed in the past ten years. "We've gone from being a pure design company to being innovators in clean technology and material development," says Mark Egeberg.
Now, Mater is focused on scaling their sustainable profile – and there are a multitude of avenues for growth. "We're looking into recycling textiles from the fashion industry. We've just launched our mango-wood Bowl Table in MCM, so we're always striving to make our own production even more sustainable," says Mark Egeberg.
"That's the journey we're on – to always be first movers in developing new technology and production methods."
Subscribe to Our Newsletter
Receive our monthly newsletter by email