Sono Motors: Let the sun drive you to work
By Signe Hansen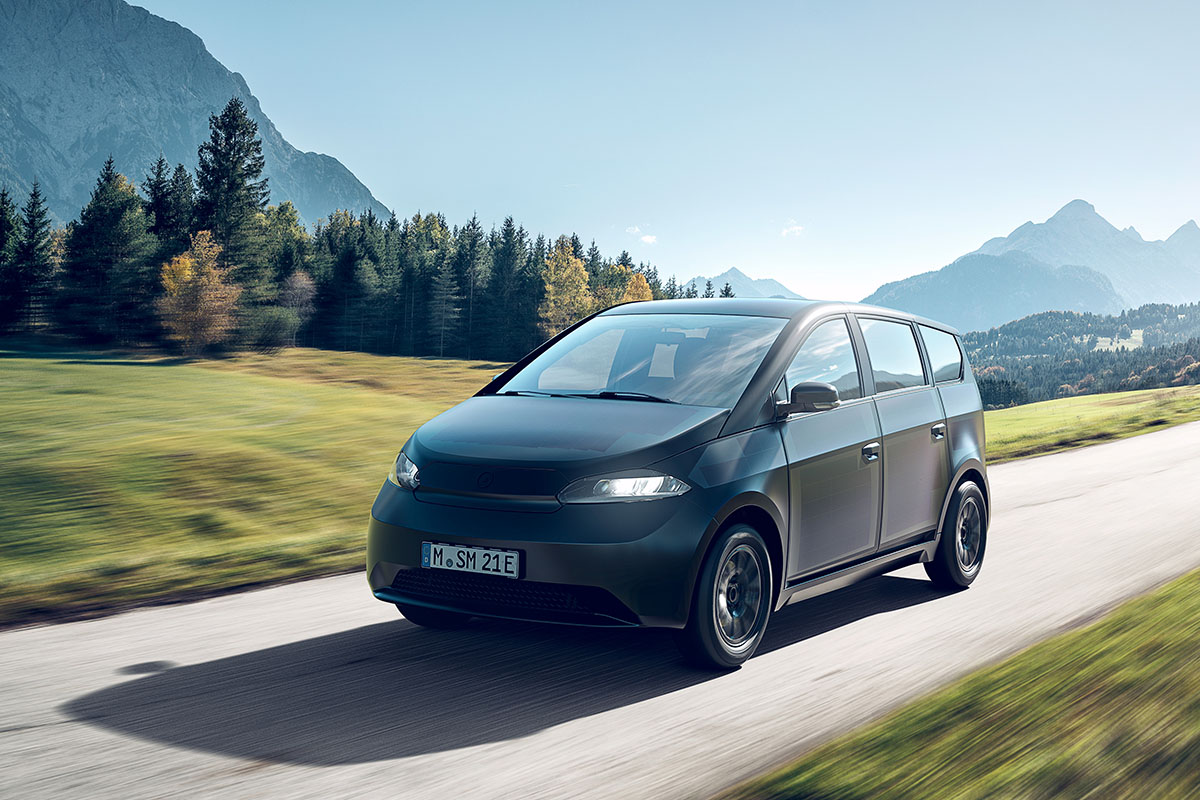 In early 2020, German Sono Motors closed one of Europe's largest crowdfunding events with 53 million euros of payment commitments; November 2021, the company went public and, at the same time, reached 16,000 pre-orders for its electric car, the Sion. The reason for all the fuss? It is simple – sold at 28,500 euros and with 248 integrated solar cells, the Sion will be the first solar electric vehicle priced for the masses.
The market for electric vehicles is expanding rapidly. However, the challenges of charging infrastructure and cost still inhibit some potential buyers. Luckily, sometimes the solution is shining right down on the problem.
Seeing this, in 2015, two 20-year-old engineering students built the very first predecessor to the Sion, a solar electric vehicle constructed with the skeleton of an old combustion-engine car.
Today, more than 16,000 people have pre-ordered the Sion, which is expected to go into production in 2023. This is not just because it is set to be one of the first solar electric vehicles on the market, but also because it will be the first affordable one and will include a sharing service which allows buyers to share both the car and the electricity produced by it.
Ultimately, this reflects the recognition that even though combustion engines must go and fairly-priced electric solar vehicles will help ensure that happens, in the end, if friends and family can share one car instead of each having their own, the benefits – social and environmental – will be even greater.
"Our mission is solar on all vehicles. We believe strongly in electrification and solar is the boost the sector needs because, already, energy is a scarce resource," says Lars Löhle, director of business development at Sono Motors. "But on top of that, features like car sharing, ride sharing and power sharing will create a more holistic energy- and resource-saving concept."
Reducing charging cycles
With 248 solar cells integrated into the entire body of the Sion – the doors, trunk, roof and hood – the sun will add an average of 112 kilometres of driving range per week to the car's maximum battery range of 305 kilometres. In other words, if you just use the car to drive to and from work, you might be able to do so without charging at all (in Germany, the average commute is 16 kilometres per day in metropolitan areas).
"First of all, we want to reduce the charging cycles with our technology, to avoid having to charge constantly. At the same time, with an average of 112 kilometres per week in solar energy, we can free some commuters completely from the charging infrastructure," explains Löhle.
During summer months, the Sion will be able to reach a maximum solar range of 245 kilometres per week, while during the darkest winter months it might go down to 35 kilometres per week. When charging via the grid becomes necessary, the Sion can reach 80 per cent in 35 minutes using CCS fast charging. It can also be recharged at any standard European charging station, via a regular home power socket or from another Sion.
Leaving the combustion engine in the past
Founded in 2016 by the company's two CEOs Jona Christians and Laurin Hahn, as well as Navina Pernsteiner, today, Sono Motors employs around 240 people. An extraordinary development made even more remarkable by the fact that the company is not, like many other companies of its kind, a spin-off from an existing car manufacturer. Rather, it is the result of the resolution of three young entrepreneurs to put combustion engines in the past.
Removing the combustion engine of an old car and fitting its skeleton with solar panels, Christians and Hahn built the first basic prototype of a solar powered electric vehicle in a garage in 2015. After the foundation of the firm in 2016, the first two commercial prototypes were built with the help of crowdfunding, and after a tour around Europe, reservations started trickling in.
Having recently gone public, the future looks sunny for Sono Motors, and the potential is, says Löhle, even greater when taking into account the expected developments within solar technology. "In the last decade, we have seen a huge price drop in PV (photovoltaic) solar and, of course, a huge increase in efficiency. But we also know from research institutes that, for the coming decade, we will continue to have huge developments in the efficiency of cells, and production costs will keep dropping on a yearly basis.
That's what makes it highly attractive; not only for car producers, but also for customers as it will keep decreasing the TCO (total cost of ownership), as well as other companies from the transport industry."
Use your car as a house battery
On top of the obvious advantages of solar power (longer driving range and less reliance on charging infrastructure), the Sion offers the advantage of bidirectional charging. This means you cannot only charge your car from your house but also charge your house – and electrical devices – from your car.
In this way, the car can be used as a sort of house battery, a way of reserving and getting energy to the grid, something which will be quite valuable in a world with renewable and less stable energy sources.
Moreover, the possibility of bidirectional charging will enable energy sharing through the Sono app, where owners can mark their car as available for charging if they will not need the energy generated by its solar panels. Launched next year, ahead of the Sion, the app will, however, not just be for energy sharing, but will enable all vehicle owners to register and share their vehicle with others.
In this way, the app will allow for fewer vacant cars filling up the streets (in Germany, cars usually stand unused around 96 per cent of the time.) "We are looking for an energy transition, and we see a huge market for a technology that allows for this kind of sharing. You will be able to use the car sharing app with any standard car – our goal is to not have more cars on the streets, but to use them more efficiently," says Löhle.
The Sion The Sion is sold at €28,500 with a minimum down payment of €500 for reservations. Sono Motors expects to put the Sion into production in 2023. The Sion will be produced at the old SAAB factory in Sweden using 100 per cent renewable energy. The Sion has a LFP battery and a maximum driving range of up to 305km. On top of the 305km battery driving range, the car's 248 integrated solar cells provide an average of an additional 112km weekly. Sono Motors Sono Motors was founded by Jona Christians, Laurin Hahn and Navina Pernsteiner in 2016. Today, the company and its 240 employees are headed by CEOs Jona Christians and Laurin Hahn. The company is located in Munich, Germany. Sono Motors also works with solar integration and retrofitted solar panels on combustion engine vehicles for public transport and goods transport. The solar panels can power e.g. air conditioning in public transport or refrigeration in commercial transport, and extend the range of the vehicles.
Subscribe to Our Newsletter
Receive our monthly newsletter by email