Structure of the month: London's Canary Wharf to become an eco-friendly site for culture, sport, and biodiversity
BY KARIN BLAK | PHOTOS: CANARY WHARF GROUP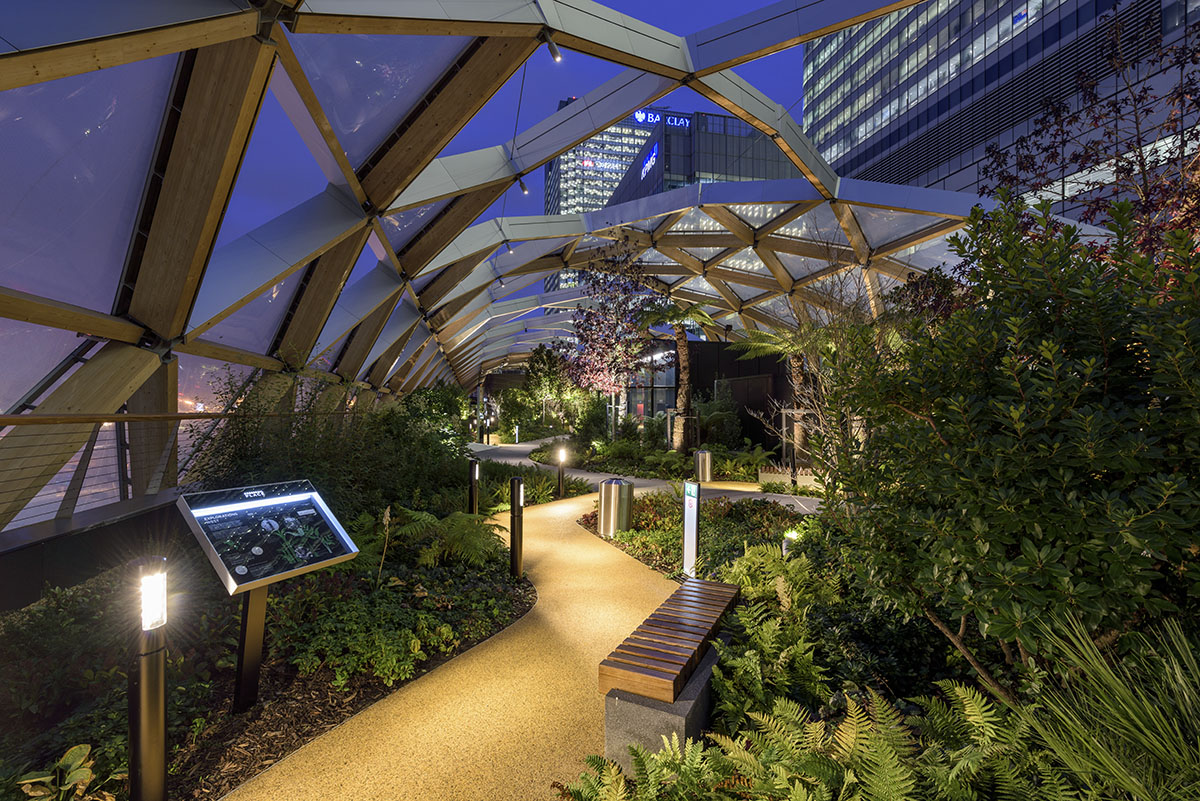 Thanks to the expertise of two distinct eco-conscious organisations, London's Canary Wharf – best known for its many towering glass and steel office buildings – is set to be transformed into an eco-friendly site that enhances biodiversity and supports the bionetworks that people and nature depend on.
Plans are taking shape for the transformation of the urban areas at Canary Wharf London, with biodiversity as a focus. The vision is to develop and increase the green areas where people and nature can share the benefits of biodiverse spaces. It will be realised by a partnership between Canary Wharf Group (CWG), an experienced urban promotor of sustainable living and working environments, and The Eden Project, a Cornwall-based expert in biodiverse environments.
Shobi Khan, CEO of CWG says: "Sustainability has been front and centre for CWG's buildings over the last 20 years. We already have over 20 acres of parks and gardens and 5km of waterside paths. Our partnership with the Eden Project will ensure these spaces and new areas support the ecosystems that people and nature depend on as we bring transformational change to the estate."
Green spaces
The focus of the partnership is to work with the challenges of enhancing biodiversity in urban public areas at Canary Wharf, specifically with the aim of making improvements to waterways and public areas.
The first project will be the creation of a partly covered green spine running through the centre of the Canary Wharf estate, London's financial centre. Following this will be the development and further enhancement of existing parks and gardens, waterside access, performance spaces, new bridges and boardwalks, and floating pontoons. The vision is also to create new spaces for the arts and culture, and for water sports such as paddle-boarding, open water swimming and kayaking.
As such, when completed, the area is set to become a sustainable choice for a day of activities, a cultural exploration, musical events, or just a picnic. With the new Crossrail Elizabeth Line station at Canary Wharf, it will be quicker and easier to get there as well.
A global example of best practice
CWG started out in the 1980s with the aim of developing a sustainable regeneration of West India Docks, a greatly neglected part of the Isle of Dogs, and originally one of the busiest docks in the world. Since then, the company's approach to development and its persistent high sustainability ratings, have earned it a strong track record; it has more sustainably certified spaces than any other UK developer.
Working together with the Eden Project, CWG has ambitious hopes of transforming Canary Wharf into a global example of best practice and innovative ideas for biodiversity. Ultimately, the aim is to showcase the possibility of people living in harmony with nature within dense urban environments. Shobi Khan says: "Our urbanising world cannot become sustainable until cities work for nature as well as people.  In partnering with biodiversity expert, the Eden Project, CWG will accelerate thinking and action on how urban environments can be re-designed with nature at the heart."
The benefits to the community
Research by psychologists has shown that green spaces have a positive effect on mental health, de-escalating stress levels and lifting down-turning moods. Having parks and gardens, as well as a waterside to enjoy, will no doubt provide a natural antidepressant and much needed relaxation in a city environment. How is this being included in these transformative plans?
The award-winning architect Glenn Howells, whose approach is specifically to consider the wellbeing of the individuals and the communities using the spaces he develops, has been appointed to assist with the overall masterplan. His presence will ensure the human aspect of this impressive scheme will play a major role during the planning and development phases.
The hope is that this collaboration will build on the existing achievements by CWG of reducing Scope 1 (direct) and 2 (indirect) CO2 emissions by 49 per cent since 2012, to reach their commitments of Net Zero by 2030. It will be interesting to see if the collaboration and the lessons learned will also result in opportunities for environmental education for the visitors to Canary Wharf.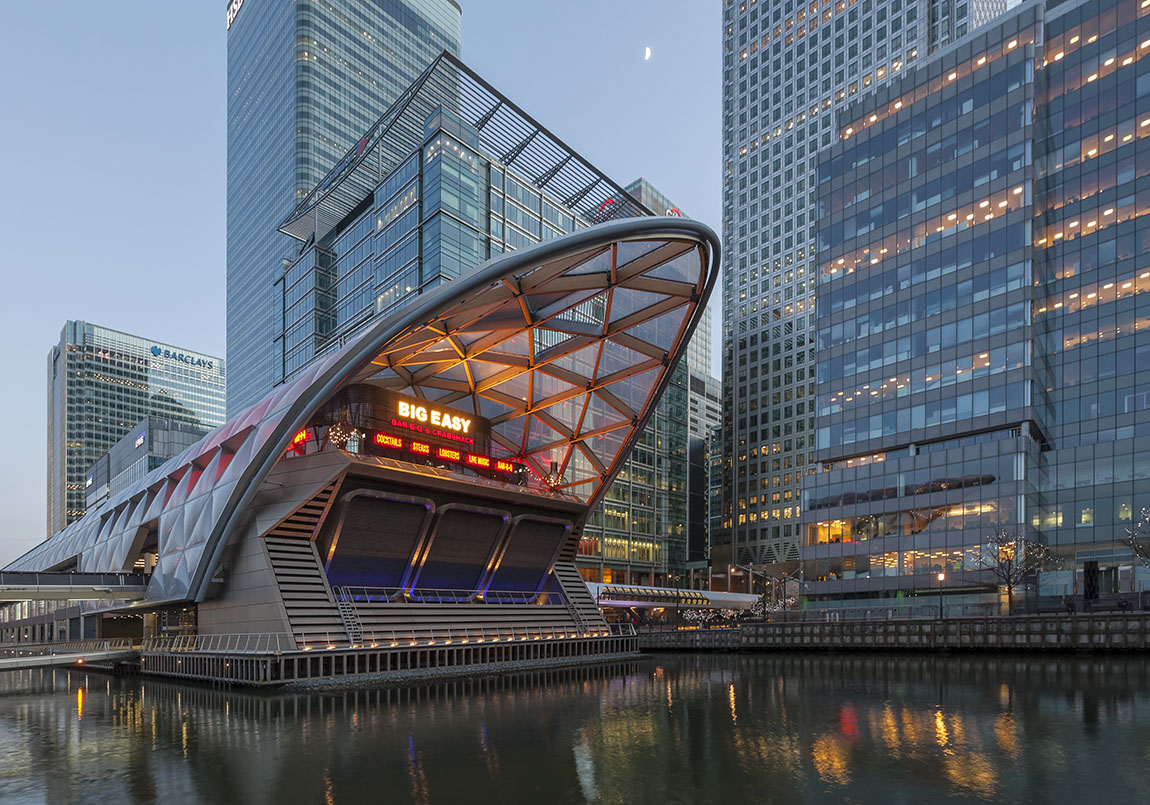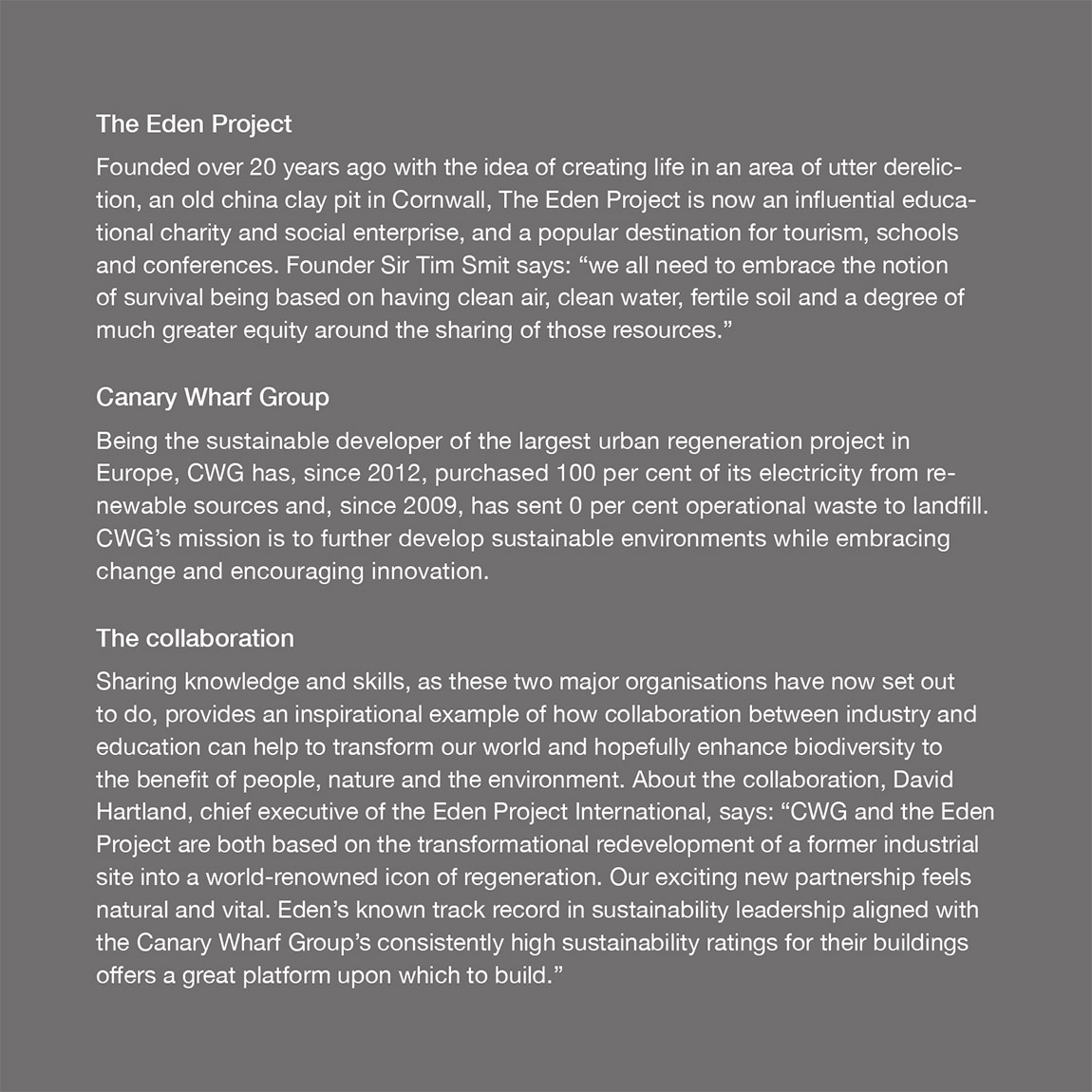 High hopes
When listening to climate experts, it is clear that there is an urgency for all of us to become more aware of the effect of our lifestyle on nature. When it comes to placing the collaboration between CWG and the Eden Project in this context, David Harland says: "There is not a moment to waste. CWG and Eden are primed and ready to work together not just to make Canary Wharf a greener place rich in biodiversity, but also to share what we learn in order to bring nature back to other urban developments in the UK and across the globe."
This is a project with high hopes. Combining knowledge and expertise to carry out this ambitious masterplan could provide a template for others to follow. Thinking big is a skill. But so is thinking small, which is required when narrowing in on the details of developing natural habitats that supply food and shelter for animals. The choice of native plants that provide flowers with nectar and pollen for pollinators, as well as fruit and seeds for birds, will be critical, for instance. There is much more to biodiversity than just designing herbaceous borders.
Living together in harmony with nature might mean big organisations taking charge, changing their idea of what investment means and widening their scope to include concepts such as the circular economy and ecosystem services. Perhaps with Canary Wharf Group and the Eden Project collaborating and taking a stand, more will follow.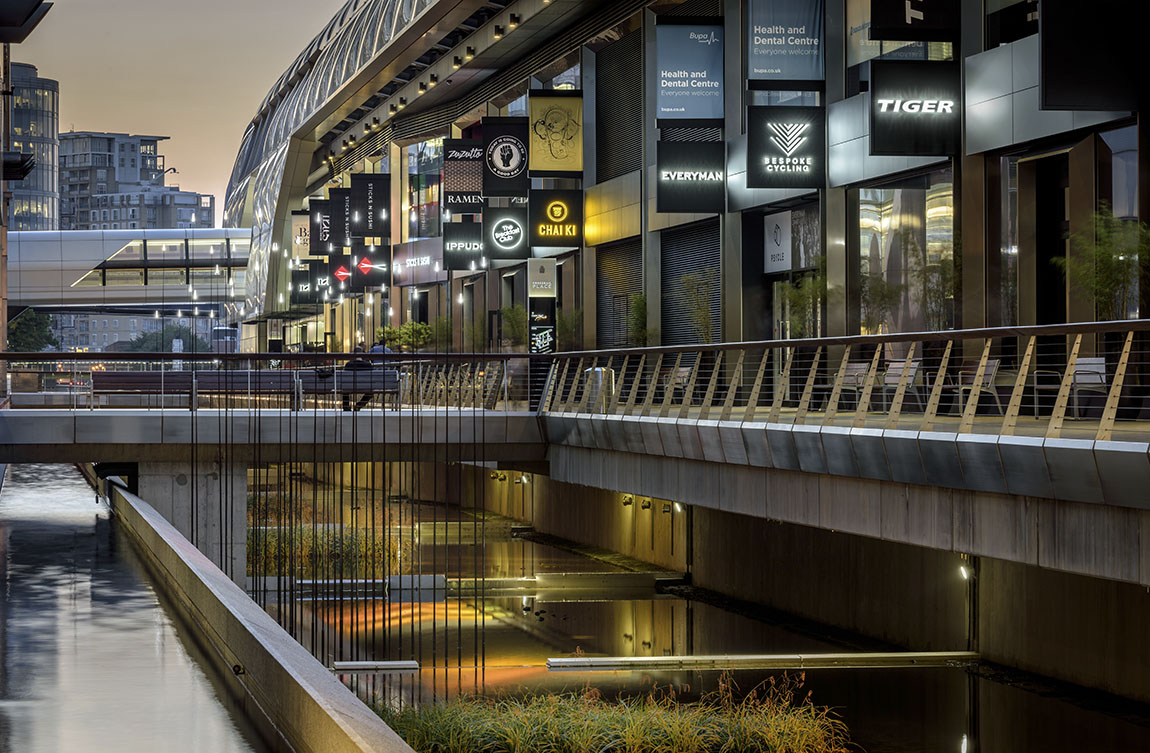 Subscribe to Our Newsletter
Receive our monthly newsletter by email