The former Danish energy and climate minister behind the plot for Borgen – real life overtakes fiction
BY ANDERS LORENZEN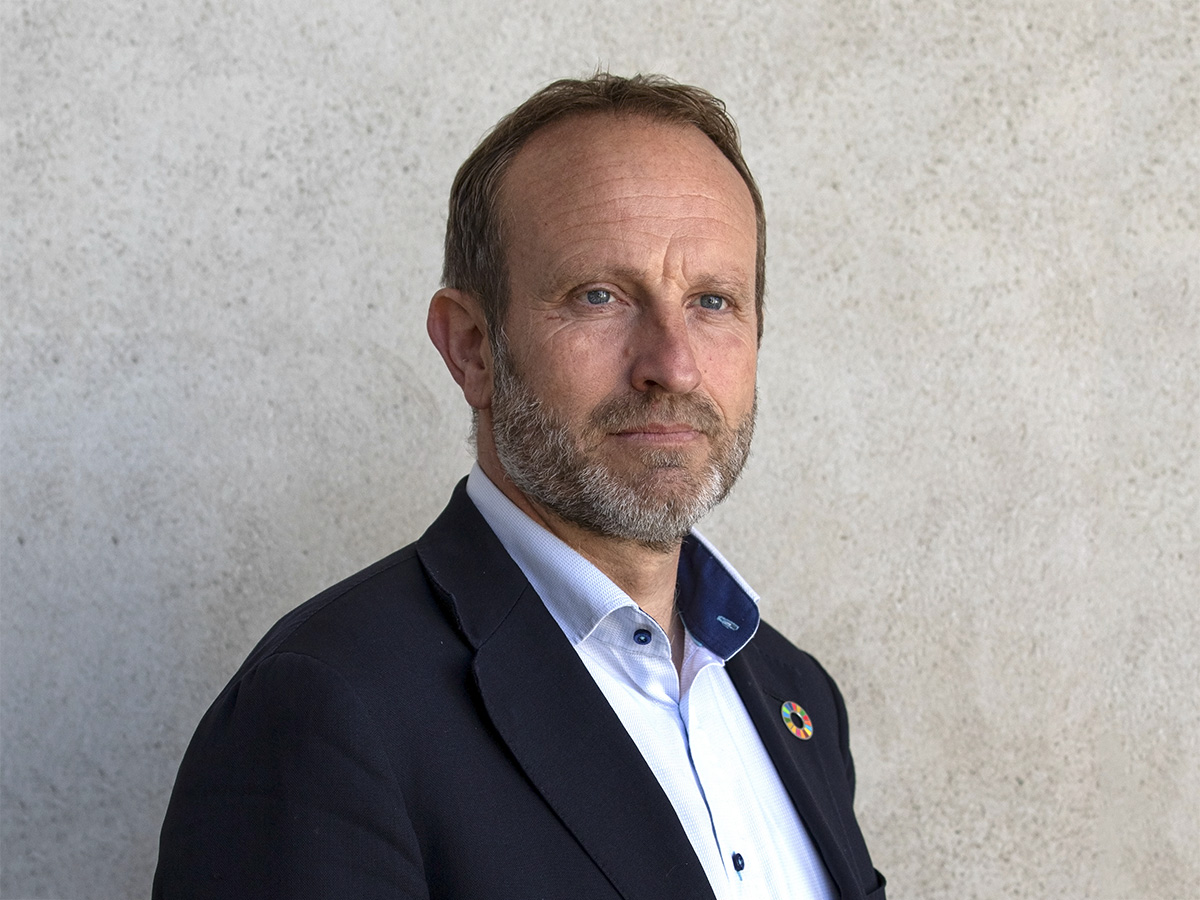 He could easily have been one of the characters in the early seasons of the Danish hit series Borgen. But when the series returned for a surprise global comeback on Netflix, few might have guessed that former climate and energy minister Martin Lidegaard was one of the brains behind the plot. The Danish politician talks to Anders Lorenzen about Borgen's climate-focused storyline and the real-world implications of the continued search for oil.
Lidegaard, a member of the Danish parliament and proclaimed climate activist, has had a proven interest in climate action for years before it became a trend. Indeed, prior to his entrance into politics, in 2008, Lidegaard co-founded Concito, a green think-tank promoting green solutions in the cross-field of politics and business.
Today, however, the 55-year-old is best known as an active politician and, more recently and rather surprisingly, as one of the brains behind the fourth season of Borgen. Based on the question of what would happen if oil was discovered in Greenland, Borgen: Power and Glory seems almost eerily relevant in today's geopolitical climate. "We are at a crossroads; if we don't insist this time on making our own green, secure and cheap energy demand and production, if instead we start building up new dependencies on oil and gas, we will fail historically," Lidegaard says when talking about the war in Ukraine and the need to open up new fossil fuels projects in order to wean off from Russian fossil fuels.
The idea for the new season of Borgen, however, came about long before the current energy crisis, and its way to the screen was anything but ordinary. It all started as Adam Price, the creator of the series, had invited Lidegaard onto his cooking show, a highly popular programme in Denmark which sees famous Danish people invited into Price's kitchen to cook with him. Not one to forgo such challenges, Lidegaard accepted the invitation. "On the show, I took the opportunity to tell him that I had an idea he might be interested in. At the time, my idea was not that it should be a new series of Borgen, in my mind it should be a movie or a new series," he explains.
Subsequently, Price and Lidegaard went to lunch to discuss the idea which was based on the eventuality that oil was discovered in Greenland. How would this event shape geopolitics and how would Greenland, Denmark and the rest of the world react to it? Price was interested in the idea, not just because of the geopolitical angle but also because of the climate link which was becoming a hot topic just around that time. After that meeting, Lidegaard and Price formulated a basic plot and storyline. "Then, after two to three years, he [Price] came back and said that Danish broadcaster DR and Netflix had asked him if he wanted to produce a new season of Borgen; he thought our plot would fit perfectly into Borgen and asked me if I would be OK with that," explains Lidegaard. For Lidegaard it was not a difficult choice. "To reach such a huge audience and artists was something I could only dream about," he says.
Reality always overtakes fiction
While the series is clearly fiction, current and recent events do beg the question of how far-fetched the storyline really is? Could the plot we are seeing played out in the series happen in real life? Lidegaard stresses that the story is, of course, imagined. "But reality always overtakes fiction," he says. "If I had told Price – why don't we make a plot where the American president wants to buy Greenland? I'm sure he then would have said – let's be a little realistic Martin ."
In 2019, former US President Donald Trump made an offer to buy Greenland. Denmark turned it down in no uncertain terms, creating a bit of diplomatic tension between the two countries. This happened after Price and Lidegaard came up with their plot, and arguably, at that time, it would have been a more far-fetched storyline than the one they came up with.
Talking about the objective of the Borgen storyline, Lidegaard, who held the office of Danish climate and energy minister for three years and subsequently, for a short stint, the office of foreign minister, tells Discover CleanTech: "I wanted to show the interlinkage between climate and energy politics and security and geopolitics, which has somehow been underestimated in Danish and European politics." He adds: "The other part was that I wanted to show modern life in Greenland, show the Danish audience how things are looking in Greenland now, and maybe also the other way around – show the Greenlandic audience that Denmark actually cares for Greenland".
He quickly underlines that he cannot take credit for the dramatisation of the series and the high quality of the writing and acting. "That's down to the filmmakers," he stresses.
We need to cut demand for oil
Lidegaard cites another example of how quickly things can move in politics: When they wrote the plot about it four years ago, the Greenlandic government at the time was actively searching for oil companies to explore Greenland's vast landmass. While there has been a new election since then and the new governing party in Greenland wants to stop all extractive industries in Greenland, the former governing party has just joined the coalition government. On that basis Lidegaard says it is "indeed very interesting what the long-term politics in this area will look like."
He also offers a sombre assessment of what an oil discovery in the Arctic would look like. He is convinced that if either oil or gas was found in the Arctic, it would be very difficult to prevent that being explored, especially with the war in Ukraine. Lidegaard, who classifies himself as a climate activist, says that in the light of that, the only thing to do to avoid the exploration of oil in the Arctic and elsewhere is to reduce demand. "Go for electric vehicles (EV's), go for other heating forms, go for other production passages than the ones that use crude oil and gas; that's what we have to do, and that's where a country like Denmark should lead for both climate and security reasons," he stresses, and adds: "We import energy for 300 billion euros in the EU each year, from Russia, Saudi Arabia, Iran and so on. The benefits we would gain if we replaced this with homegrown green energy and energy efficiency are enormous both in terms of climate as well as security ".
At a crossroad
There are, however, developments which make Lidegaard optimistic. He quotes two reports, one from the Intergovernmental Panel on Climate Change (IPCC) and the other from the International Energy Agency (IEA), whose analysis finds that energy efficiency in combination with renewables is not only the cheapest solution for energy demand, but also the fastest built. "So if you want to replace the gas import or the oil import from Russia, and for that matter the Middle East, the cheapest and the fastest way to do this is through renewables," he says.
In light of this, Lidegaard believes, the main barrier in Europe is the infrastructure. The solution he presents is the sharing of renewable energy within Europe, meaning that when, for instance, northern Europe is very windy, the excess energy would be transported to countries with lower wind energy generation. This is a concept known as the European supergrid, which engineers and policymakers have been working on for years, but so far there is little to show for it other than good interconnectors between neighbouring countries such as Denmark and Germany, the UK and France and so on.
Thus Lidegaard concludes our conversation: "So here we are, we are in a hurry, we don't have that much time – but if we don't do it now under these circumstances, when will we do it? When we have this perfect storm of a climate crisis, a security crisis and an economic crisis. For all of these challenges, the only right answer is to establish a green energy market in Europe."
Martin Lidegaard is a member of the Danish parliament Folketinget and the vice chairman of the Social Liberal Party. From 2011-2014, he was Denmark's minister of climate, energy and building. From 2014-2015, he was Denmark's foreign minister. Before entering politics, Lidegaard founded and chaired the green think tank Concito. In 2013, Lidegaard was a guest on Adam Price's cooking show. He used the opportunity to present Price, the creator of Borgen, with the idea on which the storyline for the recently released Netflix revamp of Borgen – Borgen: Power and Glory – was built.
Subscribe to Our Newsletter
Receive our monthly newsletter by email