Weed or wonder crop? How hemp harvests could transform the farming landscape
By Anna Turns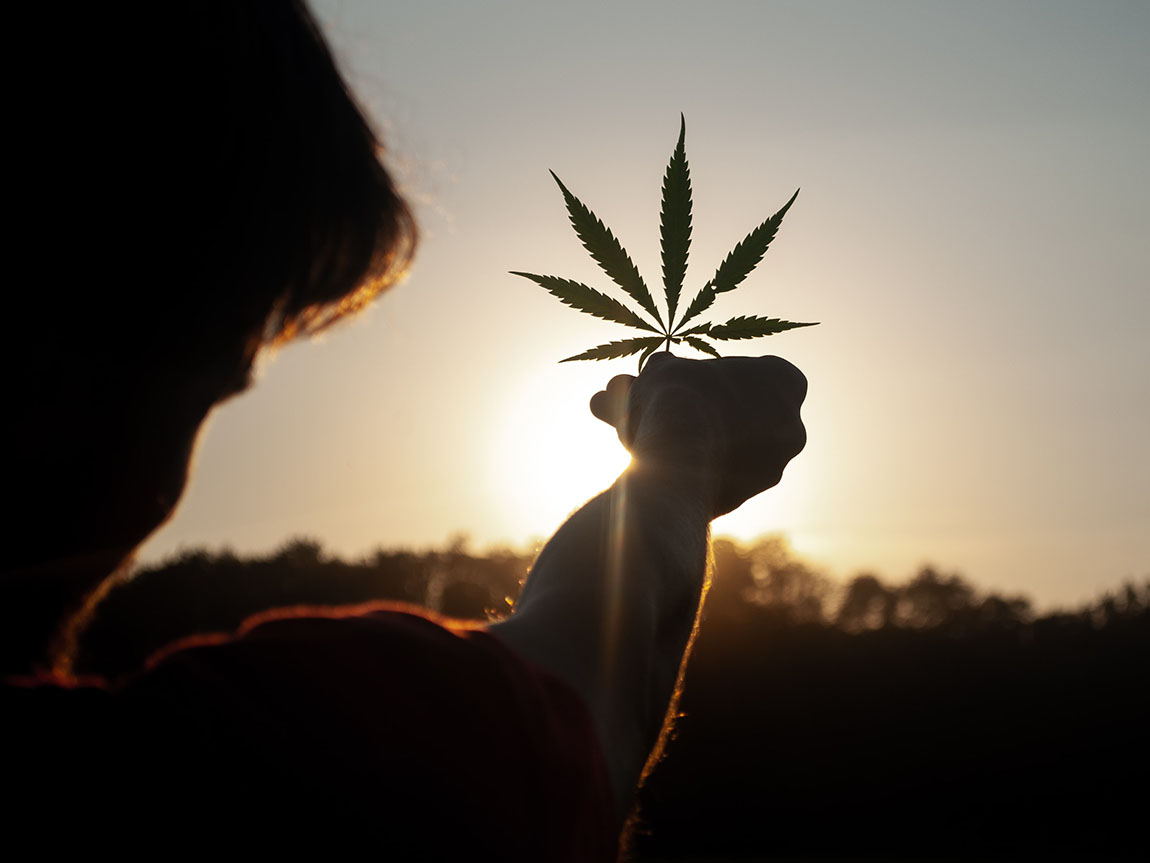 Imagine a crop that grows rapidly without agricultural chemicals, is not susceptible to pests, helps lock down carbon dioxide from the atmosphere and proactively improves soil health. What if that miracle plant also had multiple useful applications, from textiles and construction materials to food and fuel?
This is not a pipe dream. Hemp is a crop that has been grown for thousands of years and now many farmers are rediscovering why it is so special. Industrial hemp production could aid the transition to a low-carbon economy.
Nathaniel Loxley, co-founder of the British Hemp Alliance, says: "Hemp is such a fantastic crop and we're only really just scratching the surface of what we can do with it in terms of carbon storage."
Hemp sequesters carbon as it grows, it regenerates soil health and helps retain water, plus it filters out waste in the surrounding soil, water, and air, so hemp makes an ideal rotation crop and will improve the yield of the next crop farmed on that land.
Plus, hemp grows from seed to harvest in a hundred days so it's quite possible that more than one crop can be grown within a single season.
"Combining tech with regenerative agriculture is essential for hemp – we need the innovation in order to look at it as a future crop," says Loxley. Now, a UK start-up aims to do just that.
A self-sustaining Smartbox
eHempHouse has invented an innovative and portable hemp-processing machine known as the Smartbox that can be used off-grid to process hemp and generate its own electricity supply using solar panels.
Each unit, about the size of a shipping container, takes the whole hemp plant and processes it into high-value hemp seed oil that can be used as a biodiesel (some of which can fuel the Smartbox's own generator), fuel pellets or livestock bedding, and hemp seed cake which makes a great cattle feed.
Sensors on each unit will collect real-time data to measure carbon sequestration – some experts hypothesise that hemp could absorb more carbon dioxide from the atmosphere than trees.
Peter Miles, the company's London-based CEO, aims to have a million hectares under hemp cultivation by 2030, with up to 80,000 Smartboxes in place. In 2022, the first eight Smartboxes will be piloted in Zambia and Zimbabwe, with plans to expand into Botswana, Mozambique and Rwanda soon after that. So why start in Africa?
The reason is two-fold, says Miles: "In Africa, the agriculture is currently held back by two aspects – irrigation (there's enough water, but getting water to the crop can be difficult) and access to processing facilities. It's all very well growing a crop but if you can't turn it into something viable, it won't work."
He explains that eHemphouse's Smartbox technology overcomes these structural issues. "We can place this mini factory right next to where you're intending to grow the industrial hemp. That overcomes the processing problem. Also, the Smartbox produces its own electricity, powering the processing and irrigation."
Transforming underused land
On a 413-hectare organic farm in Zambia, eHempHouse is training-up local communities in regenerative agricultural processes and developing a farmers' collective.
Flower farmer Mundaya Isabelle Svungo has been learning how to farm organically with eHempHouse's training programme in Zambia: "This is long overdue," she says. "I can actually farm organically using nature and everything around me, there's no need to spend money on chemical fertilisers and, in fact, my crops will be even healthier, better and tastier."
Much of the land in Africa is currently classified as 'under-utilised', too: "If it's not forested or farmed but has medium-to-high potential for agriculture, hemp could be the ideal crop." In collaboration with the government, small farmers who might not have their own land can be given access to this underutilised land along with a Smartbox, enabling them to cultivate hemp, turn it into high-value products and get an economic return.
"That's a catalyst for starting up wider hemp cultivation and creating a strong market," says Miles, whose venture will tap into the carbon markets to help fund Smartboxes. "Any carbon credits sold can be invested in factories and more complicated processing facilities for turning the crop into paper, textiles, hempcrete and other building materials," Miles explains.
"That's our plan for building a decarbonised industrial base in Africa that hinges on sustainable development. We're giving African farmers the means and technology to grow and process the crop in a profitable way."
Getting past the legal challenges
Hemp farming is becoming more mainstream in countries such as the US, France, Nepal and India. But in some parts of the world, hemp legislation still lags behind despite a growing understanding of the environmental benefits this crop offers. The issue stems back to the myth that hemp is a narcotic.
It is a plant that is closely related to marijuana, but it doesn't have the same properties and will not get you high. In the UK, farmers have to apply to the Home Office for a special licence to farm hemp and those are hard to come by. It was legalised earlier this year in Zambia and as soon as the government issues licences, planting will begin.
"What some people fail to understand is that for thousands of years, hemp has been used for all sorts of things – all the way back to Mesopotamia 8,000 years ago, it was used to make textiles, paper and rope.
Yet for too long we've ignored hemp's environmental benefits (and multiple uses) and instead demonised the crop," says Miles, who works alongside British engineer Andy Neal, who is based in New York City, and Steven Putter, a South African agricultural specialist.
Multiple markets
With the right effort and investment, hemp could offer an environmentally-friendly alternative to cotton, which is notoriously an incredibly thirsty crop. "We need this shift to more regenerative agriculture to happen very quickly and create a hemp industry like China has," adds Miles.
Now the world's biggest producer of hemp textiles, China only legalised industrial hemp a decade ago. In the UK, where the animal bedding market is in crisis due to a shortage of affordable wood chip imports, hemp could provide an easy, homegrown solution that's three times as absorbent as conventional bedding material, according to Loxley.
Each hemp processing box is configurable in different ways, depending on the market. In Africa, 'semi-mobile' Smartboxes can be placed near about 1,000 hectares of underutilised land, whereas in Scotland, for example, where farmers grow smaller amounts of hemp, a truck-mounted Smartbox could move between locations as required.
"If these Smartboxes can be adapted to suit different local needs, then I'm all for it," says Loxley, keenly.
The beauty of this model lies in the fact that the production of the crop feeds the processing facilities to provide the products to build the market and it therefore has huge potential to be self-sustaining from the beginning, in Africa and elsewhere. As Miles states, "Understanding the utility of the hemp plant as a producer of products is the key."
Web: https://ehemp.house/
Subscribe to Our Newsletter
Receive our monthly newsletter by email