Geoinfo: See what others can't
Text & photos: Geoinfo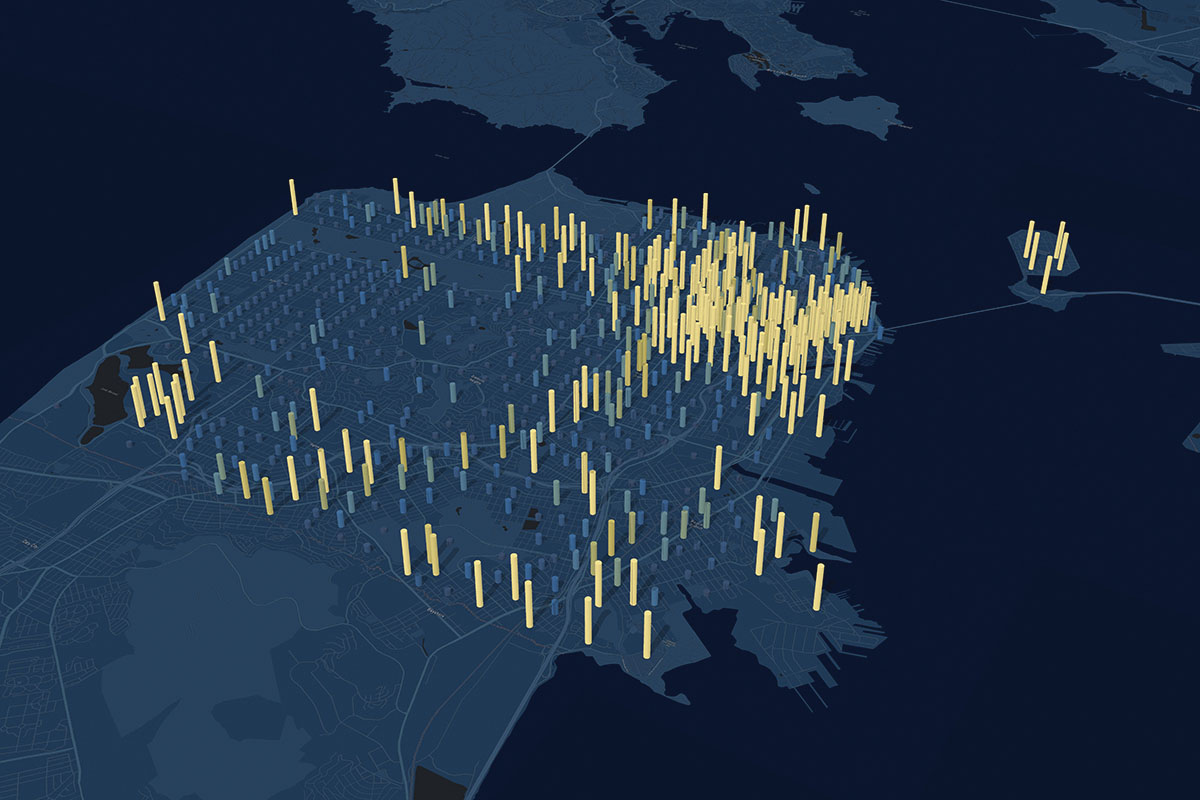 Where some see chaos, others discover new patterns and connections. This also applies in business, where more and more companies in retail, transportation and real estate are using location intelligence as a strategic decision-making tool. Location intelligence is much more than plotting addresses onto a map. It's all about discovering new patterns, connections and relationships with location technology to solve the most complex business challenges – or seeing what others can't.
Have you ever peered into a kaleidoscope and experienced the myriad patterns that result from even tiny twists on the tube? Now, imagine that you can do the same thing with data. Rather than searching spreadsheets for the meaning hidden in columns of figures and one-dimensional pie charts, what if you could access a visually dynamic universe that automatically gave you new insights through even tiny parameter tweaks? That is the essence of location intelligence.
Location intelligence derives from geographic information systems (GIS), which have long been an indispensable tool for the military and governmental bodies at both national and local levels. In recent years, however, business managers have also begun to discover the technology's possibilities. Large retail chains, transportation and logistics companies, consulting engineers, real estate and insurance companies are among the most enthusiastic users.
Expanding the horizon
"Location intelligence adds a whole new dimension to business analytics," says Peter Hedberg, sales and marketing director at Geoinfo. "Many companies that use business intelligence and data analytics run into the limitations of those systems. Location Intelligence incorporates external data into the analyses. This includes not only geographic data, but also demographic, socio-economic, urban planning, and other types of data that is relevant to the business. These additions reveal more patterns, also new ones, that the solution calculates based on expanded data sets. Location intelligence considerably expands the analytical horizon."
Hedberg illustrates this with an example from the retail sector. "When a supermarket chain needs to determine the optimal location of a new store, managers can consider much more than their own and competitor locations," he explains. "Additional, relevant data includes distances to schools and universities, large workplaces, cultural institutions, car parks, train stations and bus lines – all of which contribute to shop traffic. Demographic data on age, consumption, income levels and housing composition can also enter the mix. When you combine such external data with the company's own data on consumers, sales, payments and marketing, you get a very granular and secure basis for decision making that is visualised with graphs and interactive maps."
The world's leading location intelligence tool
Geoinfo is Denmark's largest consultancy for GIS and location intelligence services. With close to 50 employees and a 25-year track record, Geoinfo is also Denmark's exclusive distributor of ArcGIS from Esri. ArcGIS is the world's leading location intelligence platform and is used by NATO, the EU, the UN, airports and ports around the world, as well as numerous companies such as FedEx, UPS and Walgreens.
"What makes ArcGIS unique is that all data is stored and visualised in one place," says Hedberg. "Often, when companies purchase external data, they do this manually or in separate systems. Out of the box, ArcGIS contains the most commonly used Danish and international geographic and demographic data, and we constantly update it with new data sources. The solution also integrates with all major ERP and business intelligence systems, so all analyses can be performed on a single platform."
Visual information at your fingertips
ArcGIS offers a host of benefits for companies looking for new locations, benchmarking branches, optimising distribution networks, or carrying out any number of other analyses. Once relevant data sets with internal and external data have been defined, it only takes a few minutes to perform comparative analyses. In addition to the significant time saving – compiling external data often takes two to three days – results are presented visually, and the basis for decision making can be fine-tuned with what-if scenarios.
"Presenting analyses on maps rather than in columns or charts is in itself a significant advantage," Hedberg continues. "Our visual orientation is more intuitive and faster than looking at rows of figures, so map-based presentations help simplify decision-making processes, even though they're based on much larger and more detailed data sets."
What-if scenarios
"More importantly, the ArcGIS platform lets you tweak different parameters to see what effect this has. In the case of the supermarket, for example, you can include urban planning data to discover what this might mean. It could be that there are plans for one of the areas to establish new housing or commercial zones, which would attract many more consumers to the shop than initially assumed. This type of data adds an extra layer of insight that can be of great value to the decision-making process."
Peter Hedberg emphasises that it is not only companies in the retail sector that benefit from location intelligence. Logistics companies use location intelligence to optimise route planning for their drivers, all of whom are displayed on dynamic maps and can be relieved quickly if they fall behind on their routes so that the company can meet its delivery times. Manufacturing companies use ArcGIS to ensure that mobile technicians are assigned the correct urgent service tasks based on their skills and proximity to the customer.
"Location intelligence lets us turn the information cube upside down, so we see it through an entirely different lens," concludes Hedberg. "Like the kaleidoscope, we discover new connections and patterns in a visual, dynamic universe. This adds value to decision-making processes in all types of companies."
Web: www.geoinfo.dk
Subscribe to Our Newsletter
Receive our monthly newsletter by email