Siemens Gamesa debuts recyclable blades on offshore wind farm
By Jason Deign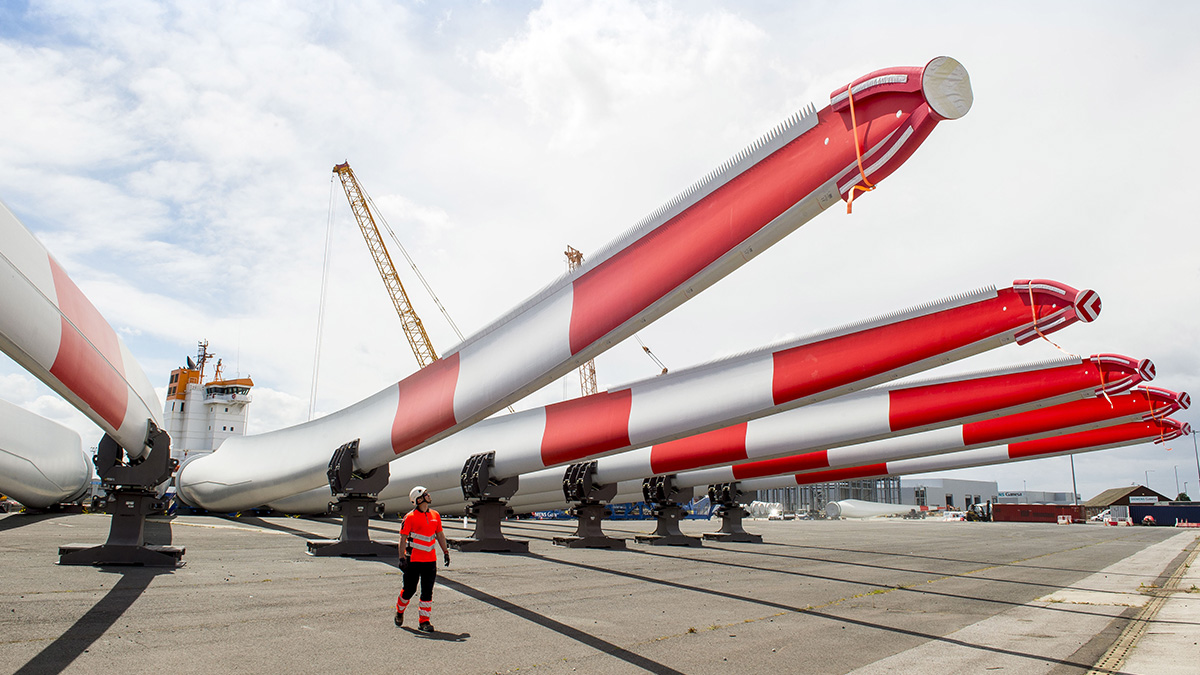 Wind turbine manufacturer Siemens Gamesa has announced the first delivery of a recyclable blade design amid moves to reduce the environmental impact of renewable equipment. The company's RecyclableBlades were installed at an offshore wind farm in Germany owned by RWE, a multinational energy company.
Siemens Gamesa says the milestone marked "a turning point in the long-term sustainability of offshore wind power."
Concern over what happens to old wind turbine blades has been mounting along with the growth of the renewables sector. While up to around 90 per cent of turbine materials, including steel, copper, electronics, and gear components, can be recycled, disposing of blades is a challenge. Made of fiberglass and built to withstand the abrasion caused by dust, sand, and hail impacts at high speed, the blades, which can be longer than the wing of a Boeing 747, have until now mostly gone to landfill.
Building materials giant LafargeHolcim is working with turbine maker GE Renewable Energy to see if the silica in blade fiberglass can be used to make cement. And in 2019, the industry body WindEurope, the European Chemical Industry Council, and the European Composites Industry Association created a cross-sector scheme to advance novel approaches to wind turbine blade recycling.
"Recycling the old blades is a top priority for us and teaming up with the chemical and composites industries will enable us to do it in the most effective way," WindEurope's chief executive, Giles Dickson, said at the time.
Making blade recycling easier
Siemens Gamesa's RecyclableBlades, which the company says were developed in just ten months, aims to make recycling easier by using a combination of fiberglass, resin, and wood that can be separated with a mild acid solution. "RecyclableBlade technology will help reduce raw material extraction by creating the potential for secondary markets for the reclaimed material," says Marc Becker, chief executive of Siemens Gamesa's offshore business unit.
Siemens Gamesa is aiming to have fully recyclable turbines by 2040, he adds, "with the job creation that this could provide as an additional benefit in local markets."
Sven Utermöhlen, offshore wind chief executive at RWE Renewables, confirmed the company was testing 81-metre-long Siemens Gamesa B81 RecyclableBlades at several turbines in its 342 MW Kaskasi project, 35 km north of the island of Heligoland in the German North Sea. "That we are testing in our offshore wind farm Kaskasi the world's first recyclable wind turbine blades under operational conditions is a significant step in advancing the sustainability of wind turbines," he says.
Siemens Gamesa says its RecyclableBlade technology is also available for the 108-metre-long B108 blades used on its SG 14-222 DD offshore wind turbines and the 115-meter-long B115 blades on SG 14-236 DD machines, the company's biggest product. In March this year, a consortium called ZEBRA (for Zero wastE Blade ReseArch) unveiled a 100-per-cent recyclable blade prototype. The 62-metre blade was designed and built by LM Wind Power, part of GE Renewable Energy, using a recyclable resin and high-performance glass fabrics.
LM Wind Power is also involved in a blade recycling project called DecomBlades.
Subscribe to Our Newsletter
Receive our monthly newsletter by email